The south Asian country of Vietnam is home to a plethora of temples, shrines, pagodas, and religious sites. These enchanting structures range from Hindu shrines to Buddist monasteries. The vast cultural expanse is a memorable experience for all nationalities, especially culture enthusiasts like the Italians. With iVisa.com, Italians can apply for an eVisa within 20 minutes through an online application without the need of going to the Vietnam embassy for an approval letter.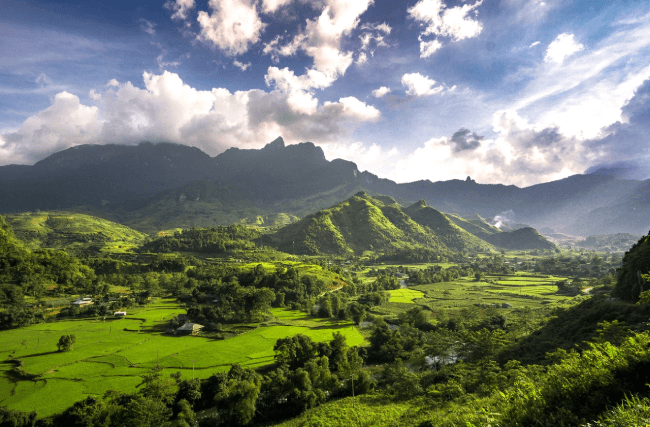 Travel amidst the Corona pandemic requires special care and precautions. But for your visa requirements, you can trust the experts at iVisa.com. We help you with the application so you can have an e visa as quickly as 3 business days, from the comfort of your home.
Why should I apply in advance?
Early application with iVisa.com can provide you time to review all your documents, without any hurry. It saves time and money. Plus, you can also minimize any risk of last-minute uncertainties.
Having said that, let us familiarise ourselves with some aspects related to the Vietnam visa for Italians.
Frequently Asked Questions
What does the application process for a Vietnam visa for Italians look like?
Applying for a Vietnam visa for Italians with iVisa.com is a user-friendly and convenient process. You can finish your application in just 20 minutes by following these steps:
Start the process: Before you apply for your Vietnam visa, you will need your passport, which must be valid for another 6 months post departure, an email address where your E.visa will be sent, and a payment account such as PayPal or Debit/Credit card.
Apply: We will ask for general information like your contact details and the estimated duration of travel. You may be asked to upload a copy of your passport, and finally, review your application.
Pay: The cost of your document depends on the processing time that you select.
What are the processing durations?
iVisa.com provides three different duration, with different costs:
Standard processing – the standard processing is

8 Business Days

. The price for this option is

USD $81.99

.
Rush processing – for a total of

USD $142.99

, the Rush processing will shorten the waiting time with one day removed. You will receive the requested document within

7 Business Days

.
Super Rush processing – for

USD $195.99

, this option is perfect for people who have urgent matters to attend in Vietnam. The E.visa will be ready in

6 Business Days

.
What documents will I need upon entry in Vietnam?
It is important to note that in addition to the Vietnam visa for Italians, you must have a valid passport, two photos, and an entry permit which will be provided to you by iVisa.com** in PDF format on your email, at no additional cost. You just need a copy of that before your departure.
Is it possible to get a visa on arrival?
Italian citizens can also apply for a Vietnam visa on arrival with iVisa.com. The application method is similar. We provide a range of dynamic options to suit your immediate need:
Visa on arrival with a 30-day maximum stay and a single entry ($20, $50, $80 for Standard, Rush and Super-rush processing time)
Visa on arrival with a 30-day maximum stay and multiple entries ($30, 60$, $90 for each processing time)
Visa on arrival with a 90-day maximum stay and a single entry ($25, $55, $85)
Visa on arrival with a 90-day maximum stay and multiple entries ($45, $75, $105). After you make the payment, your application for a Vietnam visa for Italians is complete. Our experts will review it, and make sure you receive it in time.
How safe is iVisa.com?
iVisa.com holds responsibility for your travel documents and promises utmost discretion of them. Take a look at our website to see what our clients have to say about our policies and services.
I still have doubts. What can I do?
iVisa.com eliminates the hassle of running to embassies, reading complicated websites, and manual applications, and provides you with the latest information, with a convenient application process. For more information on the Vietnam visa for Italians, visit the website. You can also talk to our customer care agents who will be happy to assist you with your doubts.
iVisa.com Recommends
Vietnam is widely known for its rich cultural heritage and scenic beauty. Its culture abounds with fine beaches and islands, ancient towns, natural parks and not to forget, its scintillating cuisine. Some of the popular tourist sites in Vietnam are Saigon (Ho Chi Minh City), known for its classic French architecture, sleek skyscrapers, as well as ornate temples and pagodas. If you long for picture-perfect beaches, white sand, and gorgeous sunshine, it is worth visiting the fishing port town of Phan Thiet. Moreover, Mekong River Delta, Cao Dai Great Temple, DaLat, Le Petit Par, Pleiku and Kontum, Buon Ma Thuot, Hue, Da Nang, Hoi An, Hanoi are must-visit places among many others.
We thank you for choosing iVisa.com. For more information on Vietnam visas for Italians, visit the website. We wish you a safe and happy trip!