The south-Asian country of Vietnam is home to a plethora of temples, shrines, pagodas, and religious sites. These enchanting structures range from Hindu shrines to Buddhist monasteries. The vast cultural expanse in balmy weather is a memorable experience for all nationalities, especially Polish citizens. As travel and tourism have started picking pace, you can plan your trips again. The Vietnam visa for Polish can be applied in online mode with iVisa.com and is a mandatory document for all Polish travelers.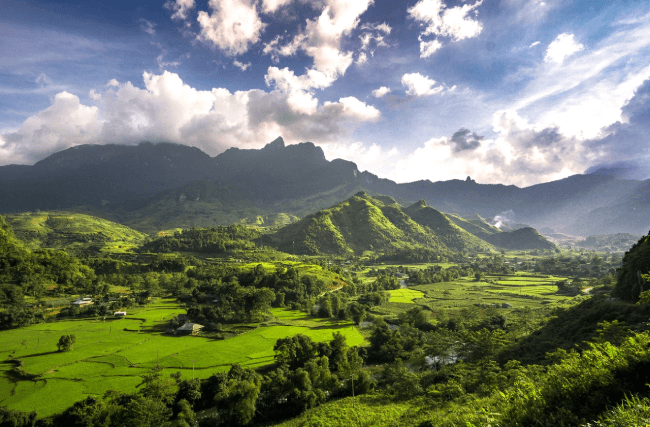 We, at iVisa.com, understand the hassle of long queues while preparing for travel documents. Thus, with our 100% digital, rapid and secure services, you can apply for your visa from the comfort of your home. We know the value of your time, and take care of everything, so you can invest your time elsewhere.
Frequently Asked Questions
How can I apply for my visa with iVisa.com?
The Vietnam visa for Polish citizens can be applied for with our completely online process in just 20 minutes. Let us take a quick trip through this convenient and user-friendly application process.
Start the process Before you start your application, you must ensure the following documents: Passport (valid for at least 6 months after arrival in Vietnam), Credit/debit card Digital passport scan (bio page), and Digital ID/passport image.

Apply Application process with iVisa.com involves filling general information like contact details and the estimated duration of travel. You will be asked to upload the aforementioned documents, and finally, review your application.

Make Payment With iVisa.com, you can easily make payments using your Debit/Credit card.
After payment, your application is complete. You can track the status of your application with iVisa.com.
How long will it take to receive my visa?
iVisa.com offers you flexible processing durations to suit your immediate needs. The cost depends on this:
Standard Processing: which allows you to get your documents at a cheaper cost.
Rush Processing: This helps you get your documents quicker than the standard processing time with a little extra charge.
Super Rush Processing: This helps out in case of extreme urgency as you can get your documents immediately. Extra charges are applied.
What documents do I need to enter in Vietnam?
It is important to note that upon entry in Vietnam: you will need your passport, 2 photographs, and a Medical Declaration, along with the Vietnam visa for Polish citizens. The Vietnam Medical Declaration is a mandatory document for all travelers (including Vietnamese citizens) so as to ensure recent Covid guidelines. This will be provided to you with your visa at no additional cost. You just need to get it printed before traveling.
How long is the eVisa for Vietnam valid for?
The Vietnam eVisa is valid for 30 days from the proposed date of entry. It is a single entry visa and allows for a maximum stay of 30 days in total.
Is it possible to get a visa on arrival?
iVisa.com can also help Polish citizens apply for a Visa on arrival in Vietnam. The application method is similar. We provide various options to suit your immediate need:
For a maximum stay of 30 days, you can apply for a visa on arrival, which would be only valid for a single entry. This will cost you

USD 37.00

,

USD 57.00

, and

USD 102.00

for Standard, Rush and Super Rush processing time respectively
For multiple entries and a 30-day maximum stay, you can apply for a visa on arrival by paying

USD 49.00

,

USD 79.00

,

USD 114.00

for Standard, Rush and Super Rush processing time respectively.)
Visa on arrival is also available for a 90-day maximum stay and a single entry. It will cost

USD 55.00

,

USD 75.00

,

USD 125.00

Standard, Rush and Super Rush processing time respectively.
Finally, visa on arrival with a 90-day maximum stay and multiple entries can be applied for by paying

USD 86.00

,

USD 111.00

,

USD 151.00

Standard, Rush and Super Rush processing time respectively.
How safe is iVisa.com?
Our customers put their trust in iVisa.com because we take full responsibility for your travel documents and assure their utmost soundness. Do visit [our website] to see what our clients have to say about our policies and services.
Where can I go if I have more questions?
To read more about Vietnam visa for Polish, you can visit our website. Our active customer care agents are available round the clock to alleviate all your travel doubts.
iVisa.com recommends
Vietnam is a land of diversity which ranges from rural areas brimming with fantastic panoramas and the big cities boast of contemporary life, providing ample opportunities to gorge on Vietnam's heavenly cuisine. Take a ride along Halong Bay, a fine repository of limestones with the most serene views, also considered a UNESCO World Heritage Site.
The ancient town of Hue is a marvel in itself, with relics from the 19th century, scattered all over. Not to forget, the cruise on the Perfume river through the royal tombs is a memorable experience. Moreover, the mysterious beauty of Nha-Ke Bang National Park and Chu Chi tunnels is a visual wonder for all.
We thank you for choosing iVisa.com. For more information on Vietnam visas for Polish, visit the website. We wish you a safe and enjoyable trip!