Spaniards are in the Vietnam visa exemption list with visa-free length of staying of less than 15 days in Vietnam and single entry/exit. For stays longer than that, there are 2 types of visas that Spaniards can apply for, that is, an eVisa or a Visa on Arrival (VoA). Both are simple to get and can be done online without the need to visit an embassy. iVisa.com can help you obtain both.
With iVisa.com the process of obtaining this Vietnam visa for Spaniards is even better. All you need to do is fill out the application form and leave it up to us.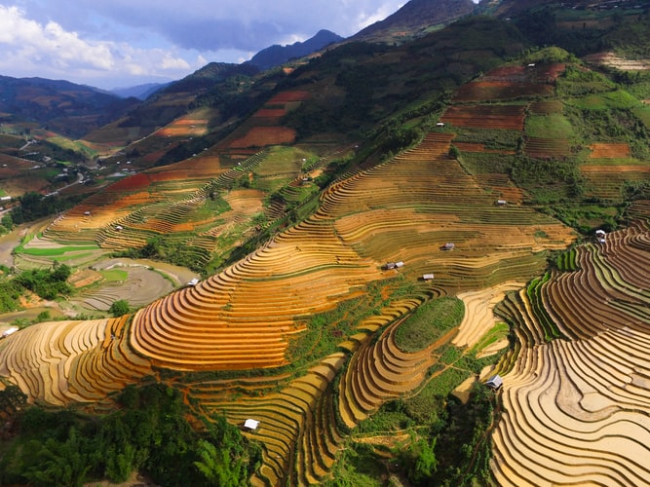 Apply for Vietnam visa for Spaniards
Why should I apply in advance?
Apply in advance for the Vietnam visa for Spaniards and avoid facing any problems later on, when the date of departure is near. Even one error can create a lot of problems and make your trip a total flop. It is very economical to have everything ready from before.
Visit iVisa.com and apply now to get the best travel experience and find out more about Vietnam visa for Spaniards.
Frequently Asked Questions
Planning the perfect trip for you and your family to a foreign country can cause a lot of confusion. This section of the blog has been sincerely tailored to clear out all your questions about the Vietnam visa for Spaniards and to make sure you make an informed choice. Learn more about this process by visiting iVisa.com.
What is the application process?
The application process for Vietnam visa for Spaniards is done in just a few easy steps, be it for an eVisa or a Visa on Arrival :
Fill out your eVisa application form via iVisa.com and correctly put in details like your name, passport number, and arrival date, as well as designate a payment method and attach all the scanned documents. We encourage you to double-check before submitting to avoid mistakes.
We will start processing your visa as soon as you submit your application and make the payment. You will receive your eVisa or an approval letter [pre-approved visa letter] via email. Print it and prepare 2 passport-sized photos (4cm x 6cm) to submit when entering Vietnam for (VoA).
Present your eVisa or approval letter, passport, photos, and pay the stamping fee on arrival in Vietnam. You will receive the visa stamp into your passport issued by the Immigration Office.
What is a Vietnam e-Visa and Visa on Arrival (VoA)?
Introduced in 2017, the Vietnam e-Visa is an electronic travel authorization from the Vietnam Government, issued in PDF format, valid for 30 days, and single entry only. It can be used by Spaniards for multiple purposes like tourism, business, study, visiting relatives, investment, journalism, and labor employment, among others. The Vietnam visa on arrival is the same as an eVisa, except, an Approval Letter for obtaining a Vietnam VOA is sent to the applicant via email instead of a eVisa, which applicants then need to print and showcase at the airport immigration office and wait in the immigration queue to get a passport stamp to gain legal entry to Vietnam. It is available for either a 30-day or 60-day stay in the country. All passengers, including children, must have either of these visas on arrival in Vietnam.
What are the other essential documents required?
Vietnam visa for Spaniards, via iVisa.com, is very simple to apply. All you need is internet and the following documents :
Clear digital photos taken recently.
A valid and up-to-date Spaniard passport with at least six months validity and at least one blank page in your passport in case you require a stamp.
A scan of your passport's information page which you will be asked to upload while you fill in the application form.
Details of Accommodation in Vietnam like hotel/lodge reservations, or an invitation letter.
Documents to prove your purpose of travel, like your travel itinerary.
An onward flight ticket to prove that you will exit Vietnam.
A functioning email address to keep in contact with you.
A credit card/debit card or PayPal account will be required to make payments for your form.
Document requirements for eVisa and VoA are the same, except for the extra fee to get your passport stamped. Also, iVisa.com is trusted to keep your personal details totally secured. You can read about what our customers think in the reviews section on our website. Click here to get started with your application.
What are the processing options?
Vietnam visa for Spaniards is easy to avail with iVisa, be it an eVisa or a VoA. Choose from the following options via iVisa.com :
Standard Processing; It is the cheapest option.

USD 50.00

-

5 Business Days

.
Rush Processing; It is a little expensive but has benefits.

USD 70.00

-

4 Business Days

.
Super Rush Processing; It is the costliest but definitely has a lot of benefits.

USD 115.00

-

3 Business Days

.
I still have questions, what do I do?
Customer support is always by your side. Any help you need with your doubts about Vietnam visa for Spaniards, we are ready to provide, 24*7. For more help, visit iVisa.com
iVisa.com Recommends
One of the best luxury hotels in Vietnam is the Amanoi in the Vinh Hy Village, set high in the hills of Núi Chúa National Park. One cannot figure out what's more spectacular, its sweeping views of Biển Đông, the crystal clear water and soft sand that surround it, or its striking design and accommodating service. You can spend your days swimming in its infinity pool, or receiving spa treatments, or sitting by the beach, or indulging in the culture and wonder of Indochina. You can even partake in the ancient and contemporary Vietnamese dinners, in the restaurant or on the beach-side with a flute of champagne. Or, you can choose the Sofitel Legend Metropole in Hanoi, considered the grandest hotel in Vietnam, where celebrities like Catherine Deneuve, Charlie Chaplin, and Graham Greene have stayed. That in itself says enough about this hotel.
The best hideout away from the mainland would be the Six Senses Con Dao. Although built like a traditional fishing village, with villas and rooms made out of bamboo and decorated in minimalist design, it does not compromise with luxury. It flaunts an award-winning spa and a sophisticated Asian fusion eatery right on the beach. Apart from that, it is surrounded by protected national and marine parks along with crystalline waves and white sand, making it remote enough to be called paradise. Thanks for choosing iVisa.com. Have a lovely vacation!