Getting a Vietnamese Visa is now easier than ever, thanks to the Vietnam eVisa system. It was recently launched and it allows certain foreign travelers to get an online visa without visiting an embassy. Better yet, anyone can apply at home by using services like iVisa.com because it only asks for an electronic device with a WiFi connection.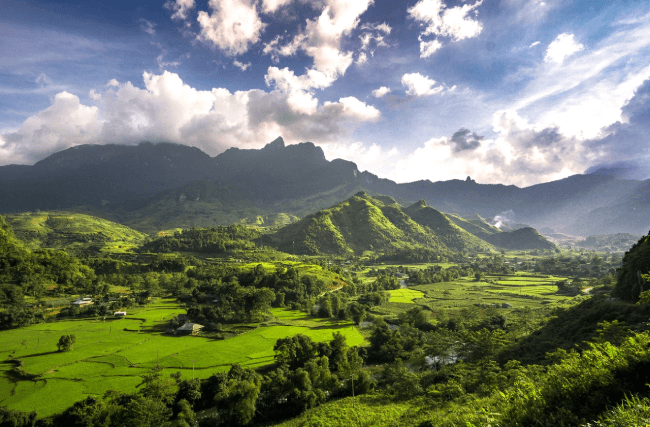 Before applying for the Vietnam eVisa, we recommend you to read the article below to learn all about the Vietnam Visa Process, including the prices and the processing times.
Frequently Asked Questions
What are the COVID-19 restrictions to visit Vietnam?
This information varies depending on your country of origin, so we recommend you visit our FAQ section to get all the valuable information about the COVID-19 entry requirements to Vietnam.
To learn more about the Vietnam Visa Process, read the following questions.
What is a Vietnam eVisa?
The Vietnam eVisa is an electronic-issued travel document that authorizes you to enter Vietnam for a short-term visit (30 days per visit) in a single entry. It is similar to a paper visa, but it is processed online without visiting an embassy, so it is easier to get.
What are the requirements to apply for a Vietnamese eVisa?
You don't need a long list of items or documents to get the application process started. Instead, you only need the following:
Your current passport (your passport must be valid for 6 months after arriving in Vietnam).
Your credit/debit card for payments.
A scanned copy of your passport's information page.
A physical copy of your Digital ID or a passport image.
If you wish to know more about the Vietnam Visa Process, keep reading below.
What are the processing times and prices for the Vietnam eVisa?
Before heading up to the Vietnam Visa Process information, take notes of the following processing speeds as they influence the total price you'll pay for the eVisa. These are:
Standard Processing Option:

USD 74.99

-

5 Business Days

Rush Processing Option:

USD 116.99

-

4 Business Days

Super Rush Processing Option

USD 166.99

-

3 Business Days
Continue reading below to see more details about the Vietnam Visa Process.
How is the Vietnam Visa Process online?
You can now relax at home and apply for your Vietnam eVisa easily by following these steps:
Step one, complete the online questionnaire and select a processing time.
Step two, review the information you registered in the questionnaire to avoid mistakes and pay for the fees.
Step three, attach the scanned copies of your passport to the form and click on 'submit' once you're ready to complete the process.
Lastly, wait for your Vietnam eVisa, which will be delivered by email inbox.
How safe is iVisa.com?
The service we offer is very reliable thanks to our up-to-date system and well-prepared agents. We're also very transparent with the information we offer, so we invite you to check our comment section if you're still doubtful about it!
Where can I get more information about the Vietnam Visa Process?
If you want to learn more about the Vietnam eVisa, feel free to reach out to our agents! They're ready to help you 24/7.
iVisa.com Recommends
You've probably heard about Vietnam, especially the Vietnam War, but that shouldn't be the only topic related to this country. This great nation is full of surprises that can make you fall in love almost instantly, especially when it comes to nature and culture.
For example, you can visit this country and enjoy magical places like Halong Bay. Halong Bay is one of the world's most impressive sea views and a UNESCO World Heritage Site. The bay's scenery is best seen by boat, especially when surrounding yourself with pristine waters. You can arrange an overnight tour to visit Halong Bay's impressive views because a day trip may not be enough.
Another place you cannot miss when exploring Vietnam is Ho Chi Minh City. This place is a must-see for big-city fans because it is considered the crazy commercial hub of the entire nation. Its streets are an amazing point for motorbikes and cars. In addition, it is full of cozy restaurants and cafés that can make you feel like you're in a well-built cosmopolitan spot.