The Vietnam government relaunched the Vietnam e-visa for citizens of 80 countries, including Argentina. Read everything you need to know about the Vietnam tourist visa and the online application process below.
Ready to see all the sights in Ho Chi Minh City, Hanoi, and Halong Bay, but stressing out about the visa application process? We're here to help quell your fears with our complete guide on how to apply for the Vietnam tourist visa online for Argentina citizens.
In this article you can find out everything you need to know before you go, such as how to apply for the Vietnam e-Visa, costs, and requirements.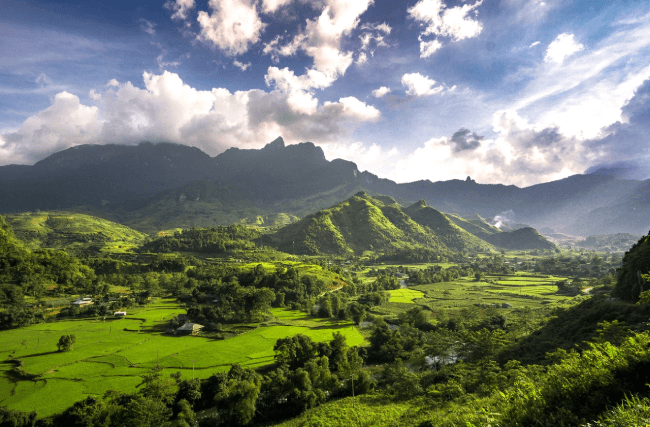 Do Argentinian nationals require a visa to enter Vietnam?
All citizens of Argentina planning to travel to the country require a visa for entry. All travelers to Vietnam require their own visas, regardless of age. Argentinian passport holders are not eligible to get a visa on arrival.
If you're unsure if you qualify for this visa, use our visa checker tool to verify which visa you are eligible for and if you need any other documents.
Types of Vietnam visas for Argentina passport holders
Depending on the purpose and length of your trip, the type of Vietnam visa Argentinian travelers will apply for will vary. Vietnam. You can apply for a tourist visa online with iVisa. This is a single entry tourist e-visa.
If you require a different travel document such as a Vietnam Business visa, contact your nearest Vietnam embassy or check the Vietnam immigration department website.
We highly recommend Argentina passport holders apply for the single entry one-month online visa as it is the most convenient, simple, and cost-effective option.
What is a Vietnam eVisa?
Confused about what the Vietnam visa for Argentina is? The Vietnam eVisa is an electronic visa granted by the Vietnam immigration department that aims to make it easier for travelers to apply online. There is no more need to apply for an "approval letter", which requires you to stand in a queue, as well as process and pay an additional stamp for "visa on arrival" once you arrive in Vietnam.
Argentinian citizens no longer need to visit a Vietnamese embassy to apply for a Vietnam entry visa to visit the country.
This Vietnam visa service can be used to enter the country at sea or land borders and any Vietnam international airport.
Applying for the Vietnam tourist eVisa
We recommend applying for your Vietnam tourist visa as soon as possible. However, if you need to travel urgently, we can help expedite the process on your behalf. Keep reading for the options.
Application process for a Vietnam visa
We know how daunting the Vietnam visa application process can be, so iVisa has created a secure, simple online process that consists of just three easy steps:
Fill out the application and confirm that all the details are correct.
Pick the processing time and pay the iVisa service visa fee.
Upload any required documents and submit the application.
Once your application is successfully approved, we will email you a receipt and your visa confirmation. We advise you to save a copy on your phone and print out the document to present it to the Vietnam immigration officer on arrival at Vietnam international airports.
Requirements to qualify for a Vietnam tourist visa
Argentinian citizens applying for a Vietnam eVisa need to meet the following passport requirements:
The passport must be valid for at least six months from your date of arrival in Vietnam.
The passport needs to contain at least two blank pages to get your visa stamped.
Other requirements for the Vietnam visa application as an Argentina passport holder
During the Vietnam visa application process, you will be requested to submit the following supporting documents:
Passport that meets all the requirements above.
Recent passport photo, if you don't have one, use the handy iVisa photo service.
Evidence of health insurance or travel insurance with COVID-19 cover and a minimum cover of USD 10,000 for medical costs.
Credit or debit card to pay for the visa fee.
Valid email address to receive your online visa application receipt and visa approval letter.
Pricing & processing times for the Vietnam visa
The iVisa application lets you choose the processing time. The Vietnam tourist visa fees depend on the visa processing time you pick.
Your options are:
Standard processing takes

11 days

and costs

USD $81.99

.
Rush processing takes

9 days

and costs

USD $140.99

.
Super Rush processing takes

7 days

and costs

USD $192.99

.
These prices include the USD 25 government fee and the iVisa processing fee.
COVID-19 regulations for tourists to Vietnam
After getting your Vietnam visa, you're ready to finalize your plans for the trip. Local authorities highly recommend checking for updated COVID-19 regulations with your airline and on the relevant government websites. The status of Vietnam's COVID-19 regulations may change without warning.
There are currently no testing, quarantine, or vaccination requirements upon arrival at any Vietnam airport or border.
COVID-19 screening centers and health hotlines
Authorities encourage all travelers who have symptoms of COVID-19, are concerned about their health, or suspect they were exposed, to call the Vietnam health hotline on 1900 3228 to find out about testing sites and more.
Health requirements in Vietnam
Health authorities also advise incoming international travelers to self-monitor for the first ten days in Vietnam. Should you start feeling unwell, please seek immediate medical attention.
Questions about traveling to Vietnam?
Ready to apply for your Vietnam visa but still have some questions? Reach out to our 24-hour customer service team via online chat or email at [email protected] so we can ease your concerns even further.