Vietnam, a well-known destination for Westerners in SE Asia, is quickly becoming a hotspot for Indian travelers.
In February 2017, Vietnam launched its e-Visa program, streamlining the traditional visa application process. Now citizens of 46 countries, including India, can apply online and get their e-Visa electronically.
In this article, we'll show you how Indians can get a Vietnam e-Visa, starting with the most frequent questions that many travelers do.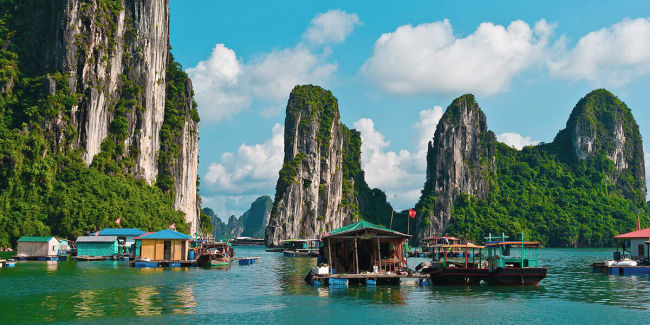 Frequently Asked Questions (FAQS)
What is a Vietnam e-Visa?
The electronic visa (e-Visa) for Vietnam is a type of visa issued to foreigners by the Vietnamese Immigration Department, that was created to be accepted with an electronic system. This document provides permission to travel to Vietnam.
Do Indian citizens need a Visa to enter Vietnam?
Yes, they do. All Indian citizens need a visa to enter Vietnam, but the good thing is that you can apply for this visa online.
How many eVisas are there to travel to Vietnam?
Currently, there is only one type of visa to visit Vietnam:
How long is a Vietnam e-Visa valid for?
This e-Visa expires 30 days after arrival, so you'll be able to have it only for that amount of time.
How many entries do I get with a Vietnam e-Visa?
The Vietnam eVisa has a Single Entry.
What conditions must the applicant have to get a Vietnam e-Visa?
There are some conditions that you have to consider first before applying for this eVisa, especially with your passport:
Your passport must be valid for a minimum of 30 days beyond the visa expiry date and should have at least one blank page.
You have to keep with you a copy of your e-Visa when entering the country.
What are the documents required to apply for this visa?
You are required to have the following in order to submit your application:
A Passport (valid for at least 30 days after your visa expiration date)
A Credit/Debit cardt.
Digital Passport Scan (main page)
Digital ID/Passport Image
What are the prices and the processing times to obtain an e-Visa?
It depends on which processing time you choose. There are three options:
Standard Processing: You'll have your visa in

11 days

and it costs

USD $84.99

. This is the most affordable option.
Rush Processing: It only take

9 days

to get your eVisa, but it'll cost you

USD $147.99

.
Super Rush Processing: This is the fastest option of the three, that's why it costs

USD $186.99

, and you'll have your visa in only

7 days

.
Start your application here and get ready to know Vietnam.
How long does it take to apply for the Vietnam e-Visa?
In less than 10 minutes you'll be ready to get your e-Visa as soon as you requested. You just have to fill in the application form and we'll do the rest.
How can I apply for a Vietnam eVisa?
The application for this e-Visa is quite easy. It has three steps:
STEP 1: Fill out the online application form by providing: the airport of arrival, date of arrival, full name, passport number, date of birth, and your nationality. You are required to enter personal information that matches the information on your passport.

STEP 2: Pay the service fee and government fee online with your credit/debit card. After submitting your order and payment, you will receive a confirmation email for your visa order. We will then process your Vietnam e-Visa and send it to you by email. You can receive the email within 3 business days with our super rush service.

STEP 3: Download the Vietnam e-Visa and print it out. You need to show the e-Visa on arrival.
Click here and begin your process. After you are done, submit your form and wait for your visa to arrive.
Remember that in case you need extra assistance to fill your application, iVisa has a support service that you can call anytime, including holidays.
Is it possible to extend my stay in Vietnam beyond what the e-Visa permits?
After entering Vietnam with an e-Visa, you can request that an agency or organization in Vietnam sponsor your stay. They would have to apply for a new visa on your behalf at the Vietnam Immigration Department. Keep in mind that this is the only choice you have in order to extend your stay.
Do I have to enter Vietnam on the exact date specified in my electronic visa application?
The validity period of your e-Visa starts from the date specified in your approved e-Visa document. In that case, you can easily enter Vietnam on any date within this validity period.
Can I enter Vietnam with my visa at any point of entry?
No, you can't. There are some points where you can enter and there are others where you can't. The points permitted are:
International airports
Cat Bi International Airport (Hai Phong)
Cam Ranh International Airport (Khanh Hoa)
Can Tho International Airport
Da Nang International Airport
Noi Bai International Airport (Ha Noi)
Phu Bai International Airport
Phu Quoc International Airport
Tan Son Nhat International Airport (Ho Chi Minh City)
Landports
Bo Y Landport
Cha Lo Landport
Cau Treo Landport
Huu Nghi Landport
Ha Tien Landport
Lao Bao Landport
Lao Cai Landport
Moc Bai Landport
Moc Bai Landport
Nam Can Landport
Song Tien Landport
Tinh Bien Landport
Xa Mat Landport
Seaports
Da Nang Seaport
Hon Gai Seaport
Hai Phong Seaport
Nha Trang Seaport
Quy Nhon Seaport
Ho Chi Minh City Seaport
Vung Tau Seaport
More important information you need to consider before applying
The Vietnam e-Visa is a Single Entry visa.

The Vietnam e-Visa has a 30 days in Total limit from the proposed date of entry indicated on the application.

Travelers who want to visit Vietnam must hold a passport valid for at least six months beyond the period of their intended stay.

Once the first 30 days of your visa have passed, a visa renewal is necessary. In accordance with national law, e-Visa holders in Vietnam may be issued a new visa if an authorized Vietnamese organization or individual requests a foreigner's entry, exit, transit through, and/or residence in Vietnam.

The applicant's passport must be valid for at least 6 months after the intended travel period and must have at least two blank pages for the immigration and border control officer.

Minors with their own passport must complete a full e-Visa application. Minors aged 14 and under who are included on their parents' passport must be included on their parent's e-Visa application.

Applicants are required to carry a copy of their e-Visa at all times during their stay.
How does the Vietnam e-Visa look like?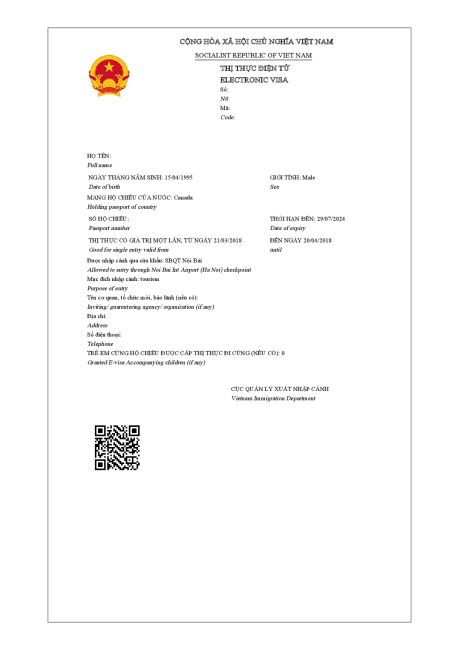 What should I do if I make a mistake in my application?
If you realize you made a mistake when entering your data online, then please contact our customer service representatives as soon as possible to assist you.
Is it safe to use iVisa to get my Vietnam e-Visa?
Yes, of course. We are professionals providing Vietnam eVisas since 2013. There are some people thinking that online information can leak and that their personal info is at a higher risk of getting into the wrong hands. But nothing so far from reality with our services. We provide the best safety for your personal information.
If you are planning a trip to Vietnam, we make things a whole lot easier! We simplify and expedite the visa process so you can go lounge on the beach, explore the gorgeous countryside, or sip a Vietnamese iced coffee - worry-free.
Join the thousands of satisfied iVisa customers who chose to make visa processing hassle-free with iVisa, a visa processing service with a 9.5 "Excellent" rating on TrustPilot. Start your journey now by filling out this application form and forget about going to the embassy!