Congrats, you've found yourself a remote job or taken the plunge to work for yourself online! But before you can call yourself a true digital nomad, you'll have to find the perfect spot to take your laptop in order to live the dream! This is your ultimate guide to choosing the best cities for digital nomads.
Whether you're a Brazilian resident freelancing for a promising startup located in the United States, or a French citizen working for a remote-first company from the beaches of Bali. The internet has opened up new opportunities for people to do what they love while earning an income!
In our ultimate guide to choosing the best place to live as a digital nomad you'll find a breakdown of everything you need to know about choosing the perfect destination including a list of the most popular cities for remote workers.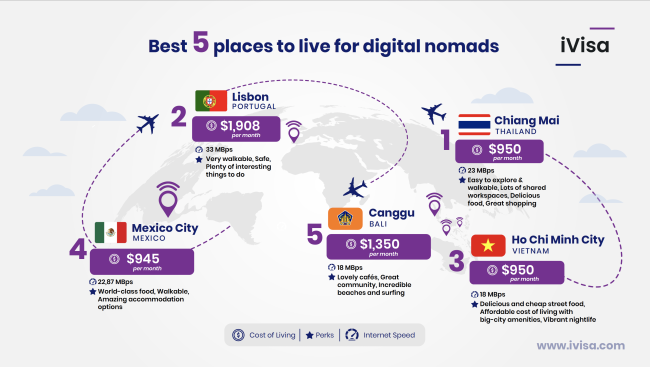 The incredible benefits of being a digital nomad
Welcome to the exciting digital nomad life! Until recently, living like a digital nomad would have been unimaginable for many. Fortunately, traveling has become increasingly accessible, as the COVID-19 pandemic prompted many companies to allow their employees to work from anywhere.
That means the days of commuting (unless you're traveling between countries), working nine-to-five, and working in an uninspiring office building are a thing of the past. The unique digital nomad lifestyle has tons of benefits that encourage people to take the leap, including:
1. A chance to see the world
Likely the number one reason for making the step to becoming an online nomad. Instead of just taking two weeks off a year, you can make travel a regular part of your life. Find inspiration in new environments, learn a new language, and get to know other cultures by simply spending some time as a temporary local.
And whether it's at a cool cafe, digital nomad community hub, or funky coworking space, you can work from wherever you feel most productive.
2. Better work-life balance
As a digital nomad, you (usually) have more say over your schedule. You can start earlier or finish later, and in between meet with friends for lunch, exercise, spend time sightseeing, or simply do the things you love.
Digital nomads have the freedom to work when they are productive and rest when they are not. Lots of online vagabonds report better mental wellbeing, less stress, and feeling more connected to their environment.
3. Be part of a global community
The global nomad community is very international. In addition to meeting local residents, you'll also meet digital nomads from around the world that you wouldn't have otherwise. In addition to teaching you cross-cultural communication skills, making friends from different backgrounds is always eye opening!
4. Save money and pay off debts
Rising housing and living costs around the world are pushing people to live with less and seek alternative lifestyles. Digital nomading allows people to reside in places that have a lower cost of living.
Living abroad can help save money as you have fewer responsibilities like rent, a mortgage, and energy bills. With a little planning, you may even be able to pay off your student loans earlier than you expected.
How to choose the best city to work remotely as a digital nomad
As a digital nomad, it is up to you to decide where and how to spend your days. However, choosing the best place to live as a digital nomad is a lot different from choosing a vacation spot. While the choice also depends on your personal preferences, there are some cities that are more 'nomad-friendly' than others.
Below you'll find the key criteria that we used to define the best digital nomad cities.
Ease of entry into the country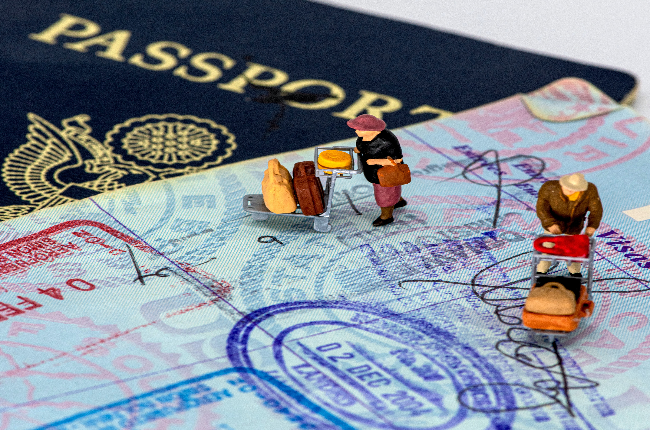 It's relatively easy to get a short-term visa if you're from a country with a widely accepted passport. Often, you can simply show up and get a visa on arrival for 1-3 months for free or low cost.
If you intend to stay and work remote in a place for a longer period, things can get a little more tricky. Visa policies can differ a lot from one another, so when researching new locations, you should look at the visa requirements first. Is it easy to get a visa? What is the process for extending - and how often is it possible? Does the country offer a digital nomad visa?
Also, consider the rules for 'working' while in a country. While most countries don't allow employment with a local company without a work visa, digital nomads are usually considered tourists. It is, however, a good idea to check this before departure.
Reliable internet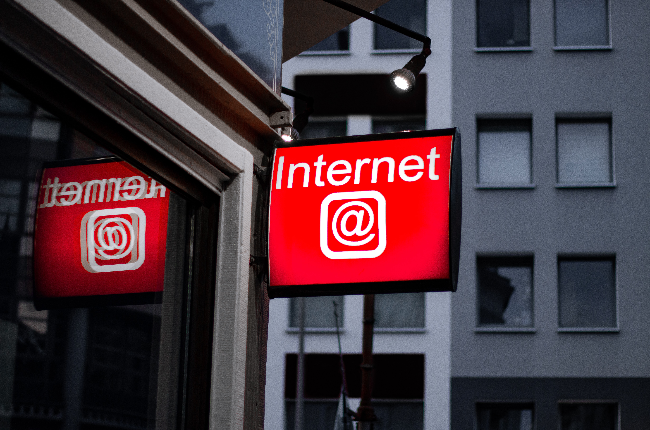 Simply put, as a remote worker, you need reliable internet. The thing is, fast Wi-Fi is not always found in remote coffee shops in South America, for example.
Make sure you are aware of the local internet situation, including what's available in your potential accommodation, at cafés offering free Wi-Fi around town, and data offered by mobile internet providers. Assess if you need decent internet access all the time or just to check your emails, do simple research, or conduct internet-intensive Zoom calls.
From a personal perspective, if you like to stream movies, you will also need a stable internet connection. It's all up to you!
Relative cost of living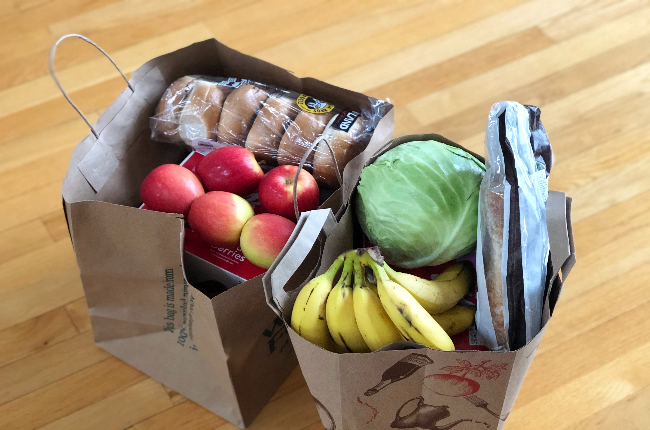 Cost of living is one of the most important things any remote worker should consider when choosing a destination. In the end, you can't live somewhere you can't afford. Not for very long, at least. No matter how much money you make, you'll still want to get the best value.
The most important costs to take into account are:
Accommodation

Food and restaurants

Entertainment

Coworking spaces or office

Flights and transportation
Websites like the Nomad List can also help to make a complete assessment of living expenses in many cities around the world.
Availability of coworking spaces or laptop-friendly cafes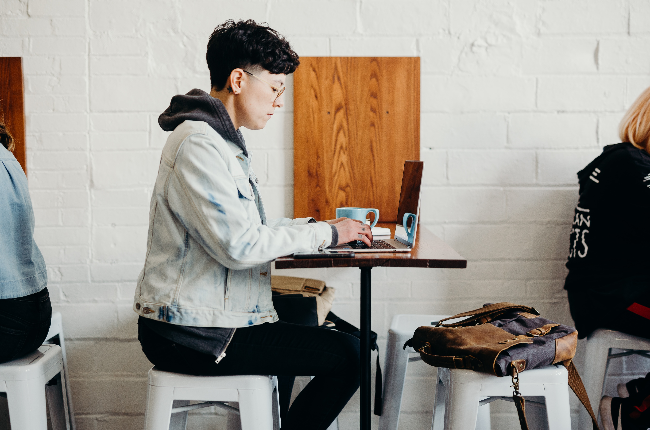 While your accommodation might be a perfectly good spot to work from, sometimes you want to get out and change it up a little. Or if your living space doesn't offer the comfort, inspiration, or internet you desire, it's good to know that there are other alternatives available.
Identifying cities with a vibrant digital nomad scene and many coworking spaces or laptop-friendly cafes might be something to consider before choosing.
Lifestyle and things to do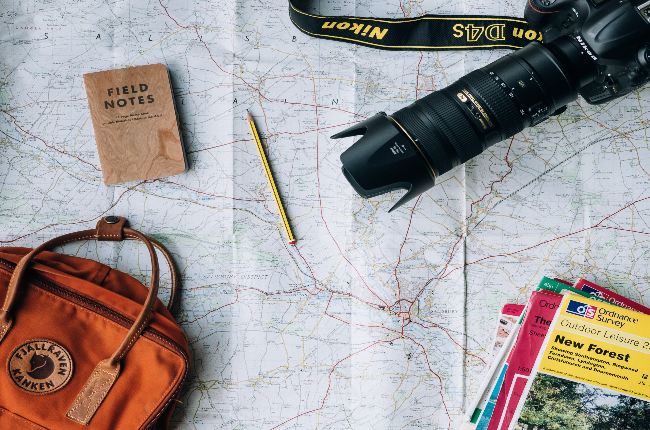 Working and playing are both part of the digital nomad world. Of course, every person has specific hobbies and interests. Whether you're a chilled out surfer, shopaholic, social butterfly, or hiking enthusiast, different cities and countries have their own unique things to offer.
Choose a city that matches your interests, but also offers something new that you've never tried before. Isn't that the point of traveling the world, after all?
Vibrant community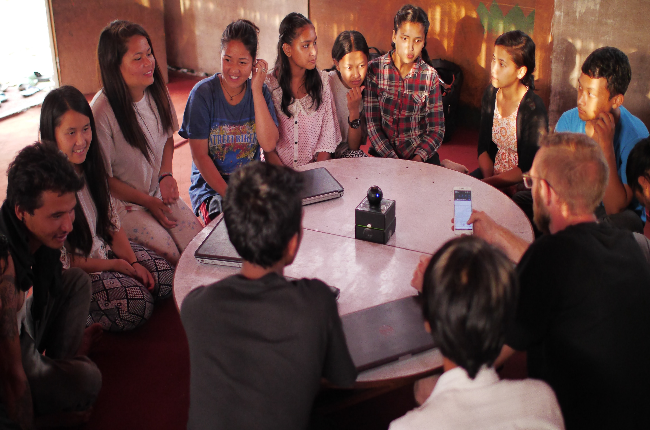 Even if you aren't shy about making new friends in a coffee shop or at the gym, digital nomad meetups help a lot to find like-minded people to hang out with. Digital nomads are building a home away from home, and a community helps them do that.
Before making a decision, check out what the popular digital nomad hubs have to offer. Places like Selina, WeWork, or Roam are great for making new friends, networking, and bouncing ideas off each other. There are co-living spaces offering an all-in-one experience, from gyms to bars and restaurants, or simply find a cool networking event on Meetup, for example.
Infrastructure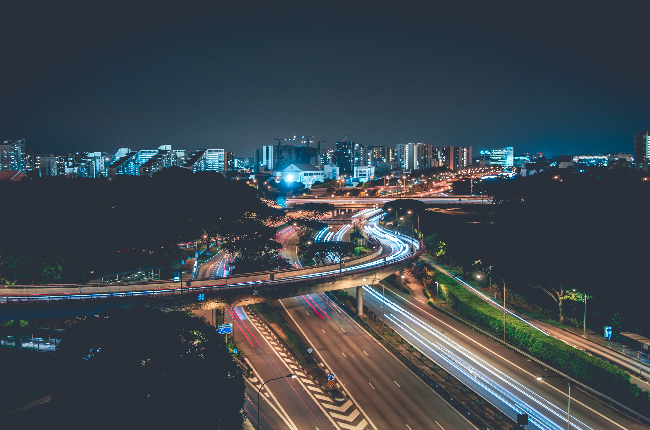 Getting around and exploring a city that offers good infrastructure will be much easier. In major cities, public transport can drastically affect your quality of life. Not having to hire a car will help keep costs low.
Make sure to have easy access to transport if working from a coworking space or office. Some cities are perfectly safe for biking or walking, which also helps you stay in shape and breathe in the fresh air after a busy day.
Safety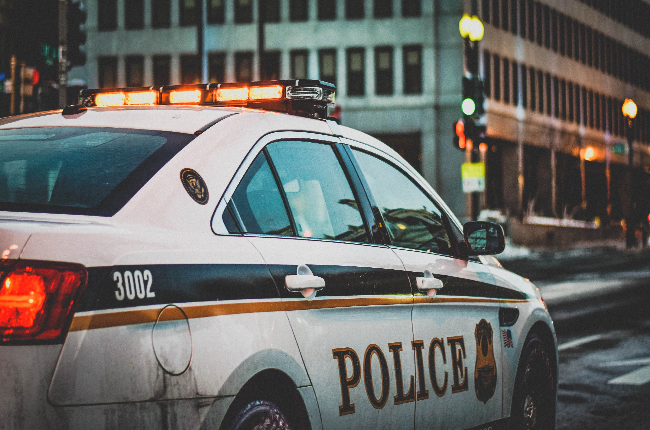 Theft, accidents, and bad luck can happen anywhere, and most of the digital nomad hubs are generally safe to travel and live. However, it's good to do your research before you go about which neighborhoods to avoid, if it's safe to walk at night, and how LGBTQ-friendly a place is. As the old saying goes, it's better to be safe than sorry.
Other things to consider
Additionally, other digital nomads may consider time zones, friendly locals, nightlife, language, weather, healthcare, food, and local culture as factors to take into account.
So, let's skip to the good part! Based on all of the above, where are the best places to live for digital nomads?
The best digital nomad cities to live in
We've scoured the internet and asked for tips from digital nomads, pooled our resources, and hand-picked some of the best cities to live in as a digital nomad. Here is our top five!
1. Chiang Mai, Thailand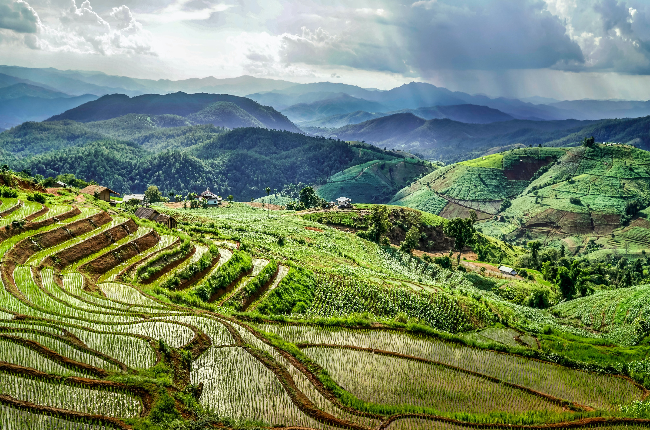 Looking for a stunning yet low-key city to work and play? Then the northern Thai city of Chiang Mai in Southeast Asia may be the answer to all your digital nomad needs. The city center boasts modern coworking spaces surrounded by lush jungles, breathtaking temples, and vibrant night markets.
When you consider the low cost of living in Thailand it's no secret why Chiang Mai is so popular and secured the top spot on our list. There are so many benefits of being a digital nomad in Chiang Mai, including amazing food and being surrounded by nature, thats why it's been named the 'digital nomad capital of the world.
Ease of entry: With 64 countries being able to enter Thailand without a visa for up to 30 days including citizens of the UK, USA, South Africa, most of Europe, Asia, and South America, Thailand gets a 5/5 for ease of entry.

Reliable internet: 4/5

Relative cost of living: 4/5

Overall safety: 4/5 -relatively safe but be aware of pickpockets and petty thieves.
2. Lisbon, Portugal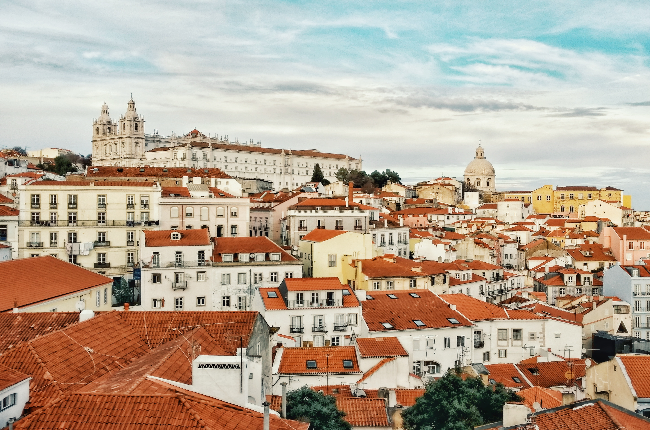 Lisbon, Portugal is second on our list because even though it's a little more pricey than other options on our list, the city has tons to offer. In comparison to most other places, the cost is outweighed by the impeccable modern infrastructure and easy lifestyle in Lisbon.
The beautiful weather, rich history, large expat community, gorgeous attractions, and mouthwatering food, are all excellent reasons to consider Lisbon as your next remote working destination. The fact that Portugal offers a digital nomad visa and an incredible Golden visa program, for those looking for something more permanent, is an added bonus.
Ease of entry: Portugal offers a specialized Digital Nomad Visa or Portugal D7 Visa which makes it much easier for remote workers to enter the country. Thus, it gets a 4/5.

Reliable internet: 5/5

Relative cost of living: 3/5

Overall Safety: 5/5 - boasts one of the lowest crime rates in Europe.
3. Ho Chi Minh City, Vietnam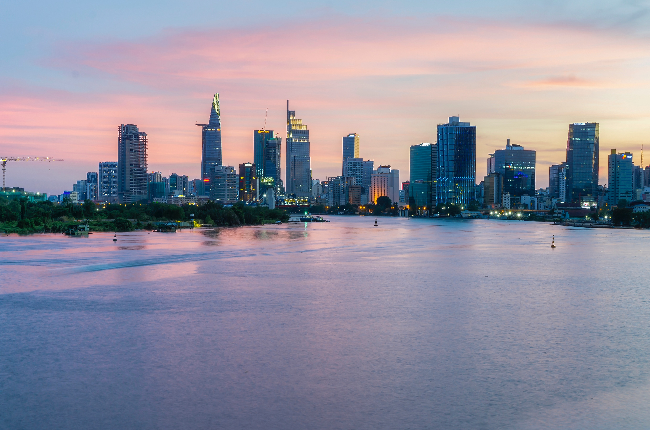 From divine street food to inexpensive accommodation and high-speed internet, Ho Chi Minh City is every digital nomad's dream. Saigon, as locals call it, is actually the main financial hub in Vietnam and is one of the most modern and bustling cities in the country.
With a few coworking spaces, a solid community of digital nomads, and the very low cost of living, this is a great city for first time digital nomads to kick off their journey. An added bonus is the easy access to Vietnamese coffee whenever you need a quality caffeine hit.
Ease of entry: Vietnam offers a digital nomad visa which can be both single-entry or multiple-entry which is reasonably priced, so it deserves a 4/5.

Reliable internet: 3/5

Relative cost of living: 4/5

Overall safety: 3/5 - relatively safe however the crime rate has risen in recent years.
4. Mexico City, Mexico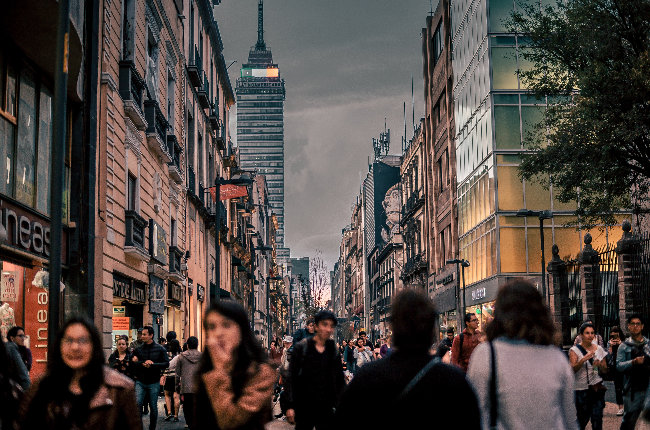 If chilled out beach living isn't really your vibe, or you're craving a little more excitement, why not try the vibrant metropolis of Mexico City? Bursting with rich culture, history, beautiful neighborhoods, incredible food, vibrant local bars, and fantastic co-working spaces, Mexico City has something to offer every digital nomad.
We recommend looking into districts like La Condesa, Roma, Polanco, Reforma, Santa Maria La Ribera, Coyoacán, and the Centro Histórico to live in as these tend to be safer areas in Mexico City. However, remember to be vigilant of pickpockets and keep your wits, and your belongings, about you.
If you're traveling alone, avoid the Ciudad Neza, Iztapalapa, Doctores and Tepito districts. During the day Plaza Garibaldi is a must-visit as the authentic Mariachi performances are the perfect break during a work day, however, the area can be quite unsafe at night so be careful.
Mexico City, Mexico is a great option for digital nomads on a budget who are craving a change of pace and culture.
Ease of entry: Mexico offers a temporary residence visa, which many consider their digital nomad visa as it allows remote workers to stay in the country for up to a year with option for renewal. The convenience of this earns the city a 4.5/5.

Reliable internet: 4/5

Relative cost of living: 5/5

Overall safety: 3/5 - Depending on which areas of the city you are in, there may be some safety issues to consider. In general, it is advised to exercise caution throughout Mexico City.
5. Canggu, Bali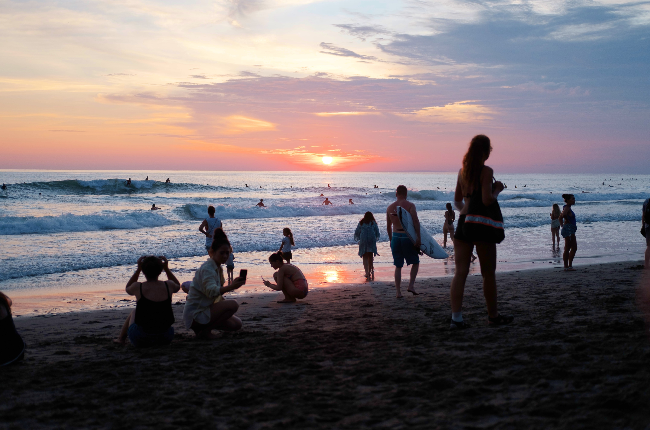 Last, but not least, is a more luxurious destination that comes with quite the price tag. Canggu, Bali is certainly not among the cheaper options in terms of cost of living, but who can resist the chance to work in heaven on earth?
The former surf paradise, Canggu is now a booming expat area that boasts numerous Instagram worthy Australian-style cafés, ample coworking spaces, and a great community of like-minded individuals. With lots of networking events, free workshops, and cafés, this is the ideal place to rub shoulders with other nomads.
Ease of entry: Indonesia recently revealed that travelers can enter Indonesia and Bali for a "workcation" under the B211a visa. While it is not an official digital nomad visa, it earns Bali a 3/5. The visa is only valid for 60 to 180 days and those with a 60-day visa can extend it twice. However, this also means doing more paperwork.

Reliable internet: 3/5

Relative cost of living: 3/5

Overall safety: 4/5 - Canggu is generally quite safe if you are always aware of your surroundings.
Overview: Top 5 places to live as a digital nomad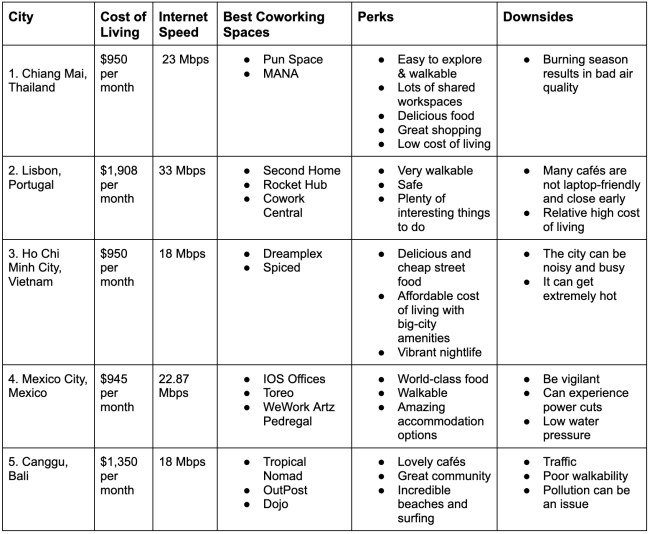 Bonus tips: More digital-nomad friendly cities
If you are still not convinced, we recommend considering one of the other digital nomad cities that barely missed our top five. These destinations still offer amazing benefits!
6. Penang, Malaysia One of the top destinations for digital nomads in Southeast Asia, especially for coffee addicts (aren't we all?)! The island of Penang is known for its café culture, vibrant digital nomad community, and gorgeous beaches. This is a great opportunity for new nomads especially since Malaysia offers a designated Digital Nomad visa.
7. Medellín, Colombia Known as one of the best places for coworking and doing business in Colombia, the 'city of eternal spring' also has lots to do after work and a thriving nightlife scene.
8. Anguilla, Eastern Caribbean One of the first places to offer a digital nomad visa, this island with its long sandy stretches of beach is a must-visit for all digital nomads.
9. Berlin, Germany This Western Europe country offers an excellent visa for freelancers and digital nomads, and is hard to resist as a digital nomad. It offers a party scene, extensive expat community, and great infrastructure.
10. Cape Town, South Africa Fondly known as the tech startup hub of the country, Cape Town is quickly becoming the place to be for those who love a mix of nature, city, beach, and travel opportunities. However, planned power outages sometimes cause issues for remote workers, so make sure to be prepared.
Resources for digital nomads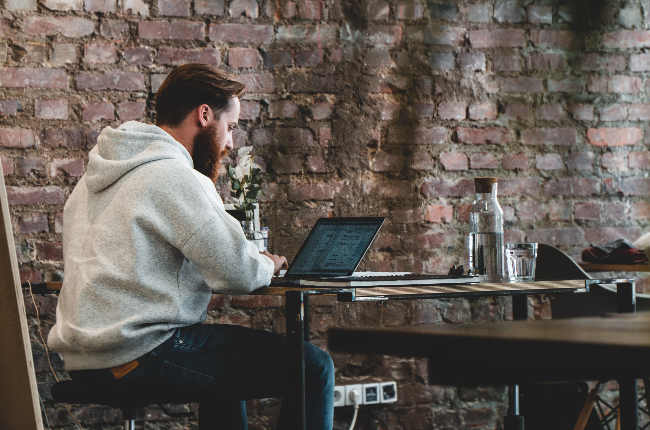 According to studies quoted by Forbes Magazines, it is estimated that by 2025 nearly 35.7 million Americans will be remote workers. So if our list has sparked the desire to join masses and adventure to a new country, now is the time. If you need a little more convincing these sources are the perfect place to start:
Ready to go on your digital nomad adventure?
Use our visa checker tool to see which travel documentation is available for your dream destination. You can also speak to our visa experts for more information about visas, travel documents, and other entry requirements. They are available 24/7 visa online chat or email at [email protected].
Also feel free to send in your own suggestions of how to choose the best digital nomad city, your favorite digital spot, and more!