Australia's ETA (subclass 651) program started in 1996 but the most recent ETA was embraced in 2013, and most nationalities can apply, including Andorrans. In iVisa, we are ready to help you with this process.
That's why we bring you in this article all the details you need to complete your application successfully, starting with the most common questions many Andorrans have.

Frequently Asked Questions (FAQs)
Do I need a visa to enter Australia if I have an Andorran passport?
You don't need exactly a visa to enter Australia since the document required is not the same as other visas around the World. What you need as an Andorran citizen is an eVisitor Visa.
What is the Australia eVisitor?
This is a new travel visa available to European Union passport holders who wish to travel to Australia. It is designed to streamline the online visa application system for travelers from the EU.
Remember that you must be outside Australia when you apply. It is recommended not to make any travel arrangements until you receive your visa.
How Long can Andorrans stay in Australia with the eVisitor Visa?
Andorran citizens can stay in Australia for 90 days Per Entry.
How long is the Australian eVisitor valid for?
This document is valid for 1 year after arrival.
What documents are necessary to apply?
While an online application is more accessible than going to an Australian embassy, that doesn't mean you don't need a few documents. It's better if you put them all together before filling in the form. Even so, iVisa asks very few things when it comes to documentation. Here is a list of what you need.
A valid passport when you board your flight and also when you enter Australia. Please note the travel industry recommends that your passport is valid for at least 6 months as some airlines and some countries have a 6-month rule.

A credit/debit card (or a Paypal account) and an email address for confirmation.
Apart from the two things listed above, you will also be required to complete a personal questionnaire. It is nothing difficult. You just need to state the reasons for your travel and a few other things. It is recommended that you answer the questions truthfully.
Once you have gone over this stage, you can proceed and complete the application form. It is not challenging at all, but if you have questions, you can contact iVisa's support service.
What are the processing time and fees?
The two aspects are treated together because the first determines the second. The Australia ETA for Andorran itself is free; what you pay is the service fee to iVisa to make it easier. The company gives you three excellent options, and you can choose the one that suits you best.
Keep in mind, though, that the faster your application is processed, the more money you spend. Here is what you can select:
Standard – people often choose this option because it is the cheapest. It costs just USD 30.00. Even so, your visa will arrive pretty fast. It takes 4 days for your application to be processed. It may be the slowest, but one day is not that long.

Rush – comparing it to the previous option, the Rush processing time is way faster. You'll have your Australia ETA ready within 2 days. As for the price, this one costs USD 50.00.

Super Rush – this is the fastest available option iVisa can provide. It is ideal if you want to apply on your way to the airport. Your ETA will be ready within just 24 hours, and it costs USD 90.00.
Are there any conditions to apply to the Australia eVisitor?
It's important that you consider these 4 conditions before applying:
Business visitor activity: This means that you are not allowed to engage in any work other than a business visitor activity during your visit to Australia.

Maximum three months study: While in Australia, the holder must not engage, for more than three months, in any activity regarding studies or training.

Tuberculosis free: The visa holder must be free of tuberculosis at the time of travel to, and entry into Australia.

No criminal conditions: The visa holder cannot have any criminal convictions, for which the sentence (whether served or not) is for a total period of 12 months or more, at the time of travel to, and entry into Australia.
How does the Australian eVisitor work?
The ETA system in Australia was first introduced in 1996, providing authorization to travel to this country. This document is electronically linked to your passport. While checking in at the airport for your Australian-bound flight, the check-in staff can electronically confirm that you have the authority to board the flight to Australia. The Australian ETA is available to citizens of over 50 countries.
The eVisitor Visa is an electronically-stored authority for travel to Australia for short-term tourist or business visits. It replaces the well-known visa label or stamp in a passport and reduces the need for travelers to visit an Australian Embassy.
How long does it take to apply for an ETA?
You'll need less than 10 minutes to complete the application form.
How can I apply for an Australian eVisitor Visa?
When forms come to mind, you think of something difficult to do, right? But this is not the case since iVisa has created one of the simplest forms you have ever completed.
It is broken down into two easy steps:
The first step consists of general information like name, address, passport info, and so on. You must also select the processing time you want at this point.

The second step consists of revision and payment. You then hit the submit button and start packing. The ETA will be ready in no time.
As you can probably notice, getting an Australia ETA for Andorrans is very simple. There is almost no effort on your part, and it takes little of your time. Comparing it to the alternative of going to the Australian embassy, it does sound better.
In case you need assistance to fill your application, iVisa has a fantastic support service that you can call 24/7.
How does the Australia eVisitor Visa look like?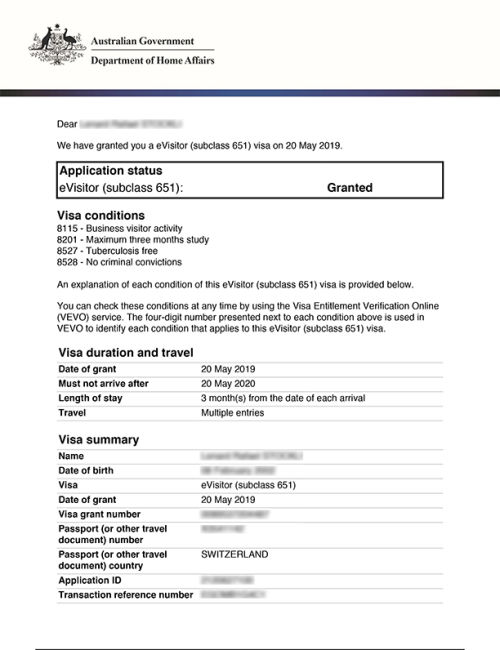 What happens after I have submitted my application form?
Once you submit your application, just wait for your e-Visa to arrive by email in the timeframe you chose. You don't have to deal with the embassy. We do it for you so in order to save you valuable time.
After that, you can present a printed version of your Australian e-Visa along with your passport once you enter Australia. Even if it's already linked it, we recommend you to have a printed version just in case.
I made a mistake on my application. Can I modify the eVisitor Visa after it's issued?
No, we can not change or modify any details on the ETA once it's issued. If you do, however, realize you made a mistake before your ETA has been issued, then please contact us ASAP via online chat or by sending an email to [email protected]
Is it safe to use iVisa to get my ETA?
Yes, completely! There are many people thinking that online information leaks and their personal info can easily get into the wrong hands. However, that is not the case with our services. We provide maximum safety for your personal data, confidentiality, and we invest a lot in the security of our database. Your personal information is 100% safe. You can check what hundreds of happy customers say about us here.
I have more unresolved questions, where can I find more info?
If you still have doubts, click here and start chatting with one of our customer service representatives. Alternatively, you can find more info and FAQs here.
Remember that you don't have to lose the opportunity to visit Australia now if you're an Andorran passport holder. And with iVisa, you can be sure that we'll make the process faster and easier for you, even if you're in a rush to visit Australia. Start your journey! Click here to fill in your application form and get ready for this adventure.