Austria is situated in Central Europe and bordered by 8 countries on its sides. From the sunny alpine meadows to the mountains piercing through the skies to the crystal clear turquoise lakes, Austria is a dream-destination. Austria is colored with its quaint towns, the picturesque Hallstatt nestled in the shadow of the Salzkammergut mountains, the town of Durnstein located on the Danube, and the beautiful village of Alpback are some of the most beautiful places on the face of the earth.
The capital city of Vienna alone is enough to attract tourists, it holds a balance of museums, cultural institutions, and gorgeous architecture. Austria is home to great musical geniuses like Mozart and Beethoven. The country of Austria is adorned with churches and castles that boast of a rich history. Apart from the breath-taking view, Austria also offers a host of sports and a range of exclusive winter sports.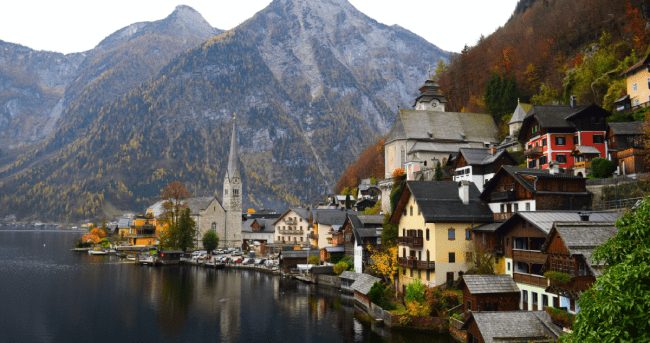 Austria became part of the Schengen Region in the year 1995. Citizens of Libya who intend to visit Austria will require a Schengen visa since this country is a part of the Schengen area. This will help the government to screen individuals entering this area and ensure the safety of the citizens and tourists.
With iVisa.com, procuring an Austria Schengen Visa for Citizens of Libya will be a rather simple and easy process. Thus iVisa.com makes this long and strenuous process less time-consuming. You can apply for the Austria Schengen Visa online by visiting our website iVisa.com. Follow our guide on how to obtain an Austria Schengen Visa for Citizens of Libya.
With the help of the Frequently Asked Questions which has been compiled, citizens of Libya will be able to understand this process easily and then apply for their Austria Schengen Visa by visiting iVisa.com.
Frequently Asked Questions
The main purpose of this segment is to clear any queries that the citizens of Libya might have while applying for their Austria Schengen visa. Apply for your Austria Schengen Visa for Citizens of Libya today by clicking here.
What is the Austria Schengen Visa?
The Austria Schengen Visa is a mandatory document that is required by every citizen of Libya who wants to visit Austria. This document is crucial as it plays a major role in ensuring the safety of its citizens and tourists.
What are the essential documents required for the application process?
The residents of Libya who want to apply for their Austria Schengen Visa via iVisa.com will require the following documents:
Passport: A valid passport that won't expire for at least 3 months beyond your international stay of your trip.
Email address: An email address via which you can receive the visa documents safely when they are mailed.
Credit card/ Debit card/ PayPal: Finally, you will require a credit or debit card or PayPal account to pay for your visa application.
How long can one stay with the Austria Schengen Visa?
The residents of Libya can stay for a period of 90 days if they have the Austria Schengen Visa beginning from the day of their arrival to the day of their departure. Click here to know more about staying in Austria with a visa.
What is the processing time and price for the Austria Schengen Visa?
Citizens of Libya can avail any one of the 3 options that are provided by iVisa.com while applying for their visa. The options are:
Standard Processing: Your visa documents will be processed and delivered well in time for your trip for a general fee.
Rush Processing: You can obtain your document a little earlier than the standard time by paying a little extra.
Super Rush Processing: Those who are in a rush and requiring their visa within a very short time, can opt for this. This is a little bit more than the other two.
You can find out more about your Austria Schengen Visa for Citizens of Libya by visiting iVisa.com.
What is the application process for the Austria Schengen Visa?
To avail of the Austria Schengen Visa for Citizens of Libya, you can visit iVisa.com and apply for it. Follow the steps mentioned below:
Application Form: Fill in your visa application form by visiting iVisa.com.
Payment: Pay for your visa via a credit/debit card or PayPal.
Documents: Scan and upload all documents and then submit your form.
In case of any technical issues or any other help, contact our customer service.
How safe is iVisa.com?
iVisa.com is undoubtedly safe. With the help of a high-end system that blocks all third-party interferences, we protect all client information. You can check our client testimonials by visiting our website.
I still have questions, what do I do?
In case you need more information about Austria Schengen Visa, visit this link. If these questions were not enough and you still have doubts, you can also contact our customer support who are available 24x7 to assist you with any matters regarding the Austria Schengen Visa.