Are you considering relocating to Austria from a non-EU country? Getting residency and, eventually, citizenship through the Austrian Investment Program is possible. Anyone from a non-European Union country can participate in this investment scheme if they meet all the requirements. Get an overview of the different investment options and how to apply for the Austria Golden Visa Program.
In Europe, foreign investors often take advantage of the popular Golden Visa schemes to live, work, and travel visa-free in another country than their own. In this article, we explain how to obtain the Austrian Residence Permit and Austrian citizenship by making a significant investment in the Austrian economy, such as a government development fund.
Austria requires you to live in the country in order to be eligible for citizenship. Would you like to see for yourself if Austria suits your lifestyle? For short-term entry, apply for a Schengen visa. Please consult our visa checker if you are unsure which travel document is right for you.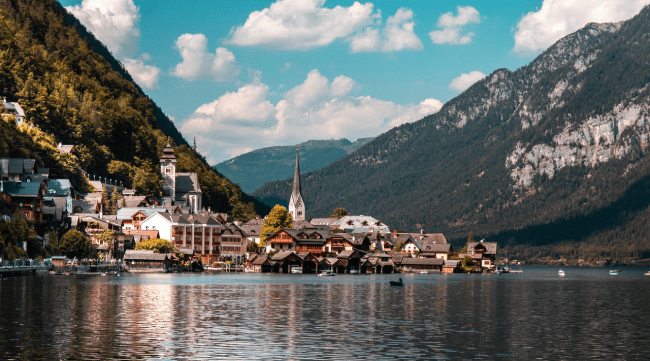 What is the Austria Golden Visa?
One of Europe's wealthiest countries, Austria offers its citizens and temporary residents a very high standard of living. Austria is an excellent place to live thanks to its awe-inspiring natural beauty and its well-developed and stable economy.
By investing in the Austrian economy, foreigners can become citizens and residents. However, this doesn't come cheap. The investment must be significant, contribute to the economy, and create jobs in return for Austrian citizenship and a subsequent second passport.
Austria's citizenship by investment scheme is unique in that rather than having set investment options on the table, investors are free to choose their investment as long as it is substantial and serves the Austrian government. Furthermore, Austria offers investors a wide range of lifestyle benefits as well as a wealth of investment opportunities, and citizenship is immediately granted after approval. However, the whole process can take up to 36 months.
Benefits of getting an Austrian residence permit through investment
You can travel visa-free to 199 destinations worldwide with an Austrian passport, including the United States and the United Kingdom. Some additional advantages of the Austrian residence permit are:
Free to live in one of the safest and financially healthy countries in the world.

Visa-free access to all Schengen countries.

Access to high-quality education and healthcare.

Direct family members can be included in your application.

A wide range of investment options.
Eligibility criteria for the Austria Investment Program
Only a few will be selected for the Austrian investment program, as there is a strict quota in place of a maximum of 300 applicants annually.
Be over 18 years old at the time of application.

Have a clean criminal record.

Renounce current citizenship, as dual citizenship is not recognized in Austria.

Take up residence in Austria.

Maintain a bank account with a minimum of EUR 40,000 in liquid assets. This may increase depending on the size of the family included in the application.

Must show proof of permanent residential real estate (purchased or rented), where the applicant and any dependents will live in Austria.

Must have private medical insurance.

Must have A1 level German language skills.
Austria Golden Visa for family members
The Austrian Investor Visa scheme allows spouses and dependent children under 21 to be included in the application. They can eventually become Austrian citizens, provided their current citizenship is renounced.
Investment options for the Austrian Golden Visa
While the Austrian government decides possibilities on a case-by-case basis, unlike other programs such as the Greek Golden Visa, Austria does not allow passive investments in government bonds or real estate.
The following four direct investment options are a way to gain Austrian citizenship:
Make a significant contribution to a government fund

Make a joint venture investment

Invest in venture capital

Invest in an innovate business or first priority-business as determined by the Austrian government
There are several rules for investors, even though the investment amounts aren't set in stone (they usually range from EUR 2 million to 10 million). These rules are:
It is necessary for the main applicant to have a notable influence over an organization.

A robust economic performance indicator should be present in the entity, and it has to have an international reputation.

The investment must create a significant number of full-time jobs.

Austria's economic external relations must be supported by the investor's achievements.
How to apply for the Austrian Golden Visa
Obtaining citizenship in Austria through investment does not require a formal application process, but it is estimated that it will take around 24 to 36 months.
As a result of your investment, Austrian citizenship is granted through various procedures requiring approval at many levels of government. As a result of the Government of Austria's decision, successful applicants receive full Austrian citizenship and can apply for a passport immediately. It takes a few days for passports to be issued.
Documents and requirements for the Austrian Golden Visa application
The following documents and information must also be submitted to be eligible for the Austrian investment program:
Proof of income from the last three years.

Police clearances and documents proving good behavior.

Current Austrian visa.

Valid passport.

Diplomas from educational institutions.

Marriage certificate, children's birth certificates, and evidence of past marriages (if applicable).

A complete CV containing information about each family member's birthplace, education, career history, and personal circumstances.

Recent passport photos. If you don't have one, use the convenient iVisa digital photo service.
Costs to apply for the Austrian Golden Visa
While you must make a substantial investment in the Austrian economy, you should also take into account any additional costs, such as administrative fees, legal costs, consultation fees, taxes, and more. Therefore, expect to pay at least 8-10% extra on top of your initial investment.
The federal Austrian citizenship fee is EUR 700, plus the provincial administrative fees. In addition, there is a federal cost of EUR 1,400 plus provincial administrative fees for married couples.
Application for Austrian citizenship by investment
While the investment is high, and the whole process can take up to 36 months to complete, you can immediately obtain Austrian citizenship and an Austrian passport upon approval. This is quite unique compared to other countries, where you will have to maintain investment for up to 10 years to be eligible for citizenship.
With the Austrian passport, you can travel visa-free or visa-on-arrival to almost any country, including the USA. Undoubtedly, it's one of the world's most prestigious travel documents, but it comes at a cost.
Approval of citizenship applications cannot be guaranteed, as citizenship is granted at the sole discretion of the Austrian government.
Schengen visa for Austria or another country
Have you decided to apply for the Austrian Golden Visa, or are you looking for another golden visa program with less stringent rules? Then, why not visit your top three choices? But, before you go, make sure to first apply for a short-term Schengen visa or ETIAS visa waiver.