Home
>
Bahamas Travel Guide: All you need to know to visit the Bahamas in 2023
Bahamas Travel Guide: All you need to know to visit the Bahamas in 2023
Welcome to Bahamas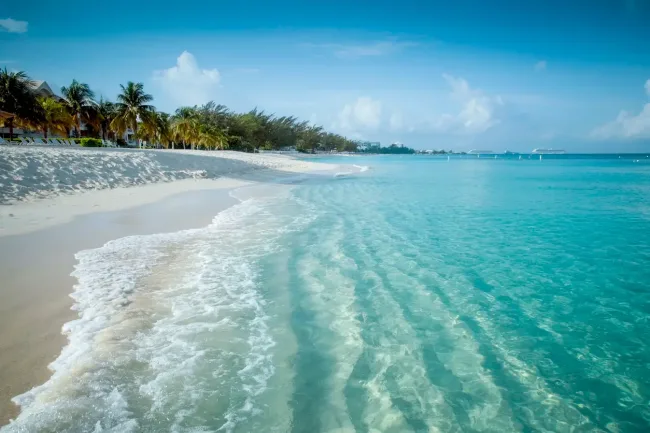 Year-round sunshine, enchanting white beaches, crystal-clear turquoise waters, what's not to love about the Bahamas? But this collection of islands, a favorite among honeymooners, offers more than meets the eye. From the vibrant culture and great shopping to fine dining, let's explore the Bahamas!
This ultimate Bahamas travel guide will help you make the most of your trip to the Bahamas with practical tips and must-see attractions for these paradise islands.
Document checklist for the Bahamas
Visa (if applicable)

Valid passport (must be valid for at least 6 months from the date of departure from the Bahamas)

Return or onward ticket
Essential Bahamas travel information
Currency - Bahamian dollars (B$). Bahamas currency is pegged to the US dollar ($), also widely accepted.

Daily budget for 1 person - Allow a daily budget of $200.

Languages - The official language of The Bahamas is English. Many people speak an English-based creole language (called Bahamian Creole, Bahamian English, or Bahamianese). Haitian Creole is spoken by about 25% of the total population.

Number of travelers per year - The Bahamas surpassed seven million visitors in 2022, signaling a recovery in tourism after the pandemic.

Socket type - Types A and B, 120V supply voltage and 50Hz.

Time zone - Eastern Standard Time (GMT-5).

Top 3 cities/islands to visit - Elbow Cay, Nassau, and Harbour Island.

Top 3 landmarks/monuments - The Cloisters, Pig Beach, and Great Exuma.
Visa information for the Bahamas
Visa requirements vary based on your citizenship and residency. To enter the Bahamas, citizens from countries other than the U.S. and Canada must present a valid passport, and some nationalities need a Bahamas Visa. Find out which documents you need with our Visa Checker Tool.
The Bahamas Travel Visa explained
The Bahamas Travel Visa is an official travel authorization that allows you to enter this country for tourist or business purposes. There are two types of authorizations for this visa:
The single-entry visa, valid for stays up to 90 days Per Entry.

The multiple-entry visa, valid for stays up to 90 days, 6 months, or 12 months. This is ideal for business travelers.
Before applying for a multiple-entry visa, you must have obtained at least three single-entry visas. With iVisa, you can apply quickly and easily for all the above visas from the comfort of your own home!
Visa difficulty index for Bahamas
Accessibility: 4/5 Most nationalities other than U.S. or Canada must apply for this visa. You only need a couple of documents to apply, such as a passport and photo, but sometimes additional documents are requested.
Time to get your visa: 3/5 The visa application process can take up to 11 days, depending on your budget and needs. To get it within 7 business days you can pay an additional processing fee.
Costs: 4/5 The government fee is relatively high for a short-stay visa, which can cost around $100 (depending on your nationality), excluding the iVisa processing fee. However, you won't have to visit a Bahamas embassy or consulate to apply, and you have access to the entire Bahamas paradise.
Typical costs and budget for the Bahamas
A guide to what you'll spend daily in the Bahamas on a mid-range budget.
Daily spending - Around $200 per person, per day. This includes:

Meals - Expect to spend about $45 per person for a meal.

Transport - Depending on your travel plans, local transportation may cost up to $32 per day.

Hotel - The average hotel price in the Bahamas for a couple is $199. On average, a trip to the Bahamas for two people for one week can cost up to $2,800.
Transport and best ways to travel around the Bahamas
The Bahamas are easily accessible and offer various air and sea terminals. Here are the best ways of getting to and around the Bahamas.
Getting to the Bahamas
Three international airports, the main one is Lynden Pindling Inter in Nassau, serve the Bahamas. The airport welcomes regular flights from all over the world, as well as private charter services. Nonstop flights to the Bahamas are offered by American Airlines, Envoy Air, jetBlue, United, British Airways, Virgin, Bahamasair, Delta, Azul Airlines, and Qatar Airways.
Twenty-nine marinas in the Bahamas serve as official ports of entry. Nassau is one of the world's busiest cruise ship ports and is well connected by ships from Florida, USA. If you're arriving by yacht, you are subject to customs and immigration documentation and fees.
Arrival and immigration tips for the Bahamas
Hazrat Shahjalal International Airport in Dhaka is the largest airport in the Bahamas. Depending on the season and time of arrival, immigration procedures can get chaotic and long queues are common. A few tips to make the immigration process smoother:
You cannot bring fresh fruits and vegetables into the country, especially important to know if you are arriving by private charter or yacht.

Upon arriving in the Bahamas, each visitor must fill out an immigration form, declaring any goods and cash they are bringing with them. Officials will stamp your card when you enter and you must keep your immigration card to show upon departure.

If you arrive by private charter, you'll need extra entry documentation.

When leaving the Bahamas, you'll need to pay a departure tax, which might not be included in the price of your flight ticket.

If you're connecting to one of the Out Islands from Nassau, allow at least 1½ hours to clear security and customs screenings, before going to the domestic terminal to check in for your next flight.
Getting around the Bahamas
The Bahamas offers 16 islands for an adventure of a lifetime. Here are the best ways to get to your final island destination, or do some island hopping:
Flying between islands is convenient. There are scheduled and chartered air services, available through carriers such as Bahamasair, Pineapple Air, Western Air, Flamingo Air, and Coco Bahama Seaplanes.

Ferries and so-called mail-boats for travel between several islands, and even to and from Florida, USA. Some of the most commonly used ones are the Green Turtle Ferry, the G&L Ferry, Glenrick's Water Taxi, and Frederick's Major Ferry service.

Throughout The Bahamas, you'll find well-equipped marinas with all the boating and docking essentials for boats of all sizes and stays of any length if you're traveling by private yacht.
For specific flight and ferry schedules, check out the official Bahamas website.
Safety in the Bahamas
It is generally safe for tourists to visit Bahamian islands, but some are less so than others. Knowing the safety situation in each area is the first step towards traveling smart and avoiding issues.
Here are some tips to keep safe:
From June to November, it's the Atlantic hurricane season, so keep an eye out for the weather, especially if traveling by boat or small airplane.

Mosquitoes can carry the Chikungunya virus, so protect yourself with mosquito spray and use mosquito nets where possible.

There have been armed robberies in the following neighborhoods, although the attacks are less targeted towards tourists: Nassau's Over the Hill area, Nassau's Sand Trap area, and Freeport in Grand Bahama.

If you're planning to stay in luxury resorts, safety is not an issue. To avoid medical or other emergencies, it's important to purchase travel insurance in advance. This will help access medical facilities, get medical treatment, and even assist with medical evacuation if necessary.
Weather in the Bahamas
The best time to visit the Bahamas is November or late April when you'll have great weather and fewer crowds. You'll still be outside the hurricane season, which runs officially from June to November.
With only slight seasonal variations, the Bahamas enjoys warm temperatures all year round, between 24°C and 29°C (75°F and 84°F). Although the evenings and mornings can be a little chilly between December and April, the sea is still pleasant to swim in and the sun shines brightly.
March through early April is the peak season for visitors from the Northern Hemisphere when university students are on holiday.
Must do and see in the Bahamas
Don't miss these awesome sights on your holiday to the Bahamas:
One of the most renowned beaches in the Bahamas is Pink Sand Beach, a visually stunning attraction. This rose-colored beach is located just a short distance north of Dunmore Town on the east coast of Harbour Island. There is another pink sand beach on Cat Island, which is a little less crowded.

The Dolphin Encounters program at Blue Lagoon Island (also known as Salt Cay) offers travelers the opportunity to swim with the ocean's most intelligent mammals!

Located on Andros island, Blue Holes National Park covers about 33,000 acres of land, with gorgeous swimming blue holes and freshwater reservoirs. Snorkelers and scuba divers can explore elaborate underwater caves created by limestone.

Located on Paradise Island in the Bahamian capital of Nassau, the Cloisters are remnants of a 14th-century French Monastery. It also offers a beautiful hilltop view of Nassau.

The swimming pigs of the uninhabited island Big Major Cay are a huge attraction, and it's easy to see why. They are super cute!
Typical Bahamian food to try
You won't want to miss these traditional Bahamian dishes on your next Caribbean holiday.
Cracked conch - Pronounced "konk", these shells offer delicious meat. Fried (which locals call cracked) conch is pounded and breaded and served curried or with a Creole sauce.

Johnnycakes - Similar to cornbread, johnnycakes are often served with stews or curries. They are made of milk, butter, flour, and sugar.

Pigeon peas and rice - This is a common Bahamian side dish, made from pork, pigeon peas (a typical bean from the Caribbean and South America), celery, rice, tomatoes, and thyme.

Souse - Pronounced "sowse", this popular Bahamian dish is a stew made from onions, lime juice, celery, peppers, potatoes, carrots, bay leaves, and meat like chicken, oxtail, or even pig's feet!

Guava duff - Guava fruit is folded into pastry dough, boiled, and served with a rum custard sauce as a delicious dessert.
Vaccine information for the Bahamas
Before booking your trip, ensure you know what vaccines and COVID-19 measures are required to enter the Bahamas. In addition, regardless of vaccination status, visitors are no longer required to submit a pre-travel COVID-19 test.
We advise you to check the CDC website for up-to-date info about all vaccine requirements and recommended medicine lists.
Island hop the Bahamas
If you visit the Bahamas by boat, you'll experience the true castaway experience. Here are some tips for island hopping around this idyllic archipelago.
New Providence and Paradise Island
New Providence is likely your first destination on a vacation to the Bahamas. It's the country's most popular island, and it is where Nassau, the capital, is located. It is easily accessible from U.S. destinations like Miami with just a 50-minute flight, and you can easily access other islands, including the 'Out Islands' from here.
Grand Bahama Island
This nature lover's paradise offers opportunities to swim with dolphins, snorkel, shark diving, golf, and party the night away. It's also a great base to explore nearby islands from, like Bimini by flight, or the Abacos by ferry.
Bimini
This cluster of islands has inspired many people, including renowned novelist Ernest Hemingway. It is also super accessible from Nassau. Bimini has two airports: South Bimini Airport and North Bimini Airport. Some of the most interesting places on this island are Honeymoon Harbor Beach and the Bimini Museum.
Big Major Cay
If you want to swim with the pigs in The Bahamas, head to Big Major Cay. This island is to the north of Great Exuma, and it can be reached by boat from Nassau or Georgetown in about two hours.
The Exumas
Over 365 islands and cays make up the Exumas in the Bahamas. The Exumas can be reached by boat in around three hours from Nassau. A bridge connects Little Exuma and Great Exuma, which are known for their gorgeous white sand beaches.
Eleuthera
This small and cute island offers some of the best attractions in the Bahamas, such as Lighthouse Beach, Glass Window Bridge, and Vic Hums Night Club. You can also find a great place for shipwreck diving. It takes around 2 hours and 40 minutes to get to this island from Nassau.
Harbour Island
Harbour Island can be reached by ferry in about five minutes from Eleuthera. A trip here will be well worth it as it is the home of the famed pink sand beaches. Many of these pink-hued strands can be found along the eastern shore.
Trustpilot recommended. We lead the industry in innovation and reputation
Our Customers Have Great Stories About Us