If you're planning your trip to visit Cambodia, you must be thinking that you should probably get a Cambodia eVisa. It isn't a secret to anyone that traveling has changed and so have the rules, countries have adopted different measures to guard their borders, so before traveling its important to make sure you meet all the requirements .
If you're interested in knowing the Countries Who Can Get a eVisa for Cambodia as well as how to apply, we suggest you keep on reading this article for more information on how to enter Cambodia.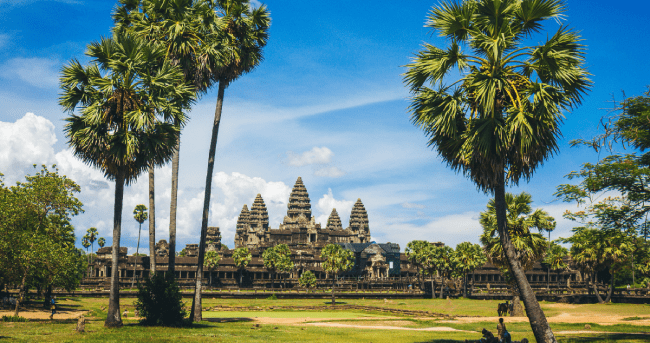 When using iVisa.com to apply, because our team of experts will take you through every step of the process, and you will be able to do it in a matter of minutes quickly, easily and stress free. When applying with us, you can know the who is able to obtain a eVisa for Cambodia and once you finish the process, you can sit back and relax while our visa team takes care of the entire Cambodia eVisa process, as well as be available to you 24/7.
For more details on the Countries Who Can Get a eVisa for Cambodia keep reading our FAQs bellow.
Frequently asked questions
What are the COVID-19 restrictions to enter Cambodia?
Cambodia reopened borders on 3rd of May 2022 and these are the COVID restrictions.
Vaccination card or full vaccination scheme (with some).
All unvaccinated travelers are obliged to present a negative RT PCR test. If entering by air, they must complete a 7 day quarantine and get tested on day 7. If the unvaccinated traveler is entering by land, they must quarantine for 7 days as well and get two COVID-19 PCR, one prior to entering quarantine and the other one 7 days later, the last day of quarantine.
For more details, we invite you to get more updated information regarding Cambodia's regulations on our FAQ section.
What is a Cambodia eVisa and How do I apply for it?
A Cambodia eVisa is a way to spend less time taking yourself to embassies and consulates filling complicated forms and doing it online instead.
When it comes to the Countries Who Can Get a eVisa for Cambodia, applying for a Cambodia eVisa can be easily done and at fast speed, with the help of iVisa.com following these 3 simple steps:
Step 1: Provide basic information about yourself and your trip by answering a couple of questions. Make sure you are selecting the correct document you wish to apply for.
Step 2: Once you've made sure you have all the necessary documents necessary to get a Cambodia eVisa, as well as having delivered the correct information, you just have to choose the processing times you are going for , so you can pay the fees easily using a credit or debit card.
Step 3: Finally, add the documents, if required, and click 'Submit'.
You will receive an email with a PDF confirmation that has a QR code attached that our team will send you. Once you arrive in South Arabia, you only need to show it with the other solicited documents if needed at the airport and you can begin your journey.
What are the Costs/processing times for those Countries Who Can Get a eVisa for Cambodia?
With iVisa.com, you not only get to know the countries, but you get to pick between three different processing times and pricing options:
Standard Processing:

8 days

-

USD $97.99

.
Rush Processing:

6 days

-

USD $149.99

.
Super Rush Processing:

4 days

-

USD $212.99

.
Can I trust iVisa.com?
¡Yes, ou can, head to the user reviews section for confirmation and check out our past customers's experience with our services at iVisa.com.
You have more questions and would rather talk to someone?
If you have more questions regarding the Countries Who Can Get a eVisa for Cambodia or more related to the Cambodia eVisa, we invite you to contact our customer service team. They're available 24/7 through our website to answer any of your questions.
iVisa.com Recommends
Once you arrive in Cambodian territory, you will be taken away by a plethora of sites, sounds, smells and temples. There is a magical place in the central plain of Cambodia you must explore and it's called Tonle Sap Lake. It cover's nearly 2500 km2 in summer time, but can overcome the 2600 km2 during the rainy season, making it the largest freshwater reservoir in Cambodia and the entire SouthEast Asia'n territory. Being a part of the largest water ecosystem in Southeast Asia, it has been protected as a biosphere reservoir since 1997 by UNESCO decree.
Its significance is not only due to its natural importance, but it is what has connected up to this day, five of the country's regions in the northern and southern areas, making it vital for the regional economy thanks to commerce, transport, fishing and even agriculture, holding up to 170 villages that depend on the lake. Once you are aware of this lake's magnificence and what it embraces, you will be able to access many of the country's main temples, beaches and tourist attractions through it. If what you are looking for on your next vacation is sunbathing, swimming and having a good time while enjoying a tropical paradise, then Tonle Sap Lake in Cambodia is the place for you.
Stop hesitating on your dreams and apply for your Cambodia eVisa Now!