If you are planning to travel and have the experience of your life in a Southeast Asian journey, the first things you need to include in your must see places is Cambodia. Before your departure are required to get a Cambodia eVisa in order to enter the country without any complications.
If you are intrigued about traveling to Cambodia soon, you must be wondering How Many Days to get a Cambodia eVisa are and how to apply for a Cambodia eVisa before you begin your trip.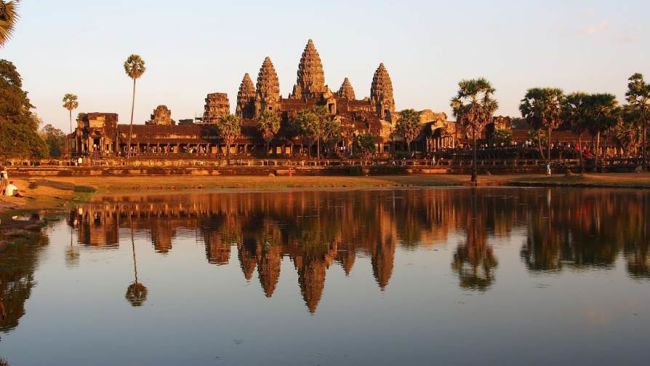 If you're interested in knowing the How to get a Cambodia eVisa as well as how to apply, we suggest you keep on reading this article. When you use the help of iVisa.com To apply, our visa experts will guide you every step of the process and you will be able to do so in a matter of minutes.
Applying for your Cambodia eVisa With us is easy, quick and stress free and once you finish the application, you can sit back and relax while our visa team of experts takes care of the entire process, as well as be available to you 24/7.
For more details on the How Many Days to get a Cambodia eVisa keep reading our FAQs bellow.
Frequently asked questions
What are the COVID-19 restrictions to enter Cambodia?
Cambodia reopened borders on 3rd of May 2022 and these are the COVID restrictions.
Vaccination card or full vaccination scheme (with some).
All unvaccinated travelers are obliged to present a negative RT PCR test. If entering by air, they must complete a 7 day quarantine and get tested on day 7. If the unvaccinated traveler is entering by land, they must quarantine for 7 days as well and get two COVID-19 PCR, one prior to entering quarantine and the other one 7 days later, the last day of quarantine.
For more details, we invite you to get more updated information regarding Cambodia's regulations on our FAQ section.
What is a Cambodia eVisa and how do I apply for it?
If you are wondering How Many Days to get a Cambodia eVisa, you should know that a Cambodia eVisa is a way to spend less time taking yourself to embassies and consulates filling complicated forms and doing it online instead, which will take you only a couple of minutes.
Applying one can be easily done and at fast speed, with the help of iVisa.com following these 3 simple steps:
Step 1: Provide basic information about yourself and your trip by answering a couple of questions. Make sure you are selecting the correct document you wish to apply for.
Step 2: Once you've made sure you have all the necessary documents necessary to get a Cambodia eVisa, as well as having delivered the correct information, you just have to choose the processing times you are going for, so you can pay the fees easily using a credit or debit card.
Step 3: Finally, add the documents, if required, and click 'Submit'.
You will receive an email with a PDF confirmation that has a QR code attached that our team will send you. Once you arrive in South Arabia, you only need to show it with the other solicited documents if needed at the airport and you can begin your journey.
What documents do I need to apply?
To get a Cambodia eVisa, you must have in hand:
Passport Personal Details Scan.
Last Page of Passport (if applicable).
Applicant Photo.
Proof of Travel Medical Insurance (if applicable).
Medical proof of COVID-19 vaccination (if applicable).
Proof of Accommodation.
How Many Days to get a Cambodia eVisa: What are the Costs/processing times for a Cambodia eVisa?
With iVisa.com, you not only get to know the Costs/processing times, but you get to pick between 3 different processing times and pricing options:
Standard Processing:

8 days

-

USD $97.99

.
Rush Processing:

6 days

-

USD $149.99

.
Super Rush Processing:

4 days

-

USD $212.99

.
Can I trust iVisa.com?
Yes!, you can, head to the user reviews section for confirmation and check out our past customers's experience with our services at iVisa.com.
You have more questions and would rather talk to someone?
If you have more questions regarding the Cambodia eVisa, we invite you to contact our customer service team. They're available 24/7 through our website to answer any of your questions.
iVisa.com Recommends
If you are like us, you realize that one of the most important parts of traveling and getting to know new places is food. Reality is, you will not fully embrace a new culture until you dip in their marvelous gastronomical arena. So when you are traveling to Cambodia, you shouldn't make an exemption and instead, take advantage of all the tropical fruits and flavors that the country has to offer.
Make sure that when you are visiting Cambodia, you head south and visit the city of Kampot, which was once the second most relevant port in the country. This beautiful city stands out because of its XIX century colonial architecture, a result of the French colonialism presence in the area. There, you will be able to find a wide touristic offer, as well as an astounding variety of seafood based dishes with the Cambodian touch.
Try out the Kampot pepper crab, since Kampot pepper is one of the finest in the world and is commercialized around the globe because of its astounding taste and aromas. You can't leave out the Durian, a fruit you've most likely never tried that is native to the area and is found in abundant amounts there. Kep crabs, fish amok, fried egg noodles, Khmer food, curries, chinese, french, you name it!
If food is what you are into and trying new flavors is your thing, take action and start planning your gastronomical trip by applying now.