Every year thousands of US visitors travel to India to see the famous sites this country has to offer. However, due to the COVID-19 pandemic, there are new regulations for international visitors, including citizens of the United States, who wish to enter India. One of these requirements includes the Self-Declaration Form, a travel document which tracks the health information of visitors to India. US Citizens will need this document to have a smooth entry to India.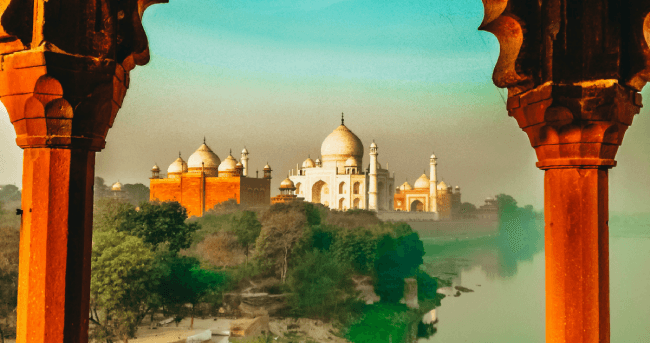 Wondering how you will get your Self-Declaration Form? iVisa.com has the perfect solution! Now you can apply for the Self-Declaration Form through the iVisa.com platform. Try this fast, simple, and 100% trustworthy service.
Explore more about these regulations in the next FAQs.
Frequently Asked Questions (FAQs)
Why do I need a Self-Declaration Form?
The Self-Declaration Form is the new regulation put in place to safeguard the health of international visitors and the Indian population. This is a mandatory requirement for all international passengers entering India. Therefore, if you were thinking of visiting India soon, then you must have the Self-Declaration Form before traveling. The document will assure Indian authorities you are accepting all the health guidelines during your stay which includes a quarantine.
I'm a US citizen, should I get a Self Declaration Form?
Yes, any international passenger entering India must get a Self-Declaration Form. Citizens of the United States are not exempt from this requirement, so they need this document. India has allowed just a few nationalities to enter its territory during coronavirus and this group includes the United States. Americans are lucky to have the possibility to enter India, so start the Self-Declaration Form now!
Do I need a COVID-19 test result to enter India?
COVID test prior to arrival: PCR within 72 hours
COVID test on arrival: Travelers from the UK, Brazil, South Africa, Europe and Middle East must undergo a PCR test on arrival.
Do I need to quarantine in India?
Quarantine requirements: 14 days self-monitoring
Quarantine requirements for all arrivals from UK, Brazil, South Africa: 8 days self-isolation with PCR on day 8
Do you need further information about quarantine in India? Then contact our expert customer service team.
Do I need a COVID vaccine or vaccination certificate to enter India?
No, you don't. As of today, COVID vaccination passports or certificates are not a mandatory to enter India. Since information may change quickly, we advise you to follow up on the latest India travel updates and/or contact your local embassy.
I have a special situation, can I skip quarantine?
Unfortunately, you can't skip quarantine. This is a mandatory requirement for all international travelers and you accept it through the Self-Declaration Form. However, there is a possibility to do the 14-day quarantine at home. You can present your special case if it's related to the next situations:
There is a significant reason to do a home quarantine, such as serious illness, pregnancy, death within your family or you have young children (10 years old or younger).
You have a negative COVID-19 test that you took no more than 72 hours before the trip and you present a declaration stating the authenticity of the test.
During your application, you can provide all the documentation necessary to prove you are under those circumstances. If the Indian government approves it, then you can do the 14 days of quarantine at home.
What information is required?
You must provide personal information and details about your Indian trip. During your application for your Self-Declaration Form you will have to provide the next items:
Passport scan, with a clear view of your picture and personal details.
Email Address, to get your final documentation from iVisa.com.
Payment, you can pay with your Paypal account or with a credit/debit card.
What are the procedure times?
The Self-Declaration Form with iVisa.com has three alternatives for waiting periods:
Standard option, the most common service to obtain the Self-Declaration Form.
Rush option, a rapid alternative when you can't wait any longer.
Super Rush option, for the highest price your document is ready as soon as possible.
What is the Self-Declaration Form process?
iVisa.com has created a simple form where you will only need between 15 to 20 minutes of your time. These are the steps to follow:
Fill out the online form with your details and pick a processing time.
Double-check your answers and pay with Paypal or with a credit/debit card.
Attach the documents required, such as your passport.
Why don't you start now with the process? Go here!
What should I do when I arrive?
Just follow the steps mandated by the Indian Government. You will go through a thermal screening to check on your temperature and see if you have any symptoms that could potentially be from coronavirus. For your final clearance, show the Self-Declaration Form to airport officers and go to the assigned institution for the first week of quarantine. Your second week can be done at home and after that, you are ready to visit India.
How secure is iVisa.com?
iVisa.com is 100% secure. iVisa.com is an international company that complies with security guidelines through all its processes. iVisa.com has a professional team working tirelessly to bring you the best service for your Self-Declaration Form. Check the customers' reviews to know more about iVisa.com.
I have some questions, where can I get more info?
We are happy to help you with your questions, contact our amazing support agents that are available 24/7.