If you want to visit Kuwait soon, you should first check if you're eligible for an online Kuwait eVisa. Keep in mind that iVisa.com can help you with this matter because we offer an online service that allows you to get the eVisa on time.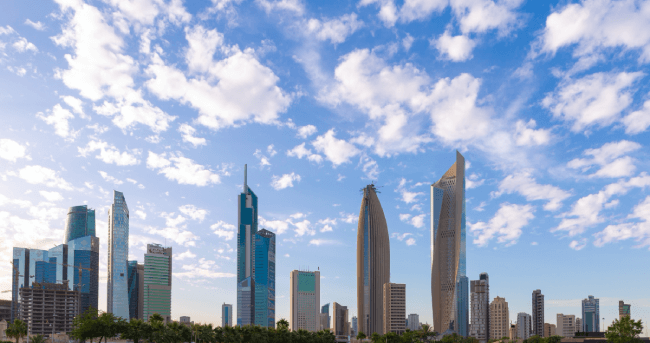 Kuwait releases eVisas for citizens of 50 states and residents of the GCC countries. So, before making a tedious trip to the embassy, check to see if your country is on the list.
Applying for a Kuwait eVisa is very straightforward. It should only take you a few minutes. This way, you'll be able to save a lot of time that can otherwise be spent making your fun travel plans.
You can learn more about the Kuwait Visa Application Form by reading the following FAQs.
Frequently Asked Questions
How do I know if I need a visa for Kuwait?
You can get information about your eligibility using our Visa Checker. It's easy to see if your nationality is allowed to apply for an eVisa using this tool.
To use it, you only have to choose your nationality and put Kuwait as your destination country. You'll be able to verify if you need an eVisa or not in a few seconds.
What is an electronic visa and how does it work?
The eVisa or ''electronic visa'' is a formal and official paper that's obtained and processed online. This process is possible thanks to a unique system that the Government of Kuwait created for all travelers from certain countries. It works for tourism purposes and short visits. It basically works similar to a paper visa as it gives you valid authorization to enter the country, with the main difference being that you receive the document via online form. You don't have to visit the Kuwait embassy to get it.
Keep in mind that you can stay inside Kuwait for 90 days in Total with a Single Entry eVisa type.
You have 30 days after issued once the eVisa is issued to enter Kuwait. Once this period of time ends, your eVisa will expire.
What items do I need to apply online?
The required items for the online application are very specific. That's the principal reason why we listed the details of each one here:
Passport with at least 6-month validity.
A scanned copy of the passport bio page
GCC Residence (Valid Residency Card) - if applicable.
Credit/Debit card for the payment.
An email address to receive the eVisa.
However, you should know that this list is the one we ask for, meaning that if you change the application method or the website (apply with another company), you'll probably need other things. Don't forget about that when planning your trip and deciding what to do about your Kuwait eVisa process.
What are the processing times and prices?
For the processing time, you have three options, and each one comes with its own fee:
Standard Processing Time: this option lasts

8 days

and it costs

USD $71.99

.
Rush Processing Time: with this option, you only have to wait

6 days

by paying

USD $123.99

.
Super Rush Processing Time: this processing time allows you to get your eVisa in only

4 days

if you pay

USD $186.99

.
Don't forget that these prices might vary a little depending on your nationality, which is why we decided to give you an average. If you want to see more details about the prices or the Kuwait Visa Application form, click here for the specifics.
How is iVisa.com's Kuwait Visa Application Form completed?
The online form is composed of three stages that you can see detailed below:
In the first step, you have to fill in the online form with your basic details.
In the second step, you have to proceed with the payment but not before reviewing the information you gave before to avoid mistakes.
Finally, you have to upload the items required so you can finish the process.
That would be all on your side because the rest of the process is our job, so you can relax once you complete the application. You can complete the Kuwait Visa Application Form with our expert help.
What happens after I apply?
We will email you the visa in PDF format once the Government of Kuwait checks your application request.
Do children need an eVisa too?
All foreigners who wish to travel to Kuwait must get their own eVisa. This rule has no exceptions, meaning that your children will have to apply for it too.
What would happen if I made a mistake while completing the form?
Just contact us as fast as you can, so we can assist you with anything you need.
Is it safe to use iVisa.com.com's Kuwait Visa Application Form?
At iVisa.com we believe that you deserve the best service to obtain a travel document that guarantees entry to where you want to go. That's why we work hard to secure our platform and thus avoid you going through any issues while completing your form.
You can be sure that our platform won't allow your information to leak elsewhere, as it is always being updated and monitored. For that reason, we have received so many good reviews over the years.
We invite you to use our Kuwait Visa Application Form in order to obtain your eVisa safely and quickly.
Where can I find more information about this document?
If you have any doubts or questions about the Kuwait Visa Application Form, we invite you to contact us at this link. You can also read other questions on the iVisa.com website.