With sandy beaches, ancient history, interesting architecture, and year-round sunshine, it is not surprising that Kuwait is becoming an increasingly popular destination.
Thankfully, The Kuwaiti Government launched in 2016 the Kuwait Online Visa, which is an electronic travel authorization. This system was created to simplify and expedite the visa application process, making it easier and faster to apply and consequently obtain a visa to travel to Kuwait.
There are a few things to know before you issue your Kuwait e-Visa. iVisa.com has listed them for you so you don't miss anything before applying for a Kuwait e-Visa. The process is entirely electronic, you can do it from home or at the office, and it only takes a few minutes.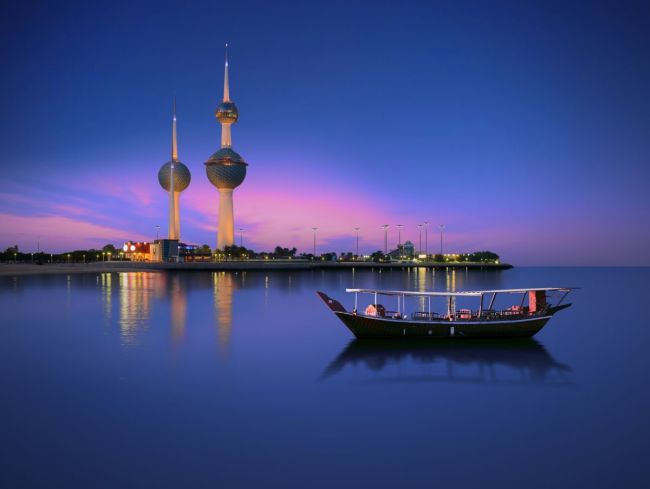 Frequently Asked Questions (FAQs)
How many types of visas are there for Kuwait?
There's only one you can have online, which is the e-Visa, but you also can have your visa by going to an Embassy.
Which countries are elegible to get an e-Visa to Kuwait?
At the moment, Kuwait releases visas for citizens of the following countries:
Andorra, Australia, Austria, Belgium, Bhutan, Brunei, Bulgaria, Cambodia, Canada, Croatia, Cyprus, Czech Republic, Denmark, Estonia, Finland, France, Georgia, Germany, Greece, Hungary, Iceland, Ireland, Italy, Japan, Laos, Latvia, Liechtenstein, Lithuania, Luxembourg, Malaysia, Malta, Monaco, Netherlands, New Zealand, Norway, Poland, Portugal, Romania, San Marino, Serbia, Singapore, Slovakia, Slovenia, Spain, Sweden, Switzerland, Hong Kong, Turkey, Ukraine, United kingdom, United States, Vatican, and all countries member of the Gulf Cooperation Council (Bahrain, Oman, Qatar, Saudi Arabia and the United Arab Emirates)
What happens if I'm a GCC resident?
If you are a resident from GCC country (Saudi Arabia-Bahrain-Qatar-United Arab Emirates-Oman) then you can also apply online and submit proof of your GCC residency card (exceeding 6 months).

The applicant's work according to the GCC residency should be one of the following: Consultants, Doctors, Engineers, Lawyers, Judges and Members of Public Prosecution, University Teachers, Press and Media Staff, Pilots, System Analysts and Computer Programmers, Managers, Businessmen, Diplomatic Corps, University Graduates – Owners, Managers and Representatives of Commercial Companies and Establishments.

The applicant must not have any security restrictions that prevent him from entering or exiting the country.
What are the requirements to get this Kuwait visa?
All you need is a valid passport, some digital copies of your passport, a mean of payment, and if you are from a GCC country, you need to have a GCC residency card. If all you have is a temporary travel document, you still need to acquire a passport. The means of payment can differ. As for the GCC residency card, it needs to indicate that you have been a GCC resident for at least six months. Anything lower than that makes you ineligible.
Remember to also provide a valid e-mail address, especially if applying online since you'll receive the confirmation through this.
Those are all the things you need. However, here's the list of the most important things you should consider when applying online:
Passport Personal Details Scan

Last Page of Passport (if applicable)

Birth Certificate (if applicable)
And what do I have to provide once I arrive in Kuwait?
In order to facilitate entry into Kuwait, it is imperative that all eligible foreign nationals present the following upon arrival:
1. A passport valid for at least six (6) months from the arrival date in Kuwait
2. The approved Kuwait e-Visa reference number
3. Those applicants who claimed to have GCC residence permit may be required to show the GCC residence document on arrival at the Immigration Authorities at the entry point to Kuwait. Upon arrival, an additional visa fee of 3KD (approximately 10 USD) may apply at the border entry point.
When should I apply for a Kuwait e-Visa?
It takes a minimum of 4 days to get a e-Visa to Kuwait but we suggest you get it at least 5 days before your intended flight.
How much does it cost?
Your Kuwait e-Visa can have a different price since this will vary according to your needs. If you want to have it as soon as possible, the fee will be higher. But a good thing is that iVisa.com offers three options:
Standard processing – No hurry? then you can go for this option. It takes 8 days for your application to be ready for just USD $61.99.

Rush processing– If you pay USD $105.99, this option will have your visa done in just 6 days.

Super rush processing – This is a gret option if you plant to take a plane to Kuwait tomorrow. Your application will be processed within just 4 days, and you will pay USD $158.99 for the urgency.
Just remember that the weekend in Kuwait differs from most countries. Their weekends are on Fridays and Saturdays.
How long does this e-Visa is valid for?
The Kuwait Visa is valid for 30 days after issued. After you apply for the e-visa and receive it, the document will maintain its validity for that amount of time, so you can plan your trip in that whole month.
How many times can I enter Kuwait with this e-Visa?
The eVisa is a Single Entry visa that allows its holder to enter and exit Kuwait only once.
How long can I stay in Kuwait?
The Kuwait e-Visa for Tourism allows for stays of a maximum of 90 days in Total starting from the entry date. Once you get into Kuwait, you can stay there up to that amount of time. You need to return after that period.
Note that your weekend is not the same as the Kuwait weekend. Weekends in Kuwait are held on Fridays and Saturdays. That is important for a number of reasons. For example, if you apply on Thursday night and choose the Super Rush processing (4 days), you will not receive the e-visa in the desired timeframe, you will receive it on Wednesday. Time-zones apply, so make sure to keep that in mind.
How do I apply for this e-visa?
If you already have a passport with at least 6-month validity, a scanned copy of passport bio page, a GCC Residence (Valid Residency Card) - if applicable and a credit/debit card for payment, then all the process will be as simple as this:
STEP 1: Fill out online application
STEP 2: Upload the required documents.
STEP 3: Receive your visa via email.
STEP 4: Print out your e-visa.
STEP 5: Entry to Kuwait.
That's it!
Is there any special requirement to apply online with iVisa.com?
In order to complete and submit an online application for an e-Visa to Kuwait, candidates must have a valid passport and email address.
How do I know if my e-Visa is ready?
Once the applicant has submitted their online application, all e-Visa notifications and updates will be sent via email.
The e-Visa will generally be processed within 4 days, excluding weekends (Friday and Saturday) and holidays in Kuwait. However, some may take longer to process, up to 8 days upon submission of a complete application.
How does this e-Visa look?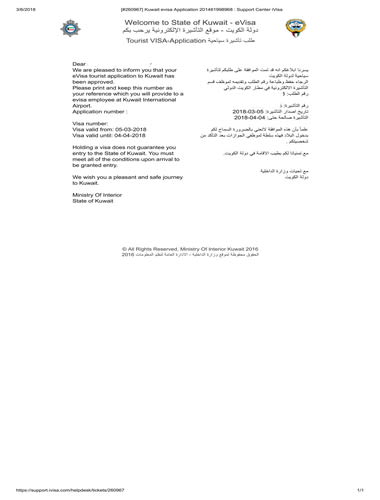 Where can I read more?
Click here to read more about iVisa.com, and click here to know more about the Kuwait e-Visa requirements and start your e-Visa application now.