At the moment, Mexico does not require travelers to have proof of a negative COVID-19 test in order to enter the country. However, there are a number of other health requirements that travelers must follow to enter Mexico, such as the Health Declaration Form. You can get this mandatory travel document by filling out our 100% online application and letting our team handle the rest.
In the following FAQs, we've collected a guide to the entry requirements for Mexico so you're prepared to have a great trip.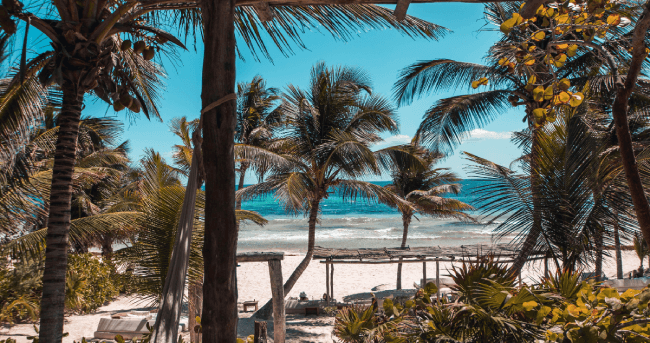 Frequently Asked Questions
DO I NEED A COVID TEST FOR MEXICO?
If you're wondering do I need a covid test for Mexico? the answer is: no! Mexico currently does not have a covid test requirement in place. However, if you are transiting through another country in order to reach Mexico, you may need to have proof of a negative COVID-19 test result. Be sure you check the rules of the country or countries you will transit through to arrive in Mexico.
On the other hand, each and every traveler to Mexico must fill out the Health Declaration Form. Get yours from iVisa.com to skip the lines and cut the paperwork.
IS THE HEALTH DECLARATION FORM FOR MEXICO AVAILABLE FOR FREE?
Yes, this document can be completed free of charge on the government website. However, filling it out with iVisa.com is a great way to save yourself time and ensure that you've completed it correctly. We offer a simple-to-understand application process that is available in many languages for your ease. Our expert review service checks to make sure you've made no mistakes. For this service, we charge a service fee as outlined below.
The three processing options are:
Standard Processing:

USD 20.00

-

24 hours

.
Rush Processing:

USD 40.00

-

4 hours

.
Super Rush processing: (

USD 60.00

-

30 minutes

.
If you are wondering do I need a Covid test for Mexico?, the answer is no. However, you do need to present a completed Health Declaration Form.
ARE THERE OTHER ENTRY REQUIREMENTS FOR MEXICO?
Most visitors arriving to Mexico by air are required to fill out the Mexico Tourist Card - Air. This travel document collects some information about you and your intended stay in Mexico. Although it is popularly known as a tourist visa, the Tourist Card is not officially a visa and does not replace one in any way. If your country requires a visa, you'll need to present it when you arrive.
Applying for approval of the Tourist Card-Air is very easy with iVisa.com. We provide a shortened version of the application procedure that only takes twenty minutes to complete.
To start you must:
First Complete the application with your personal information.
Second Pay the processing fee.
Third Upload your documents.
Apply for the Mexico Tourist Card-Air
IS IT SAFE TO USE IVISA.COM?
iVisa.com is a totally secure option to obtain your document. For many years we have been advising customers and providing our top quality and fully-secure services to clients around the world and you can check out their reviews on our website.
I HAVE MORE UNRESOLVED QUESTIONS, WHERE CAN I FIND MORE INFO?
To resolve all your concerns like Do I need a Covid test for Mexico?, clarify details about visas or requests, contact our customer service representatives. You can also visit our website iVisa.com for more information.