What is the FMM for Mexico?
FMM is an acronym for Forma Migratoria Multiple and it is a document that allows foreign travelers of some nationalities to cross the Mexican border without a visa. The FMM form card for Mexico is basically an official tourist fee that everyone who enters the country must pay. To find out whether you are eligible or not, you can use iVisa's Visa Checker Tool. Push the green button in the top right corner that says 'Apply now' and you will find the current requirements for the U.S. and other foreign nationals for entering the country it. It will tell you what you want to know in just a few clicks, answering all the questions about your trip, including the legal entry requirements to Mexico using the FMM form.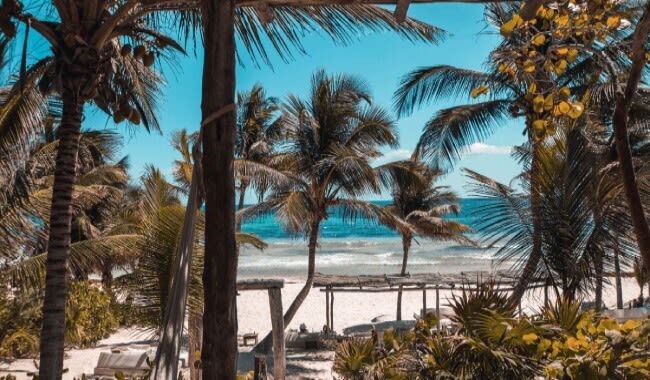 How to obtain an FMM card?
As for how you can get an FMM card for Mexico, you should know that there is more than one way. A lot of people prefer to fill in the FMM form on the plane. Airlines that will fly you to Mexico will have forms and they will put them at your disposal during the flight. You need to fill in the application, and then you must take it to the service counter when you land in Mexico. Make sure that your passport is at hand. When you use this method to get your FMM card for Mexico you do not have to pay anything.
Other people choose to fill in the FMM form when they arrive in Mexico. Applications can be found at the airport, and you need to complete the FMM form for Mexico before you get your turn at the FMM service counter. Once you do that, you hand it to the immigration officer, he or she will rip it in half and you will get one. Make sure that you do not lose it. Otherwise, you will pay an extra fee when you leave Mexico.
Nevertheless, one of people's favorite methods of getting an FMM card for Mexico is the online application process. Here is where iVisa can intervene. It is true that you need to spend some money to get your FMM card for Mexico online, but that means you do not have to worry about it on the plane or when you land. It is a more convenient solution. You get some peace of mind and you do not have to stay in line anywhere. If you are looking for convenience, the online FMM card is what you want.
Requirements
The requirements for an online application process are the same as for every other method. You need something extra, but it is only related to the way you apply, and not what you apply for. You must provide the following:
Valid passport – a Mexico FMM Card application process cannot happen without a passport. Plus, the document needs to remain valid for at least another 6 months from the date of arrival in Mexico. Check its expiry date before you apply.

Airplane ticket – this requirement is valid only if you travel by air. If you choose to travel by land, you can ignore this condition.

Method of payment – the Mexico FMM card application process is entirely online, which means it makes sense for the payment to be made online as well. You can use a credit or a debit card.

E-mail address – iVisa will send you the tourist card via e-mail in PDF format. Do not forget to print at least one physical copy before departure.
As for the fee, it depends on how fast you want the processing to go. You can pay as low as USD $24.99 if you can wait 24 hours for the card, or you can pay USD $76.99 and have your FMM card for Mexico in just 30 minutes. The choice is yours.
The bottom line is that an FMM card for Mexico is accessible, and you can get it any way that you want. However, we recommend the online application process because it will save you some time and energy.