Mexico is one of the most popular destinations in Latin America. The country offers beautiful beaches, a rich culture, amazing food, and the best tequila. However, Indian passport holders have to know that there are some visa documents they should get before the trip such as the Mexico Visa and the Mexico Tourist Card.
It's just a few steps to get all the documents you need for a visa stamp, and you'll see that it's worth it when you enter Mexico. You'll be amazed by the turquoise sea and white sand of beaches such as Tulum and Cancun. If you love art, you also can dive into the Frida Kahlo and Diego Rivera Museums in Mexico City. And there's also a Mayan universe to explore in cities like Chichén Itzá.
So, iVisa will help you to figure out everything you require for this trip. We'll start with the Mexico Visa and the Mexico Tourist Card: what are these mandatory documents, and how to make the Mexico visa application. Then we'll share with you some helpful information, for example, how weather is there and some places that you should include in your trip itinerary.
Remember that the Mexico visa and the Mexico Tourist Card are mandatory documents to visit this Latin country. The bureaucracy around travel documents is not the best part of the trip, but iVisa is here to help with that, so you can enjoy planning your vacation!
Click here to apply now for the Mexico Tourist Card Land and Air!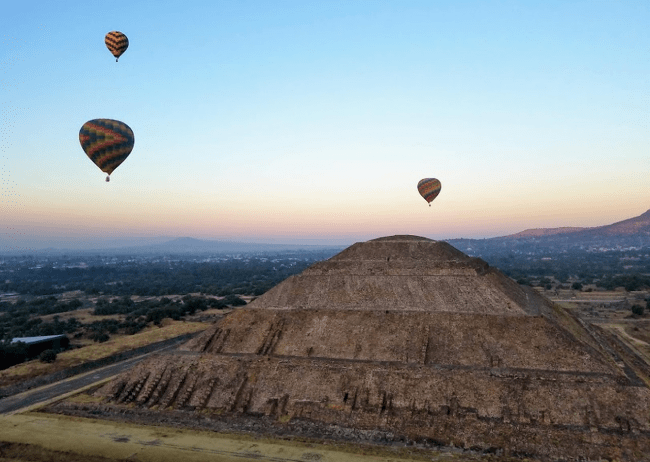 Mexican Visa for Indian Passport Holders
The first thing citizens of India need for this trip is a valid visa. Next, they'll have to apply for a Mexico Visa for business or tourist trips. Without a visa stamp, they won't enter Mexico.
To start the Mexican visa processing, it's necessary to go to the Mexico Embassy in New Delhi. There, you must present an original passport for the visa application and pay the visa fees. With an approved tourist visa, Indians can apply online for the Mexico Tourist Card, another travel document required.
How to get a Mexico Tourist Card
Once your visa is processed, it's time to apply for the Mexico Tourist Card. Like a tourist visa, the Tourist Card is a mandatory document to enter ​​Mexican territory. But different from a visa application, there's no need for Indian citizens to go to the Mexico Embassy in New Delhi. Instead, you can comfortably apply online at home.
You'll fill in the information on the iVisa application page, such as your passport number, your flight ticket number, and your address while in Mexico. It works as a tourist identification for immigration and health authorities. Then you'll receive the document in your email inbox.
The validity of this Mexico Tourist Card depends on the immigration officers that will decide the number of days in each case. The Tourist Card is valid for a single entry, and the maximum stay is 180 days in total.
All children over the age of 2 years old need to have a Mexico Tourist Card too. If the applicant is a minor, the parents or legal guardians have to sign the online application form.
You must know that you have to leave the country before the Tourist Card expires. The same is valid for the Mexican Visa.
Click here to get your document to travel to Mexico!
Steps to apply for the Mexico Tourist Card Land and Air online
Don't worry, getting a Mexico Tourist Card is very ordinary. Unlike a visa, you'll complete your online application in a few steps.
First, you'll access the iVisa application form page and fill in your information such as passport number, email address, flight tickets, and credit or debit card to pay the fees.
After that, you'll upload additional documents and extra information to support your application. Then, you need to select the processing time you want your online application form to be reviewed.
Send your application once you're ready. Our visa experts will review it and inform you if any adjustments need to be made. When everything is ready, you'll receive two pages of the document in your email inbox.
Then, you must print it to present to authorities along with the Mexico visa at the airport. Just make sure you do not cut or alter the form in any way, as this may invalidate them.
Click here to know more information.
Processing times and fees
It's important to know that the Mexico Tourist Card fee varies depending on if you are entering Mexico by land or air, and how quickly you want your document to be processed. iVisa provides 3 processing options to apply for the Mexico Tourist Card online:
Mexico Tourist Card Air
Standard Processing: Pay only

USD $24.99

and get the Tourist Card Air in

24 hours

.
Rush Processing: Pay

USD $45.49

and get the document a bit faster, in

4 hours

.
Super Rush processing: Pay

USD $76.99

and receive the Tourist Card Air in only

30 minutes

.
Mexico Tourist Card Land
Standard Processing: Pay only

USD $98.53

and get the Tourist Card Land in

24 hours

.
Rush Processing: Pay

USD $150.53

, and you'll obtain the document a little faster, in

4 hours

.
Super Rush processing: Pay

USD $213.53

and get the Tourist Card Land in only

30 minutes

.
COVID-19: Immigration and health authorities' requirements
Congratulations! Now you have all the documents for your travel. But a lot of countries still have restrictions during the pandemic; then, you may have some doubts about the requirements in Mexico, right? No need to worry about that. Mexico's territory has been one of the most flexible in receiving tourists.
There aren't COVID-19 test requirements in the country. Indians can enter the country without a PCR test. Also, COVID vaccination certificates aren't mandatory, so you can go with any vaccine or unvaccinated.
Besides testing and vaccination, there aren't any quarantine requirements in Mexico. So, as soon as you have your Mexico Visa and Mexico Tourist Card, you're ready to go.
Weather and the best time to travel to Mexico: Pack your bags!
You have your tourist visa, you made your Tourist Card application, then it's time to pack your bags. For this, it's always useful to know what to expect from the Mexican weather, so here is some important information.
The dry season is from December to April. Usually, there's no rain, so it's the best time to go. However, the temperatures can reach an average of 28° C this season, so prepare your bag with sunscreen, hats, swimsuits, summer clothes, and some flip-flops.
Between May and October, you'll find the rainy season. July is the hottest month, the best one for those who want to stay at the beach. The rain often comes late in the afternoon, so it won't stop you from enjoying the trip during the day. Actually, the wet weather makes temperatures cooler in the evening, providing pleasant nights. For this time of the year, besides summer items, take with you a raincoat and water shoes.
The hurricane season on the Caribbean coast is from June to November. Then, Mexico can be affected by the wind.
Anyway, remember that Mexico is a large country. So the weather can vary from south to north, depending on the season and region. It's worth checking the weather forecast for the place you're going.
Places you should visit in Mexico
Mexico is one of the most popular countries in Latin America. The country offers diverse landscapes, and it is no wonder that it can please different tourists. It has beautiful beaches belonging to the famous Gulf of Mexico, but you also can find mountains, jungles, and deserts. iVisa has listed 3 very different cities you should visit there.
Tulum
With a turquoise sea, Tulum is a city for those who love the beach and spending time at the seaside. This destination on the Caribbean coast of the Yucatan Peninsula has beaches and well-preserved ruins of an ancient Mayan port city.
Chichén Itzá
Chichén Itzá is a place all about history. It is an ancient city of the Mayan people from the pre-Columbian era. It was a great urban center of that civilization, and you can visit the ruins, built with stunning architecture and technique.
Mexico City
The Mexican capital is a destination with a rich cultural and historical collection, where you can visit many museums, palaces, and churches. At the same time that there is a lot of history, you'll find modern buildings as well, showing a developed face of the city. In addition, you can enjoy parks and even navigable canals right in the middle of one of the biggest metropolises in the world.
Do you still have questions?
If you still have doubts about the Mexico Tourist Card or a Mexico Visa for the Citizens of India, then feel free to contact our visa experts 24/7. You can talk to the iVisa customer support team or email them [email protected] anytime.