Planning to visit the famed border destination of Mexico from the US? But concerned about whether Americans need a visa for Mexico?
Since many US citizens choose to visit Mexico for vacations, understanding the Mexican immigration authorities' rules and requirements is essential. There is no reason to panic. However, we are here to explain everything you need to know!
As an American, you cannot enter Mexico with just a valid passport. Here is everything you need to know about Mexico's visa policy, including Mexico Tourist Card requirements.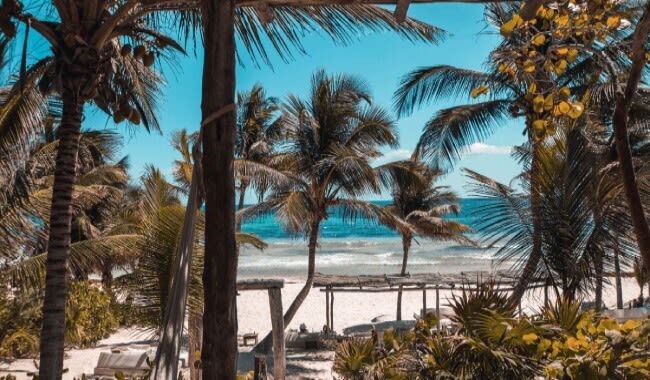 Do Americans need a visa for Mexico?
Americans do not require a Mexico Tourist Visa or any other Mexican visa to travel to Mexico. However, Mexican authorities require citizens of the USA to present a Mexico Tourist Card upon arrival in Mexico.
Do US Green Card Holders need a visa to go to Mexico?
US Green Card Holders do not have to apply for a Mexico Visa. Also, those who are permanent residents of the following countries: Canada, Japan, the United Kingdom, the Schengen Area, and the USA do not require Mexican visas to enter the country.
What is a Mexico Tourist Card?
The Mexico Tourist Card is a mandatory travel document required for most visitors to enter Mexico for tourism purposes. Although popularly known as a tourist visa, the Tourist Card is not officially a Mexico visa and does not replace a Mexico visa.
How long is the Mexican Tourist Card valid?
The Single Entry document is valid for 180 days after arrival and grants the holder a maximum stay of 180 days.
Who needs a Mexico FMM?
All US citizens entering Mexico for tourism, visiting family, doing business, or other short-term purposes (up to 180 days) MUST apply for a Mexican Tourist Card even if they don't need to obtain a Mexico Tourist Visa.
The type of card you require depends on how you enter the country. If you are flying into Mexico and landing at an international airport like the Mexico City International Airport, you will need a Mexico Tourist Card Air. However, if you are entering Mexico through one of its many land borders, you must apply for a Mexico Tourist Card Land.
How to apply for a Mexico Tourist Card
Fortunately, you do not need to visit the nearest Mexican consulate or Mexican embassy to apply for this document. Instead, you can apply online. That said, we know that the Mexican government website application can be complicated to navigate, so we offer a simpler and quicker application process. Follow these three steps to apply:
Step One: Fill out the form with your general information.

Step Two: Choose the processing time and make the payment.

Step Three: Upload the required documents and double-check that all your information is correct.
From here, our team will process your application, and you will receive your Tourist Card via email.
Do I have to apply for my kids?
Yes. Every foreign traveler wishing to visit Mexico must apply for a Mexico Tourist Card, including children.
What documents do I need to apply for a Mexico Tourist Card?
To successfully process your Mexico Tourist Card, you must provide the following documents:
Valid passport and a scanned copy of the first page.

An airplane ticket (including flight number).

Credit/debit card for the payment.

Your trip information, such as the state and the address where you'll be staying in Mexico.

An email address to receive the FMM.
What is the price of the Mexico Visa for the Citizens of the USA?
iVisa aims to make things easier for you; thus, our service has a price and cannot be offered for free. However, you should know that these prices are always affordable. Depending on how fast you need your FMM, you can choose one of these options:
Standard processing which takes 24 hours and costs USD $87.53

Rush processing which takes 4 hours and costs USD $144.53.

Super rush processing which takes 30 minutes and costs USD $177.53
What should I do if I'm just passing through Mexico?
If you're only passing through Mexico, then you don't need the Mexico Tourist Card, but keep in mind that as soon as you leave the airport there, you'll have to apply for the document.
Will I need a visa if I am not traveling for tourism purposes?
Since US citizens can travel to Mexico visa-free for up to 180 days, they may require a visa to travel beyond that period.
The Mexican government requires anyone staying in Mexico for more than six months, regardless of nationality, to apply for a Mexican Temporary Residence Permit. If you intend to work in the country, you must apply for a work permit.
COVID-19 Requirements
There are no entry restrictions, COVID testing, or quarantine requirements in Mexico. It is also not mandatory for American citizens to present a COVID-19 vaccination certificate.
Where can I find more information?
Would you like more information about Mexican visas? Read our ultimate guide to Mexico and FAQ sections or contact our 24/7 customer service team, who will happily answer any questions you may have.