Are you planning a trip from Asia to Africa? Morocco can be a fantastic destination. The country's rich culture and beautiful traditions make for an unforgettable experience. But first things first: Pakistani citizens need a Morocco visa to enter the territory.
Travelers from countries like the USA and Australia don't need tourist visas, but for Pakistani citizens, it is a mandatory document. There's no need to worry because it is a simple process since the Morocco e-Visa is available for Pakistani passport holders. Visiting a Moroccan embassy or consulate is now unnecessary due to the digital process.
This electronic visa implemented by the Moroccan Ministry of Foreign Affairs makes a visitor's life much easier! You can rely on iVisa services to submit visa applications for your whole family. You can quickly complete the visa application form on our website, and we will do the hard work while you plan your vacation!
Just be aware that the tourist visa is for tourism purposes only. Therefore, you should consult the nearest embassy for a Morocco work visa, a Morocco student visa, or a Morocco transit visa.
Read more about all the required documents, how to fill out the application form, visa fees, travel tips, and everything Pakistani nationals need to know for this trip.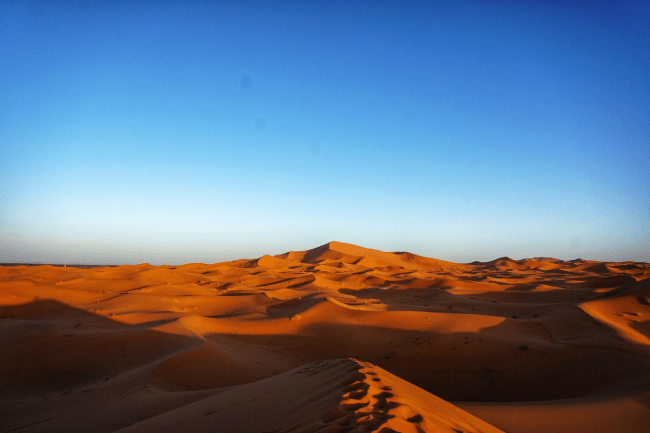 Morocco Tourist visa for Pakistani citizens
The Ministry of Foreign Affairs developed the Morocco tourist visa online to facilitate the Morocco visa application, so travelers don't need to go to a Moroccan embassy or consulate to get their visa. Instead, passengers send the required documents online and receive the visa via email.
iVisa can support you through this visa process. You can fill out the application form in a few clicks, and we do the hard work. If you have any problems with the Morocco visa requirements, we'll notify you and help you get everything you need for a successful application.
Once the Pakistani passport holders have the e-visa, they can stay in Morocco for 30 days from the date of arrival. It's necessary to enter Morocco within 180 days of visa issuance.
It's a single-entry visa, so if you love the trip and want to travel to Morocco again, you must fulfill the Morocco visa requirements and apply once more.
All family members must present a valid passport and a Morocco visa on arrival. So if you are traveling with minors, be sure they also have a visa and a passport. Parents or legal guardians can apply for a minor's travel document if he isn't old enough to apply on his own.
How to Apply for the Morocco Visa from Pakistan: Step by Step
iVisa prepared a simplified form that is easy and quick to fill out. All you have to do is follow these three simple steps:
First: To get the visa to travel to Morocco, you must complete the electronic form with personal details and travel information. Then, choose the processing time according to your needs.
Second: You will make the visa fee payment. It's essential to check that all the information entered is correct before applying.
Third: Upload any additional documents and submit the application. The iVisa team will process your visa and update you if any issues arise.
Once your visa application is approved, you will receive the visa to travel to Morocco by email.
Morocco Tourist Visa Requirements for Citizens of Pakistan
You'll need the following documents to fill out the visa application:
Original passport: The passport must be valid for at least six months.
Invitation letter: You can get it from the Moroccan Migration Service. You have to provide the invitation number in your e-Visa application form. A cover letter explaining the reason for the trip must also be submitted.
Proof of sufficient funds: A bank statement demonstrating sufficient funds for the trip's financial expenses.
Travel insurance: Insurance covering medical treatment is required.
Email address: An email address to receive the visa or if any issues arise during processing.
Payment method: You can pay the fee for the Morocco visa application process with a debit or credit card.
After submitting the Morocco visa application form, sometimes the governmental authority asks for support documents, like proof of hotel booking, marriage certificate, or residence permit. The iVisa team will support you through the process and let you know if you need to send any other requirements.
Morocco Visa fees for Pakistani citizens
There are three processing alternatives for the visa to travel to Morocco. You can choose according to the processing time and price that you prefer. These are as follows:
Standard Processing Time: This option takes

5 Business Day

for

USD $135.99

.
Rush Processing Time: This is a slightly faster option, taking just

4 Business Day

for

USD $187.99

.
Super Rush Processing Time: Ideal for those who need their Moroccan visa urgently, this option takes

3 Business Day

for

USD $245.99

.
All of these options include government fees.
Morocco Visa Processing Time
Pakistanis can select among three options of processing time for the Morocco e-visa: Standard (5 Business Day), Rush (4 Business Day), and Super Rush (3 Business Day). Check the costs above for each of them.
COVID-19 travel restrictions
Since the beginning of the COVID-19 pandemic, the countries have developed measures to make tourism safe for visitors and locals. Little by little, they are leaving the restrictions, but Morocco, for example, requires a Health Passenger Form still.
So before the members of your family visit the country, they must submit the Health Form. The process is as simple as the visa application, just a few clicks online. Then, the document is sent via email, and the passengers can print it to present it on arrival.
Regarding the vaccination requirements, the COVID-19 vaccine is not mandatory to travel to Morocco, but unvaccinated travelers must present a negative PCR test result taken less than 72 hours before departure. On the other hand, fully vaccinated travelers with at least three COVID-19 vaccine doses are exempt from COVID testing.
Travelers of 12 years or younger are exempt from testing and vaccination requirements, as well as those who are transiting at the airport.
Morocco: What to visit
Now that you know about the requirements, documents, and everything you need to go to Morocco, let's talk about travel tips! The country offers a colorful and vibrant experience, with delicious food and welcoming people.
Check some places that you should include in your itinerary.
The Sahara Desert
You can go to the Sahara desert from Marrakesh. The place is definitely worth visiting, especially to appreciate a sunset or the sky full of bright stars. In addition, you can try desert safaris or camel caravans to explore the region. An experience that you will not forget!
High Atlas
In the same country, you can find deserts and snow not very far from one another. The High Atlas is North Africa's highest mountain range, popularly known as the mountain of mountains. It's an attraction that amazes trekkers. The hills run diagonally across the country for approximately 1000 km!
Rabat
The capital of Morocco is full of attractions. The weather is good all year round, and you can enjoy calm beaches. There are plenty of options of boulevards and outdoor cafés, and the old town and medina are also worth visiting.
I still have questions about applying for a Morocco Visa. Where can I find more information?
If you have more questions about how to apply for this visa or any other travel document, don't hesitate to contact our support team. They will help you whenever you need them. You can also send them a message to [email protected] if you prefer.