No country in the world hasn't established new health controls to overcome the negative consequences that COVID-19 has brought. In the Norwegian case, authorities have limited access to the country for almost anyone who is not a citizen, legal resident, and other specific criteria such as those who have a family immigration permit and asylum seekers.
All of them are required to deliver a COVID 19 PCR or antigen-negative test result from 24 hours before the entrance, go through a COVID-19 test in the airport, and self-quarantine for 10 days. This Norway Covid Travel Quarantine is mandatory for everyone, can be held at your residence or a quarantine hotel, and it must be finished despite obtaining a negative result from the airport test.
iVisa.com is committed to easing your concerns and journey charges, so you can prioritize decisions and actions, such as what is the best place for you to spend your Norway Covid Travel Quarantine. Hence, we offer you online assistance through our platform to process your Norway Entry Registration.
Focus on what matters, let us help you! Apply for your Entry Form now.
Note: Since February 12th, 2022, the Norway Entry Registration Form is no longer necessary to enter the country.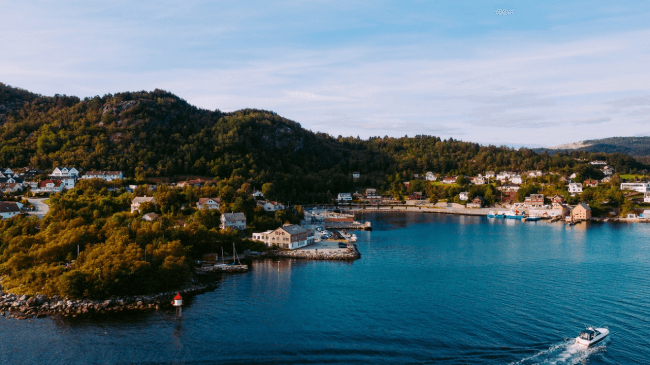 What procedure should I follow to secure my Norway Entry Registration with iVisa.com?
Access our Online Application Form.
Fill out with all your data and upload your passport scanned photo.
Select your desired processing speed.
Send us your form (Our immigration specialists will review it and proceed accordingly).
Receive your entry registration in your email at your chosen processing speed.
Print the document and enjoy your stress-free journey to Norway.
Get your entry registration now
Is it vital to apply for my Norway Entry Registration in advance?
Yes, of course, it is. When applying for this document in advance, you will leave a fundamental travel issue in our experienced hands. You will feel comfortable because we guarantee an error-free and clear process.
Apply for your entry registration form now.
Frequently Asked Questions
Do I need a COVID vaccine or vaccination certificate to enter Norway?
No, you don't. As of today, COVID vaccination passports or certificates are not mandatory to enter Norway.
The following certificates can be used upon entry to Norway:

Norwegian COVID-19 certificate

The EU digital COVID certificate

UK NHS COVID-pass

Approved vaccines are Pfizer, Moderna, AstraZeneca, Janssen, Covishield, Sinovac, Nuvaxovid.
Since information may change quickly, we advise you to follow up on the latest Norway travel updates and/or contact your local embassy.
Do I need to take a COVID-19 test before traveling to Norway?
COVID test prior to arrival: PCR within 24 hours for travelers over the age of 18 without proof of vaccination/recovery only.

COVID test on arrival: All travelers arriving in Norway must take a test after arrival, regardless of their vaccination status.

COVID test exemptions: Children under 16
Do I have to quarantine once I arrive in Norway?
Quarantine requirements: There are no quarantine requirements.
What is the cost and the processing time for the Norway Entry Registration?
We offer affordable options, calculated according to the processing speed of your choice:
Standard Time Speed: For

USD 30.99

, your registration will be ready in

24 hours

.
Rush Time Speed: For

USD 67.99

, your registration will be ready in

8 hours

.
Super Rush Time Speed: For

USD 96.99

, your registration will be ready in

4 hours

.
Obtain your Entry Registration now
How to start my process quickly with iVisa.com?
Complete your form here.
Choose the processing speed that better fits your situation.
Check once again everything is right.
Pay with Paypal or with your valid credit or debit card.
Send your application with the documents demanded (Scan of your passport, etc.).
Where can I check to solve my doubts about iVisa.com's process?
If you wish to know more about Norway Covid Travel Quarantine and other important information about our process, you can communicate with us through our Customer Care Specialists. They are online 24 hours a day, not even considering the time zone including weekends.
Check Norway Covid Travel Quarantine
Can I enter the country just with the Norway Entry Registration?
No, you must have 1) a COVID-19 negative PCR or antigen test results taken a maximum of 24 hours before your arrival, 2) a COVID-19 test at the airport 3) a period of self-quarantine for 10 days as a Norway Covid Travel Quarantine measure.
Is the Norway Entry Registration free of charge?
Yes, you can find the registration for free online. But, we ensure a process with no mistakes. Do not get stressed about this process and pay attention to your other travel priorities.
Is iVisa.com a trustworthy enterprise?
Yes, we are. Not only do we have many years of experience in the travel industry, but we also have brought satisfaction and happiness to our thousands of customers.
iVisa.com recommends
Enjoy the Norwegian summer at Sommarøy Island! Contrary to what people believe, Norway also has a summer season and despite not being as hot as some other places, it is warm and you can find places such as Sommarøy Island, where you can make the best of it. Its name literally means summer island. Here you will find yourself surrounded by beaches, crystal clear waters, and unspoiled nature.
You can spend the whole day kayaking, discovering the fjords and their photogenic surroundings, or you can take an easy hike to the bay tower above Sommarøy. The island is just an hour from Tromsø by road, and you can stay in a Rorbu (a former fisherman's hut), or rent one of the comfortable rooms at the Sommarøy Arctic hotel. During summer, the sun shines 24/7, so in 2019 its residents declared that they wanted the island to be the world's first time-free zone.