Poland ETIAS Travel Authorization: Apply now
Poland ETIAS Travel Authorization: Apply now
Last updated: September 2023
In 2024, a new requirement will be in place for non-EU travelers from visa-exempt countries heading to Poland. If wandering Kraków's historic squares or gazing upon the serene Białowieża Forest are in your plans, there's a slight adjustment in preparations. Rather than simply enjoying visa-free entry as before, those from visa-exempt nations outside the European Union will now need an ETIAS authorization to journey across Poland and the broader Schengen Area.
Read on to learn everything you need to know about the Poland ETIAS.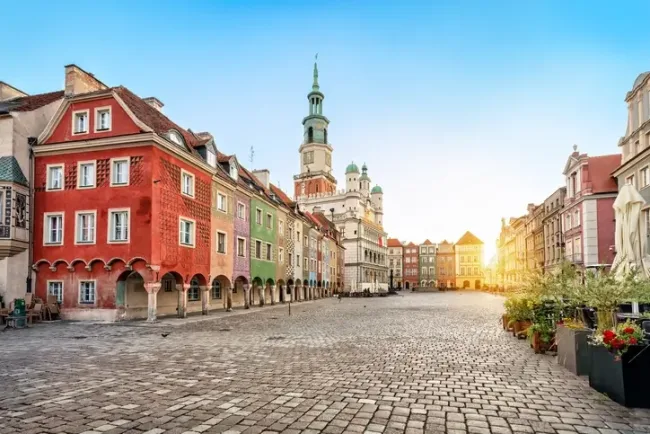 What is the Poland ETIAS?
The European Travel Information and Authorisation System, or ETIAS, first emerged as a concept in 2016. With a rising need for enhanced security within Europe's borders, especially in the Schengen Area, officials saw the potential of having a more detailed oversight of visa-free travelers. In the past, simply possessing a valid passport was sufficient for entry for nationals from certain countries, leaving European authorities with limited knowledge about these travelers.
The ETIAS visa waiver system is the answer to that. This electronic system is designed to strengthen travel security across Europe. By providing insights into visitors and their travel intentions, European nations can ensure safer travels for everyone involved.
As Poland is nestled within the Schengen Zone, obtaining a Poland ETIAS will be a mandatory step.
Apply now for the Poland ETIAS with us!
What can I do in Poland with an ETIAS travel authorization?
With the ETIAS, travelers can explore Poland and the entire Schengen region for:
Sightseeing and tourism

Participating in business-related events, such as meetings or conferences

Pursuing short-term studies for up to 3 months

Receiving medical treatment
What can I not do with the Poland ETIAS?
With a Poland ETIAS, travelers are restricted from:
Enrolling in courses exceeding 3 months

Engaging in employment

Establishing permanent residency in Poland
Who can apply for the Poland ETIAS?
The Poland ETIAS is tailored for individuals from countries that currently enjoy visa-free access to Europe and the Schengen Area.
The following European nations have mandated that travelers from visa-exempt countries must possess an ETIAS authorization:
| Austria | Germany | Netherlands |
| --- | --- | --- |
| Belgium | Greece | Norway |
| Bulgaria | Hungary | Poland |
| Croatia | Iceland | Portugal |
| Cyprus | Italy | Romania |
| Czech Republic | Latvia | Slovakia |
| Denmark | Liechtenstein | Slovenia |
| Estonia | Lithuania | Spain |
| Finland | Luxembourg | Sweden |
| France | Malta | Switzerland |
To qualify for an ETIAS travel authorization, travelers must:
Not hold EU citizenship

Come from countries with a visa waiver for short stays in ETIAS-requiring European countries

Not possess any residence-related documentation issued by an EU country
Who is eligible for the Poland ETIAS?
All non-European travelers, regardless of age, who can currently enter Poland and other Schengen countries without a visa will be required to obtain an ETIAS..
These are the countries whose citizens are eligible for the ETIAS travel authorization:
| Albania | Hong Kong | Saint Kitts and Nevis |
| --- | --- | --- |
| Antigua and Barbuda | Israel | Saint Lucia |
| Argentina | Japan | Saint Vincent |
| Australia | Kiribati | Samoa |
| Bahamas | Macau | Serbia |
| Barbados | Macedonia | Seychelles |
| Bosnia and Herzegovina | Malaysia | Singapore |
| Brazil | Marshall Islands | Solomon Islands |
| Brunei | Mauritius | South Korea |
| Canada | Mexico | Taiwan |
| Chile | Micronesia | Timor Leste |
| Colombia | Moldova | Tonga |
| Costa Rica | Montenegro | Trinidad and Tobago |
| Dominica | New Zealand | Tuvalu |
| El Salvador | Nicaragua | Ukraine |
| Georgia | Palau | United Arab Emirates |
| Grenada | Panama | United Kingdom |
| Guatemala | Paraguay | United States of America |
| Honduras | Peru | Uruguay |
| | | Vanuatu |
| | | Venezuela |
ETIAS-exempt: Who doesn't need to apply for a Poland ETIAS?
Citizens and residents of the EU don't require a Poland ETIAS. With just their passport or national identity card, they can move freely across Poland and the entire Schengen Area.
Those possessing a valid Schengen visa won't have to secure the Poland ETIAS either.
Can minors apply for a Poland ETIAS?
Young travelers from countries with visa exemptions need the Poland ETIAS visa waiver to enter the country.
The child's parent or legal guardian is responsible for filling out and submitting the ETIAS application. For families traveling with multiple minors, a distinct application for each child is necessary.
How long can I stay in Poland with the ETIAS?
The ETIAS remains valid for 3 years or until your travel document expires, whichever comes first.
With an active ETIAS, visitors can frequent Poland and the Schengen member countries as much as they want, as long as the combined visits don't go beyond 90 days within any 6-month span.
Can I extend my Poland ETIAS?
An expired Poland ETIAS can't be renewed. A fresh application is essential in that case.
Should your travel document expire while your ETIAS remains active, a new ETIAS is mandatory as well.
Required documents for the Poland ETIAS
To apply for the ETIAS, the following items are required:
A valid travel document – Generally, this is a passport that has a validity of at least three more months from your planned return date.

Filled-out application form – The form will require you to give details like birth date, nationality, parents' first names, educational background, current job, your initial country of stay, destination address, and any prior criminal records or visits to areas of war and conflict.
If you have a relative living in a European country that requires an ETIAS, you will need to provide their personal information as well, along with a description of your relationship to them.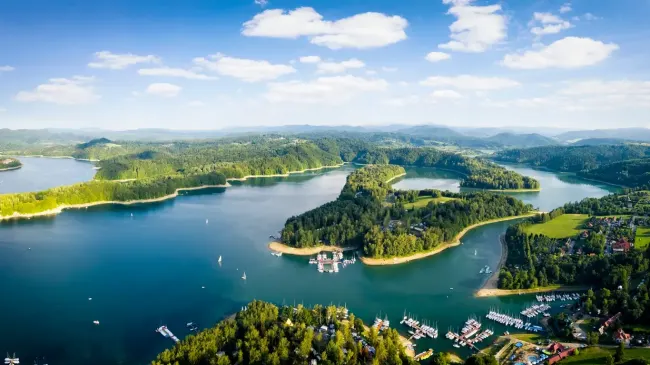 How to apply online for the ETIAS Poland
Once the ETIAS is active, securing it through our platform will be a quick procedure. These are the steps to follow:
Step 1 - Provide your basic information and travel details on our website or the easy-to-use iVisa app. Choose your preferred processing time and pay the fees.

Step 2 - Fill out the ETIAS application form and upload the required documents.

Step 3 - Submit the form and wait for an email confirming the submission of your application, which will include your unique ETIAS application number.
Remember to print and also keep a digital version of your ETIAS on your device once it's issued. It's handy during your travels, especially at border checks within Schengen countries.
Benefits of getting your Poland ETIAS with us
Using our platform to obtain the Poland ETIAS makes the process smooth and efficient. Here's why: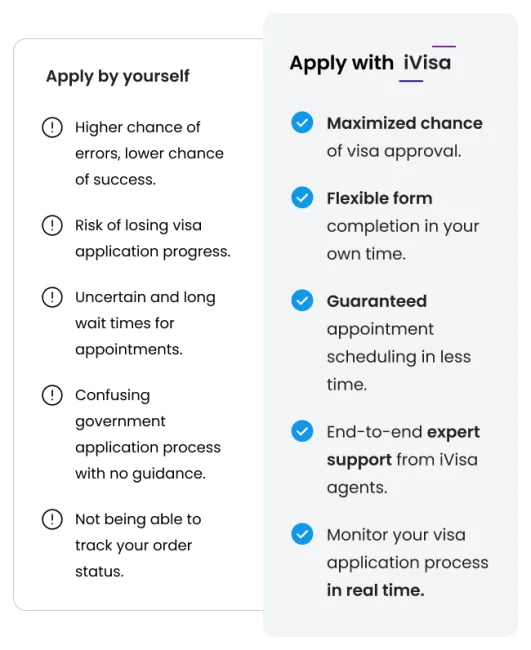 Poland ETIAS fees and cost
The official cost for the Poland ETIAS is 7 euros (approximately $8).
Travelers younger than 18 years of age or older than 70 don't have to pay this fee.
To ensure a seamless application process, we highly recommend using our service. An extra service fee applies for this advantage.
Poland ETIAS processing time
The majority of the applicants get their ETIAS authorization quickly, typically within a few minutes. Nonetheless, some cases may require up to 30 days. That's why it's advisable to apply well ahead of your intended travel date.
When you use our website to apply for a Poland ETIAS, there will be three processing options available:
Standard processing time: Ideal if your journey is in the distant future.

Rush processing time: A faster option than standard, at an additional cost.

Super Rush processing time: Perfect for those on a tight schedule.
It's worth noting that the indicated iVisa processing time excludes the duration the Polish government will spend on your application.
Do transit passengers need the Poland ETIAS?
Visa-exempt individuals only in transit through Poland aren't required to have an ETIAS, provided they stay within the airport's international transit zone.
However, if they plan to exit this area to enter Poland or any of the 30 ETIAS-mandating European countries, this authorization becomes essential.
Poland entry requirements or restrictions
Poland welcomes tourists without severe entry constraints. No COVID-19 vaccination certificates or related medical documentation are needed. However, you must have:
A current travel document, such as a passport

A valid ETIAS authorization or a Schengen visa
Differences between the Poland ETIAS and the Poland Schengen Visa
Knowing the difference between a Poland ETIAS and a Poland Schengen Visa is not as straightforward as one may think. First of all, the ETIAS isn't classified as a visa. It functions as an electronic permit, much like the United States ESTA.
Other noteworthy differences include:
Eligibility: The ETIAS caters to those who presently don't need visas for European visits. Conversely, the Schengen visa is for those who must have visas to enter European nations.

Application process: ETIAS applications are online and require a valid travel document and basic information about yourself. The Schengen visa application is more involved and lengthier. It requires various supporting documents and a face-to-face interview for biometric collection.

Number of entries: A valid ETIAS permits numerous entries during its active period. This varies with the Schengen visa. You can be granted single, double, or multiple entries, depending on the discretion of an immigration official.

Format: An ETIAS is fully digital and linked electronically to a travel document. The Schengen visa is tangible and physically placed inside a passport.
Who can I speak to if I have more questions?
If you have questions about the Poland ETIAS, don't hesitate to contact our customer service team via online chat or by email at [email protected].
Where can I read more?
Other Available Visas: Poland?