Home
>
Rwanda Travel Guide: Requirements and tips for visiting Rwanda in 2023
Rwanda Travel Guide: Requirements and tips for visiting Rwanda in 2023
Welcome to Rwanda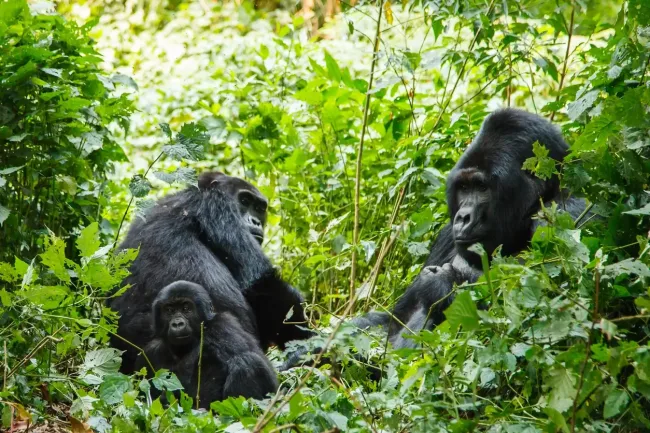 Mountain gorilla trekking, birdwatching, safaris, nature hikes, cultural adventures, and waterside relaxation. These are just some of the ways to spend a holiday in Rwanda. In the past few decades, the country has experienced a dynamic transformation. Let's explore!
This ultimate Rwanda travel guide will help you make the most of your trip with practical and inspiring travel advice.
Document checklist for Rwanda
Visa (if applicable)

Valid passport (must be valid for at least 6 months from the date of entry and have two blank pages)

Sufficient funds to cover your trip

Return or onward ticket
Essential Rwanda travel information
Currency - Rwandan franc (FRw). $1 is equivalent to approx. FRw 1088.

Daily budget for 1 person - Plan to spend around FRw 23,931 ($22) per day on your vacation in Rwanda (excluding expensive tours).

Languages - Kinyarwanda is the national language of Rwanda. English, French, and Swahili are the other three official languages.

Number of travelers per year - In 2018, Rwanda hosted 1.71 million visitors, an 8% increase compared with 2017.

Socket type - Types C and J, 230V supply voltage and 50Hz.

Time zone - Central Africa Time (GMT+2).

Top 3 cities to visit - Kigali, Huye, and Kibuye.

Top 3 landmarks/monuments - Volcanoes National Park, Kigali Genocide Memorial Sites, and Nyungwe National Park.
Visa information for Rwanda
Most nationalities need the Rwanda Entry eVisa to enter Rwanda. There are also visas available, depending on your itinerary and travel purpose. Find out which one you need with our handy Visa Checker Tool.
The Rwanda Entry e-Visa explained
The Rwanda Entry e-Visa is a Single Entry travel document for tourist purposes. You can stay in Rwanda for up to one month with this visa, for example to gorilla spotting, learn more about the local culture, and visit museums.
When applying with the help of iVisa you can use a simplified application form, have access to a 24/7 customer support team, and more!
The East Africa Visa explained
If you wish to visit other African countries during your stay in Rwanda, like the Republic of Kenya or the Republic of Uganda, you can apply for the East Africa Visa instead.
The East Africa Tourist Visa is a Multiple Entry official travel document that allows you to travel between Rwanda, Kenya, and Uganda for tourist and business activities, family visits, or to receive medical treatment.
The Rwanda Conference Visa explained
Travelers who wish to attend, or speak at, a conference, meeting, workshop, or seminar in Rwanda, should apply for the Conference eVisa. This travel document allows a Single Entry for a maximum stay of 30 days Per Entry. Perfect for business travelers!
Visa difficulty index for Rwanda
Accessibility: 5/5 The Rwanda Tourist eVisa, East Africa Visa, and Conference Visa can all be obtained by applying online,
Time to get your visa: 4/5 You can get your Rwandan Visa in as little as one business day, depending on your travel purpose and budget.
Costs: 5/5 The government fee for the Entry eVisa is just $50 (excluding iVisa processing fees). If you are a national from a Commonwealth, African Union, or La Francophonie, you are even eligible for a free Entry eVisa, and those from the East African Community, get it for free on arrival.
Typical costs and budget for Rwanda
A guide to what you'll spend on a daily basis traveling through Rwanda on a mid-range budget.
Daily spending - Around FRw 4,600 ($44) per person, per day. This includes:

Meals - Expect to spend about FRw 5,608 ($5.21) on meals.

Transport - Depending on your travel plans and standard of travel, local transportation may cost up to FRw 4,142 ($3.85) per day.

Hotel - The average hotel price in Rwanda for a couple is FRw 29,400 ($27).
A trip to Rwanda for two people for a week will set you back about FRw 338,389 ($314).
Transport and best ways to travel around Rwanda
There are a number of ways to get to and around Rwanda. The following tips will help you navigate the country safely.
Flying or crossing the border to Rwanda
It is most likely that you will enter the country through Kigali International Airport, located on the outskirts of Rwanda's capital city.
You can fly from Europe with Brussels Airlines, KLM, and Turkish Airlines to Kigali. Other airlines serving the airport include Rwandanr, Ethiopian Airlines, flydubai, Kenya Airways, and Qatar Airways.
Tourists planning to visit the game parks in the Democratic Republic of Congo need to plan to acquire the Congo Visa in advance, which can be complicated.
The Cyanika border is a land border between Rwanda and Uganda, mostly used by tourists visiting Bwindi Impenetrable National Forest for gorilla trekking. Crossing it is relatively easy, as long as you have the right documentation, such as the Rwandan Entry e-Visa or the East Africa Tourist Visa.
Arrival and immigration tips for Rwanda
In general, customs and immigration procedures at the airport are straightforward. Border crossing can take more time if not arranged with a tour operator. A few tips to make the immigration process smoother:
Apply for your Rwanda Visa in advance and make sure you have all other entry documents (such as a Yellow Fever Vaccination card, if applicable).

Few places in Rwanda accept credit cards except for major hotels in Kigali. There are money-changing facilities in Kigali. Visitors are advised to carry cash in US dollars with them.

If you are going to Rwanda for game viewing, your local tour operator will most likely collect you from the airport and arrange further transportation as part of your package.
Road travel in Rwanda
There is a well-developed road network connecting Rwanda's major towns and cities, and driving is the most convenient mode of transportation. In rainy seasons, unpaved smaller roads are often flooded.
Most tourists get around with a pre-arranged driver, arranged by a tour operator. They know the conditions and their way around, and it offers a comfortable and safe way of travel.
In larger towns, taxis are available. Motorbike taxis, which are also common, are not the safest form of transportation. There are no trains, the most common public transport are shared mini buses. In Kigali, a smart card system called Tap&Go is used on buses.
Safety in Rwanda
Rwanda is a safe place to visit in most parts. It is understandable to feel hesitant about visiting Rwanda due to its long history of violence and unstable neighbors. However, since the 1994 tragic genocide, there have been no major political upheavals.
As a result, the number of tourists visiting Rwanda has increased dramatically, boosting its economic position in Africa.
Even so, crime still exists. Practicing basic safety precautions can reduce your chances of being targeted as a visitor:
Travelers should avoid certain regions, especially the areas within 10 kilometers of the border with Burundi and the Democratic Republic of Congo. Monitor local media to remain alert, and let the local authorities know if you need to travel to these regions for any reason.

LGBTQ discrimination is another challenge to be aware of.

Remain alert while walking in crowded areas, such as markets, busy streets, and bus stations.

Keep your valuables out of sight.

Avoid walking alone late at night.

Don't accept any type of food or drinks from strangers.

If your hotel provides a security guard for the premises, ask for their contact information just in case an emergency arises.

Get travel insurance that covers essential services, health risks, medical evacuation, medical facilities, loss of travel documents, and high-risk activities such as hiking. In the event that you experience a crime, call the nearest police station. Rwanda's National Police is relatively reliable compared to some other African nations. One tip is to watch the movie "Hotel Rwanda" to understand the country's history.
Weather in Rwanda
The best time to visit Rwanda is during the dry period from June to September, when you are most likely to spot the country's undeniable highlight: the mountain gorilla. The rainy season, from March to May and November, is ideal for tracking chimpanzees.
Must do and see in Rwanda
Don't miss these awesome sights on your holiday to Rwanda:
The best thing to do in Rwanda is by far gorilla trekking at Volcanoes National Park. Rwanda's national park is home to critically endangered mountain gorillas, which share their habitat with Uganda and the Democratic Republic of Congo.

Tourists can learn about the horrific events of the 1994 genocide at the Kigali Genocide Memorial, a must-visit to understand the country's history, culture, and future.

One of the most important forest conservation areas in all of Africa, Nyungwe Forest National Park is home to chimpanzees. This wild animal encounter only costs a fraction of the price of gorilla trekking but is just as memorable.

The King's Palace Museum is literally a replica of a king's palace from the 15th century with a thatched roof, royal hut, and milk hut traditionally run by an unmarried woman. It is also one of Rwanda's 8 national museums.

Scratch the itch to go on safari at Akagera National Park, just a three hours drive from Kigali. The biodiversity in one of the largest national parks in Rwanda has made an incredible recovery after the Rwandan genocide.
Typical Rwandan food to try
Most Rwandan dishes are made from fresh ingredients and stewed or boiled together. Try at least one of the below on your trip!
Ugali - A porridge made of maize and water is mixed together to form a paste. It is a popular dish not only in Rwanda, but throughout eastern Africa as well.

Ibihaza - Pumpkins are mixed with beans and boiled together to make this simple and traditional, which is also highly nutritious.

Isombe - A typical Rwandan stew made from mashed cassava leaves and other ingredients such as tomatoes, onions, garlic, seasoning, and peanut butter. It uses stock from boiled beef bones to create a meaty flavor.

Matoke - A simple, healthy, and delicious East African dish made in one pot from green bananas. Easily prepared, but can keep you full for a long time.
Vaccine information for Rwanda
Before booking your trip, it's important to know what vaccines and COVID-19 measures are required. A Yellow Fever vaccine is mandatory if you enter from a country where yellow fever is prevalent. Malaria is prevalent, so take precautions.
You do not need to present proof of vaccination against COVID-19 to enter Rwanda, but other entry rules may apply. We advise you to check the CDC website for more info about all vaccine requirements and any recommended guidance or medicine lists.
Gorilla trekking in Rwanda
Witnessing gorillas in their natural habitat is an unforgettable experience. Gorilla encounters are carefully supervised, with trackers and guides leading small groups of tourists up jungle slopes to spend quality time with these gentle giants.
The endangered mountain gorilla lives in the volcanic range that stretches across Rwanda, Uganda, and the Democratic Republic of the Congo. Rwanda is a relatively safe and accessible place to track gorillas!
We recommend using licensed tour guides and operators if you plan to book a gorilla trekking tour. These companies organize tours with minimum impact on the environment and the animals. Expect to spend about $1500 per day, and the minimum age is 15 years old.
You may find the trek challenging due to the dense undergrowth. However, spending time with mountain gorillas in the wild is worthwhile despite the high altitude and steep, slippery trails.
The best time to visit Rwanda for gorilla spotting is during the dry season of June to September. The annual Kwita Izina gorilla-naming ceremony, usually held around September, is also a memorable time to visit the Volcanoes National Park. Leading up to the main event you'll get to meet park staff and conservationists, and attend cultural evenings.
Trustpilot recommended. We lead the industry in innovation and reputation
Our Customers Have Great Stories About Us