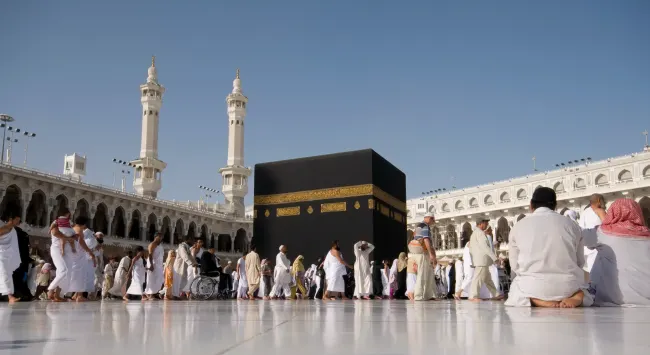 For many Muslims worldwide, performing Umrah is a lifelong dream. Citizens of Germany who wish to embark on this spiritual journey need to obtain a Saudi Arabia Umrah Visa, and we are here to help you navigate the confusing Saudi Arabia visa application process!
We understand that obtaining a Saudi Arabia Umrah Visa from Germany can be daunting. Thus, we have created this guide to clarify and make the process more manageable.
Here's everything you need to know to fulfill your dream of performing Umrah in Saudi Arabia easily and comfortably. Keep reading to discover your Saudi Arabia Umrah visa options and the simplified visa application process we offer.
What is Umrah, and why is it important for Muslims?
Umrah is a pilgrimage to the holy city of Mecca that Muslims can undertake at any time of the year, unlike the Hajj, which has a set time. It is considered a highly spiritual journey and is often undertaken by Muslims to seek Allah's blessings and forgiveness.
For Muslims, performing Umrah is an act of devotion and faith that holds great significance. The journey to Mecca is believed to purify the soul and bring one closer to Allah. The rituals of Umrah, such as the Tawaf (circumambulation) of the Kaaba and the Sa'i (walking between the hills of Safa and Marwa), are considered highly sacred and are a way of expressing gratitude and seeking blessings from Allah.
Overall, Umrah is an essential aspect of the Islamic faith and holds a special place in the hearts of millions of Muslims worldwide. It is a journey that requires immense devotion, patience, and sacrifice, but one that ultimately brings tremendous spiritual fulfillment and a deep sense of connection with Allah.
Saudi Arabia visa requirements for German citizens
German citizens who wish to undertake Umrah in Saudi Arabia must obtain a Saudi Arabia Umrah Visa. German citizens have many options, including the Saudi Arabia Tourist eVisa, which you can get through iVisa.
Saudi Arabia visa options for German citizens for Umrah
There are three different Saudi Arabia Visa options that German citizens planning to visit Saudi Arabia to perform Umrah have regarding visas. They are:
Saudi Arabia eVisa or Saudi Arabia Online Visa for Umrah. This is an Umrah-specific visa you apply for online via the Saudi Arabia Nusuk website.

Visa on Arrival

The Saudi Arabia Tourist eVisa, which you can apply for through iVisa.
What is the Saudi Arabia Tourist Visa?
The Saudi Arabia Tourist Visa, also known as the Saudi Arabia Tourist eVisa, allows you to participate in tourism-related activities. This includes attending events, visiting family and relatives, leisure, and even performing Umrah (excluding Hajj) if you are Muslim.
With this visa, you can visit the holy cities of Jeddah, Makkah (Mecca), and Medina. Take into consideration that Muslims can only visit Makkah and Medina.
Please note: Using this visa to perform Hajj is not possible. A separate Hajj Visa is required during this period. The visa also does not allow activities like studying.
How often can I enter Saudi Arabia with a Tourist e-Visa?
The Saudi Arabia Tourist eVisa is a Multiple Entry visa. Thus, you can enter the country as often as you want within a year. Each stay can be up to 90 days in Total.
What is the difference between the Saudi Arabia Tourist Visa and the Saudi Arabia Umrah Visa?
It is important to note that the Kingdom of Saudi Arabia offers a separate Umrah Visa. This visa provides Umrah pilgrims certain perks they will not get when traveling on tourist visas. For instance, those with an Umrah-specific visa may leave the country with ZamZam, while those on a tourist visa may not.
Other differences include that the Saudi Arabia Tourist Visa is a Multiple Entry visa that anyone of any religion can apply for. In contrast, the electronic Umrah visa is a single entry visa only issued to Muslims for the sole purpose of performing Umrah.
Saudi authorities also have vastly different requirements for each visa. Foreign pilgrims from forty-nine countries can travel to Saudi Arabia and perform the religious pilgrimage on a tourist eVisa. On the other hand, travelers from anywhere in the world can apply for the Umrah Visa.
Unfortunately, iVisa does not offer an Umrah-specific visa currently due to the rigorous Umrah visa requirements. You can check your eligibility for the Saudi Arabia Tourist eVisa with our Visa Checker Tool.
Suppose you do not qualify for the Tourist Visa and require the Umrah e-Visa instead. In that case, we suggest speaking to your local agent or Hajj and Umrah representatives for more guidance on the stringent application process.
How to apply for a Saudi Arabia Tourist eVisa from Germany
Plan to get a Tourist Visa for Saudi Arabia? Apply online with iVisa in a few simple steps:
Step 1: Complete the online application form on iVisa with your details and choose your preferred processing time.

Step 2: Double-check all info carefully and pay the Tourist Visa fees with a credit/debit card or PayPal.

Step 3: Upload all required documents, click "Submit," and prepare to travel to Saudi Arabia!
Upon arrival, you must present your passport and your new tourist visa confirmation with a QR code, which must be printed.
Start your online application now
Document Requirements for a Saudi Arabia Tourist Visa
To apply for your Saudi Arabia Tourist Visa, you will be required to submit these documents:
National ID Card or Birth Certificate - You must show your identity with your government's official document.

Travel Authorization from employer or school - You need a letter or a statement from your host indicating the reason for your stay.

Applicant Photo - A recent color passport photo works best. If you do not have one, you can use our photo service to get new pictures done from the comfort of your home.

German Passport Personal Details Scan - Scan your passport bio page. You must have six months of validity left from the day you plan to enter Saudi Arabia.

Proof of Accommodation - Prove you have a place to stay while you are in the country.

Bank Statement - Show customs officials you have the money to pay for your trip.

Vaccinations - If you come from a country with a high risk of yellow fever, you will need a Yellow Fever Vaccination Certificate to reach Saudi Arabia.

Onward Ticket - Show that you have a departure ticket to leave Saudi Arabia.
Processing time and cost of the Saudi Arabia e-Visa
The waiting period for your Saudi Arabia Tourist eVisa will depend on your country of origin and the speed of processing you choose. We currently offer three processing options. The processing option you choose will also affect the cost. Germans can expect to pay about:
Standard processing will take 5 days and costs USD $208.99.

Rush processing will take 3 days and costs USD $261.99.

Super Rush takes 24 hours and costs USD $296.99.
The cost is made up of iVisa's processing fee as well as the USD 144 government application fee.
Umrah travel tips
Once you have your visa, it's time to prepare for your Umrah. We've compiled a list of tips, from what to pack to how to dress appropriately, to help make your journey more comfortable and rewarding. Here are some valuable tips and advice for those planning to embark on an Umrah journey:
Pack appropriately: Make sure to pack comfortable and modest clothing suitable for the climate of the region you will be traveling to. You should also bring comfortable walking shoes, a small backpack or bag to carry your essentials, and any necessary medications.

Dress modestly: When you're performing Umrah, it's essential to dress modestly to show respect to the holy sites. For men, this means wearing loose-fitting clothing that covers the shoulders and extends to at least the knees. Women should wear loose-fitting clothing that covers the entire body, including the hair and neck. Some women also prefer to wear a hijab or headscarf.

Keep yourself hydrated: It's essential to stay hydrated during your Umrah journey, especially since the climate can be quite hot and dry. Ensure you drink plenty of water and other fluids, and avoid caffeine and sugary drinks.

Plan your itinerary: Before you leave for your Umrah journey, it's a good idea to plan your itinerary. This will help you make the most of your time and ensure you don't miss any important sites or rituals.

Follow local customs: When you're in Saudi Arabia, it's important to follow local customs and laws. This includes dressing modestly, being respectful to others, and not engaging in any behavior that may be considered offensive or inappropriate.

Take care of your health: To avoid getting sick during your Umrah journey, practice good hygiene, including washing your hands regularly and avoiding contact with sick people. You should also get any necessary vaccinations before you travel.

Be patient: Umrah can be crowded and busy, and staying patient and calm is essential. Remember that you are there for a spiritual journey, and try to focus on your prayers and rituals.