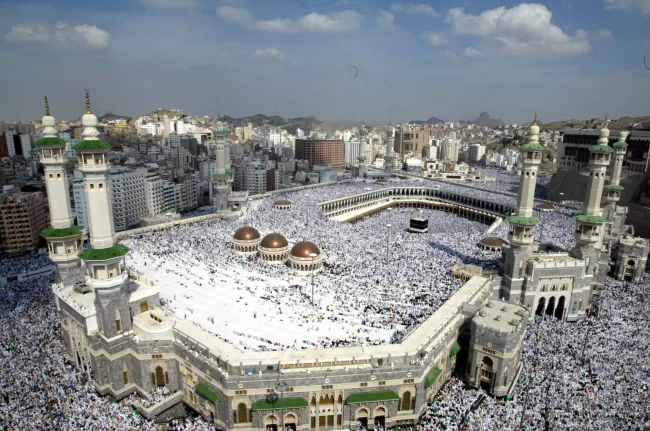 Iranian citizens yearning to perform Umrah can breathe a sigh of relief. We are here to guide you through obtaining a Saudi Arabia Umrah visa from Iran.
Securing an Umrah visa can seem daunting, but with our guidance, you'll be well-prepared to tackle it easily. At iVisa, we may not be able to apply for the Umrah visa on your behalf directly, but we can explain the application process, and requirements and answer any questions you may have.
So, are you ready to embark on a journey of a lifetime and fulfill your spiritual desires? Keep reading to learn about the various Saudi Arabia Umrah Visa options available to citizens of Iran, and let us help make your dreams a reality.
What is Umrah?
Let's start with defining what Umrah is and how it differs from Hajj before diving into the entry and exit requirements for Saudi Arabia.
Umrah is a pilgrimage to Mecca, Saudi Arabia, considered a holy city in the Islamic faith. Unlike the Hajj pilgrimage, which is mandatory for all able-bodied Muslims to perform at least once in their lifetime, Umrah is optional but highly recommended.
The Umrah pilgrimage can be performed at any time of the year, while Hajj is performed during specific dates in the Islamic lunar calendar. The ritual involves a series of actions at several religious sites, including wearing Ihram (a particular set of clothing), performing Tawaf (circumambulating the Kaaba seven times), and Sa'i (walking seven times between the hills of Safa and Marwah).
The Umrah pilgrimage is a significant spiritual journey for Muslims seeking to deepen their connection with Allah and draw closer to their faith.
What is the Saudi Arabia Umrah Visa?
An Umrah visa is a travel document issued by the Kingdom of Saudi Arabia (KSA), allowing you to enter Saudi Arabia to perform the Umrah pilgrimage. You can complete this religious journey anytime during the year.
What can you not do with an Umrah Visa?
This visa cannot be used to perform Hajj. A separate Hajj Visa is required during the Hajj season.
The visa also does not allow activities like studying or working. You must apply for a separate student visa to study and a business visa or work visa to participate in these activities before coming to the Kingdom of Saudi Arabia from the Persian Gulf.
Types of Saudi Arabia Umrah Visas for Iranian Nationals
Iranian nationals who are GCC residents and wish to perform Umrah have different options for obtaining a Saudi Arabia Umrah visa. GCC residents can apply for the online Umrah visa or choose the Umrah Visa through the package option.
Those with permanent residency in the US, UK, or EU, or who hold a valid US, UK, or Schengen visa, are eligible for a visa on arrival or a visa through the package option issued by Saudi Embassies worldwide.
If none of these options apply, individuals can apply for the Umrah visa through package option. This involves booking an Umrah package through an approved service provider, usually a local travel agency authorized to book Umrah packages.
Unfortunately, iVisa cannot currently accommodate any of these visa applications, and Citizens of the Islamic Republic of Iran are not eligible for the Saudi Arabia Tourist eVisa option we offer.
If you are not a citizen of Iran, you can check your eligibility for the Saudi Arabia Tourist eVisa with our Visa Checker Tool.
Saudi Arabia Umrah visa requirements for citizens of Iran
Citizens of Iran who wish to apply for an Umrah visa to Saudi Arabia must meet specific requirements. These may be subject to change, so it's essential to confirm the latest information with the Saudi embassy or consulate in Iran.
Here are the general requirements for a Saudi Arabia Umrah visa for citizens of Iran:
Passport Validity
The applicant's passport must be valid for at least six months from the date of entry into Saudi Arabia. The passport should have at least two blank pages for the visa stamp.
Health Requirements
The Saudi government requires all visitors to have a valid certificate of vaccination against meningococcal meningitis. The vaccination must have been administered no more than three years and not less than ten days before entering Saudi Arabia.
Proof of Accommodation
Applicants must provide proof of confirmed hotel booking or accommodation for their stay in Saudi Arabia.
Other requirements
Applicants may also be required to submit additional documents such as a copy of their flight itinerary, a recent passport-sized photograph, and a completed application form.
It's important to note that the Saudi government may also impose additional restrictions or requirements based on the current situation and circumstances. Therefore, checking the latest conditions before applying for an Umrah visa is advisable.
How to apply for an Umrah Visa from Iran
The application process for a Saudi Umrah Visa can be daunting for Iranian nationals. However, it is pretty simple when broken down. You will need to:
Step 1: Find an approved travel agency in your home country and work with them to apply for your visa. They will be in charge of preparing your application and planning your trip. The agency will offer several Umrah package options at different price ranges.

Step 2: Prepare all required documents for the application submission and send them to your chosen travel agency. The agency will proceed with the rest of the application.

Step 3: Register on the Umrah apps. Once you enter the country, you need to download two obligatory apps on your phone: the Tawakkalna app (which works only in Saudi Arabia and will contain all your vaccination records, which you need to display when you enter hotels, restaurants, and the masjids) and the Etmarna app (which allows you to get prayer permits and have them linked to your Tawakalna).
Documents required for the Umrah Visa application for Iranians
The required documents for a Saudi Arabia Umrah visa may vary depending on the applicant's nationality, age, and other factors. However, here are some commonly required documents for an Umrah visa application:
Passport: A valid passport with at least six months of validity and two blank pages.

Visa application form: A completed and signed Umrah visa application form.

Photographs: Two passport-sized photographs with a white background. If you require new photos, use the iVisa passport photo service to get updated passport photos from the comfort of your home.

Submit Proof of accommodation: Confirmed hotel booking or accommodation for the entire duration of the stay in Saudi Arabia.

Vaccination certificate: A valid vaccination certificate against meningococcal meningitis.

Travel itinerary: A copy of the flight itinerary showing the entry and exit dates and flight details.

Proof of citizenship: A valid national ID card or a copy of the birth certificate.

Financial proof: Evidence of sufficient funds to cover the expenses during the stay in Saudi Arabia.
Additional documents may be required depending on the applicant's circumstances, such as a letter of sponsorship or invitation letter, a marriage certificate (if traveling with a spouse), or a consent letter (if traveling with children).
These requirements seem overwhelming. However, remember that even basic and economy Umrah packages cover Visa, Accommodation, Transportation, and Medical Insurance already.
Your Umrah package agent will assist you throughout your visa application process. Those applying for a visa on arrival or the Umrah eVisa may be required to provide additional documentation, including the relevant residency permits or visas.
Processing times of a Saudi visa
In normal circumstances, an Umrah visa takes five to ten days to finish processing— depending on your country of residence.
Umrah Visa Cost
The Umrah visa application costs, including service fees, are between $380 to $490. But, the visa fees are liable to change from country to country.
Additionally, pilgrims must pay for the Umrah travel package, raising the overall cost of Umrah to between $1,500 to $2,000.
Umrah Visa Validity
The Umrah visa is valid for two weeks. But, if you are performing Umrah during Ramadan, you must leave by the last day of the holy month regardless of whether you have stayed for two weeks.
Tips for a smooth Umrah Visa application process
Here are some tips to ensure the Saudi Arabia Umrah visa application process goes smoothly:
Plan ahead: Start the visa application process well in advance of the planned travel date to allow sufficient time for processing and any unexpected delays.

Check the requirements: Review the latest visa requirements and guidelines provided by the Saudi embassy or consulate in Iran to ensure you have all the required documents and meet the eligibility criteria.

Complete the application accurately: Fill out the visa application form carefully and accurately, providing all the required information and attaching all the necessary documents.

Check for mistakes: Double-check all the information provided in the application and the supporting documents for accuracy and completeness, as even minor errors can delay visa processing.

Be prepared for an interview: Some applicants may be required to attend an interview, so it's advisable to prepare for potential questions and bring all the necessary documents for the interview.

Be patient: The visa processing time may vary depending on the circumstances, so it's essential to be patient and avoid making unnecessary inquiries or follow-ups.

Follow up on the application: Keep track of the visa application status and follow up with the Saudi embassy or consulate if necessary, but avoid making multiple inquiries unless necessary.
Common mistakes to avoid during the Umrah visa application process
Providing incomplete or inaccurate information on the application form.

Failing to provide required supporting documents.

Applying too late, which can lead to delays or visa denial.

Not checking the validity of the passport and ensuring it has at least six months of validity.

Failing to obtain the required vaccinations or medical certificates.
Additional resources for support during the visa application process
The official website of the Saudi embassy or consulate in Iran.

The Saudi Arabian Ministry of Foreign Affairs website.

Approved Travel agencies that offer visa processing services.

Online forums and communities where travelers share their experiences and advice.
Who can use a tourist e-Visa to enter Saudi Arabia to perform Umrah?
Unfortunately, Iranians are not eligible to apply for the Tourist eVisa. However, those who are only residing in Iran but hold citizenship in other countries may still be eligible for tourist visas. Use our Visa Checker Tool to see if you qualify.
If you do, you can perform Umrah with a Tourist Visa. The visa offers several advantages compared to an Umrah visa. For example, a multiple-entry visa allows you to stay longer in Saudi Arabia. Best of all, you can apply through iVisa, making your life simpler and more manageable!
iVisa's Saudi Arabia Tourist eVisa application process
Umrah pilgrims who are eligible to apply for a Saudi Arabia Tourist Visa, let iVisa help you take the guesswork out of the visa application process with our easy visa application. It can be completed in minutes from your home or office with these three simple steps:
Step 1: Provide basic information about yourself in the application form and your trip, and choose your preferred processing time.
Step 2: Check for all information, and pay for the Saudi Arabia e-Visa Fees using a credit or debit card. Step 3: Finally, add any required documents, if needed, and click 'Submit.'
Then sit back as we process the application on your behalf. The approved visa confirmation will be emailed to you.
Your e-Visa for Saudi Arabia expires a year after the issue. Your maximum stay in Saudi Arabia is 90 days per trip.
Cultural & religious considerations Iranians should remember
Saudi Arabia is an Islamic country with a conservative culture, and it's essential to respect local customs and traditions to ensure a safe and enjoyable trip. Here are some key cultural and religious considerations to keep in mind:
Dress modestly: Women should wear a headscarf and dress modestly in public, while men should avoid shorts and sleeveless shirts.

Respect prayer times: During prayer times, many shops and restaurants may close, and it's essential to be respectful and avoid making noise.

Follow local laws: It's essential to follow all local laws and regulations, including those related to dress, behavior, and public conduct.

Show respect for the royal family: The Saudi royal family is highly respected in the country, and it's essential to show respect and avoid making any negative comments.

Follow pilgrimage protocols: During the Umrah pilgrimage, specific protocols must be followed, including performing the Tawaf (circumambulation of the Kaaba) and the Sa'y (running between the hills of Safa and Marwa).

Show respect for holy sites: The Kaaba and other religious sites in Saudi Arabia are considered sacred by Muslims, and it's essential to show respect and avoid engaging in disrespectful behavior.

Respect the gender segregation protocols: Many public places in Saudi Arabia, especially in the Holy City of Makkah, have separate areas for men and women, and it's essential to be aware of these gender segregation rules and follow them accordingly.
If you have any questions or concerns, please contact our customer service team, who are always there to helpe, or email us at [email protected] .
We wish you a blessed Umrah and a life-changing Saudi Arabia adventure!