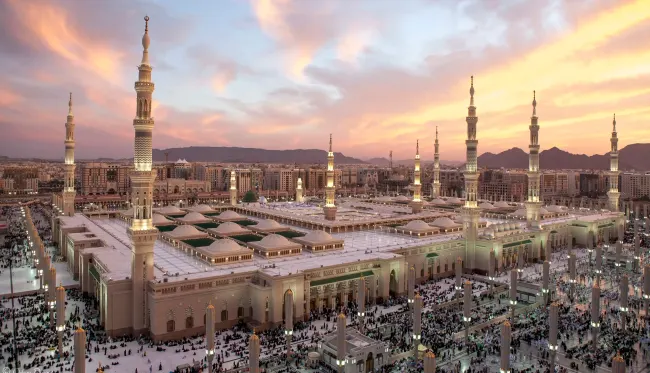 As a Malaysian citizen is your heart yearning to perform Umrah? Then it might be time to look into the Saudi Arabia eVisa application process for Malaysians.
Yes, it's true. If you're from Malaysia, you'll need a visa to travel to Saudi. Thankfully, iVisa offers an online tourist e-Visa to residents of Malaysia that can be used to perform the Umrah pilgrimage.
Our online process is simple and secure and will save you the aggravation of going to the embassy or consulate to get your visa. Keep reading to learn everything you need to know about the Saudi Arabia Umrah Visa options for Malaysian citizens.
What is the Saudi Arabia Tourist Visa?
The Saudi Arabia Tourist Visa, also known as the Saudi Arabia Tourist eVisa, allows you to participate in tourism-related activities. This includes attending events, visiting family and relatives, leisure, and even performing Umrah (excluding Hajj) if you are Muslim.
With this visa, you can visit the holy cities of Jeddah, Makkah (Mecca), and Medina. Take into consideration that Muslims can only visit Makkah.
Please note: Using this visa to perform Hajj is not possible. A separate Hajj Visa is required during this period. The visa also does not allow activities like studying.
The difference between the Saudi Arabia Tourist Visa and the Saudi Arabia Umrah Visa?
It is important to note that the Kingdom of Saudi Arabia offers a separate Umrah Visa. This visa provides Umrah pilgrims certain perks they will not get when traveling on tourist visas. For instance, those with an Umrah-specific visa may leave the country with ZamZam, while those on a tourist visa may not.
Other differences include that the Saudi Arabia Tourist Visa is a Multiple Entry visa that anyone of any religion can apply for. In contrast, the electronic Umrah visa is a Multiple Entry visa that is only issued to Muslims for the sole purpose of performing Umrah.
Saudi Authorities also have vastly different requirements for each visa. Foreign pilgrims from forty-nine countries can travel to Saudi Arabia and perform the religious pilgrimage on a tourist eVisa. On the other hand, travelers from anywhere in the world can apply for the Umrah Visa.
Unfortunately, iVisa does not offer an Umrah-specific visa currently due to the rigorous Umrah visa requirements. You can check your eligibility for the Saudi Arabia Tourist eVisa with our Visa Checker Tool.
Suppose you do not qualify for the Tourist Visa and require the Umrah e-Visa instead. In that case, we suggest speaking to your local agent or Hajj and Umrah representatives for more guidance on the stringent application process.
Can I enter Saudi Arabia through land borders, apart from airports?
If you opt to apply for a Saudi Arabia Tourist eVisa to go for Umrah, you can enter Saudi Arabia via the land borders via Dubai or Bahrain.
Processing time and cost of the Saudi Arabia e-Visa
The waiting period for your Saudi Arabia Tourist eVisa will depend on your country of origin and the speed of processing you choose. We currently offer three processing options. The processing option you choose will also affect the cost. Malaysians can expect to pay about:
Standard processing will take 5 days and costs USD $220.99.

Rush processing will take 3 days and costs USD $272.99.

Super Rush takes 24 hours and costs USD $332.99.
The cost is made up of iVisa's processing fee as well as the USD 144 government application fee.
When should I apply for the Saudi Arabia eVisa?
Those intending to perform Umrah, explore the holy city, and enjoy other tourism opportunities are advised to apply for their Saudi Arabia Tourist eVisa at least 24 hours before their trip to Saudi Arabia.
Saudi Arabia Tourist eVisa Requirements
Make sure to gather these documents before applying for your e-Visa:
National ID Card or Birth Certificate - You must show your identity with your government's official document.

Travel Authorization from Employer or School - You need a letter or a statement from your host indicating the reason for your stay.

Applicant Photo - Taking a recent color passport photo works best. If you do not have one, you can use our photo service to get new pictures done from the comfort of your home.

Passport Personal Details Scan - Scan your passport bio page. You must have six months of validity left from the day you plan to enter Saudi Arabia.

Proof of Accommodation - Prove you have a place to stay while you are in the country.

Bank Statement - Show customs officials you have the money to pay for your trip.

Vaccinations - If you come from a country with a high risk of yellow fever, you will need a Yellow Fever Vaccination Certificate to reach Saudi Arabia.

Onward Ticket - Show that you have a departure ticket to leave Saudi Arabia.
How often can I enter Saudi Arabia with a Tourist e-Visa?
The Saudi Arabia Tourist eVisa is a Multiple Entry visa. Thus, you can enter the country as often as you want within a year. Each stay can be up to 90 days in Total.
Validity of a Saudi Arabia Tourist eVisa
Your e-Visa for Saudi Arabia expires 1 year after issued. Your maximum stay in Saudi Arabia is 90 days in Total.
Reason to Use iVisa to apply for the Saudi Arabia eVisa as a Malaysian
Saudi Arabia is a popular destination for travelers as well as religious pilgrims. Whatever the reason for your trip, let us help you get the most out of your journey by taking the guesswork out of the visa application process for you with our easy e-Visa application. In a matter of minutes, you can complete the process from your home or office.
If you have any questions or concerns, please contact our customer service team, who are available 24/7 online, or email us at [email protected].
We hope you have a great time in Saudi Arabia!