A lot of people who like to travel, choose the services provided by a visa agent or a migration employee for many good reasons. The first one is that visas can be more complicated than you think. The application form alone is enough to give you some terrible headaches. Also, migration rules change pretty often, and for a regular person, it may be a bit difficult to keep up.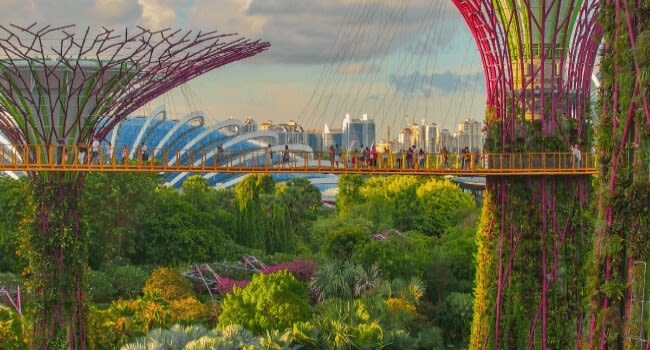 While there are many Singapore visa agents on the market, iVisa.com is the service you are seeking. Thousands of people use it every month, and according to them, our services exceed your expectations. As you can imagine, you can use the service provided by iVisa.com to apply online for a Singapore eVisa only if you are eligible for it.
But, that's easy to know. You can use the tool available on our homepage and check if you can apply for the Singapore eVisa or not. Keep reading the questions below to find out how to use this document and how to use the services provided by iVisa.com.
Frequently Asked Questions
How can I check if I need a Singapore eVisa?
To find it out, you can use iVisa.com's Visa Checker, which we mentioned before. All you have to do is choose your nationality from the drag-down menu on the left and add Singapore to the menu on the right. The result will tell you whether or not you need a visa, and if you do, it will lay down your options. If you are eligible for a Singapore eVisa, you can apply on the spot. If not, you will be provided with a list of embassies where you can apply.
Does the Singapore online document have a cost?
Yes, it does, but it's not too expensive. We recommend you apply with us to avoid wasting hours lining at the airport. To obtain an eVisa with iVisa.com, you just need a few minutes of your valuable time, then, we do the rest. That is the reason we charge you a small amount, and you will be able to have your Arrival Card in as little as 30 minutes.
What is the SG Arrival Card?
The SG Arrival Card stands for the Singapore Electronic Arrival Card, an electronic admission document that you can easily use to replace the traditional paper Disembarkation/Embarkation Card (DE Card).
Just remember that the SG Arrival Card has a validity of 30 days after issued or until passport expires. Also, with this document, you can enter the country for a maximum of 14 days Per Entry with a Single Entry.
What documents do I need to apply online?
To apply online with iVisa.com, you'll just have to offer some basic documents and items like:
Your valid passport.
A credit/debit card or Paypal account to pay for the service offered at iVisa.com
Lastly, your email address to get the SG Card on time and safely.
What are the processing times and prices by using iVisa.com?
We propose three options for the processing time and price of it:
Standard processing: this is the basic option, but it's still quite fast. You can receive your SG Arrival Card in your email inbox in

24 hours

, and the price is

USD $27.49

(service fees included).
Rush processing: with this option, you only wait

4 hours

, and the total price you have to pay is

USD $49.99

(service fees included).
Super rush processing: this processing option is faster than the other two, so it makes you wait for only

30 minutes

, and you are charged

USD $84.99

.
How does the SG Arrival Card work?
In August 2019, the Singapore Immigration and Checkpoints Authority (ICA) launched to the public the Electronic Arrival Card to replace the traditional paper Disembarkation / Embarkation Card (DE Card).
Therefore, the SG Arrival Card works as an electronic admission document. This document is easier to get than the DE Card, and it makes you avoid wasting time and effort at the airport. You will receive the SG Arrival Card via email after filling our application form.
iVisa.com offers this service to help travelers save time and avoid long lines at the airport. Also, by getting an Electronic Arrival Card, you do not have to fill out the paperwork handed out on the plane. Please know this service is not a requirement to enter Singapore and it carries a service fee.
How can I apply for the Singapore SG Arrival Card?
You won't need to do many things to get your SG Arrival Card in your email inbox fast. All you have to do is to complete this online process that has 3 steps:
The first thing you have to fill in the form with your basic details and then select the procedure time you fancy.
The second thing is to check that everything's correct before paying with your Paypal or debit/credit card.
The last thing to do is to attach some documents to the form and send it once you're ready with it.
After you complete this 3-step process, just wait for your SG Arrival Card in your email inbox and that's all!
Does obtaining an SG Arrival Card guarantee automated entry to Singapore?
No. The Singapore Electronic Arrival Card does not guarantee entry to the country. It's up to the country's customs authorities to allow entry to a visitor after procedure checking upon arrival.
How safe is iVisa.com's service?
One of the best Singapore visa agents is iVisa.com because this company offers a reliable service that won't risk your personal details at any time. Therefore, we can guarantee that you can always apply with us to get your travel documents as fast as possible without feeling worried.
If I have more questions, what can I do?
If you still have questions about our services, you can always contact us on this link or simply keep exploring our website and blog page. We're always ready to help you, especially if you have issues while applying or you want to learn more about travel documents around the world. Don't hesitate to contact us!