Have you ever thought about traveling to Sri Lanka? It's a destination that has many interesting tourist spots.
Beyond wanting to visit Buddhist ruins or thousand-year-old palaces, in Sri Lanka, you can also enjoy plenty of nature tourism. Best of all, you only need a Sri Lanka ETA to visit, especially if you are a citizen of India.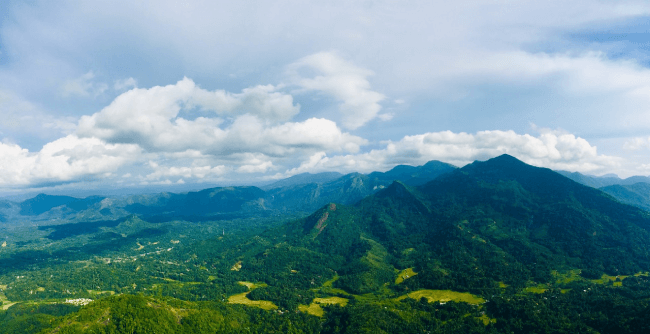 Getting a Sri Lanka Tourist ETA can be an easy task if you apply online with iVisa.com. As an Indian passport holder, you can apply for the ETA using this website, which is quite convenient to save time and effort. With a Sri Lankan ETA (Electronic Travel Authorization) you'll be allowed to stay in the country for up to 30 days.
Read the FAQs below if you want to learn more details about the Sri Lanka Visa for Indians.
Frequently Asked Questions
Do I need a visa to enter Sri Lanka if I'm from India?
What you actually need is an ETA, rather than a visa. This document is easier to get than a traditional Paper visa. You can check the requirements by clicking here.
What is an ETA?
The Sri Lanka ETA is the short name for the Electronic Travel Authorization. This document is available through a web-based visa system like the one you find on iVisa.com. An ETA is issued only for business, tourism, and transit visits to Sri Lanka.
What is the maximum stay for Indian citizens?
If you have an Indian passport, you can stay in Sri Lanka for 30 days in Total, as long as your travel is for tourism and business only. The ETA is valid for 180 days after issued and it has a Double Entry benefit.
What documents do I need to apply?
The list is very short when you use iVisa.com. You only need the following items:
A passport scan: we only need the information page of your passport.
E-mail address: when applying with iVisa, you'll be able to get the document through an email, which is why we ask you to give a valid email address.
Means of payment: you can pay for the ETIA with a Paypal account or a debit/credit card.
What prices and processing times do this document have?
You can get your Sri Lanka visa for Indians in a few minutes by using iVisa.com, but for that, you have to pay a fee. The good news is that you can choose one of these three options:
Standard processing: your ETA application is processed within

24 hours

, and the price is

USD 40.00

(service fees included).
Rush processing: you will receive your ETA within

4 hours

, and the total price of it is

USD 70.00

(service fees included).
Super rush processing: this is the fastest option. You will get your ETA in only

30 minutes

, and you will be charged

USD 85.00

(service fees included).
Click here when you feel ready to apply for this document.
How long does it take to apply for a Sri Lanka ETA?
10 MINUTES or less by using iVisa.com's service. Keep in mind that this service is completely online. Click through to the form now to get started.
How can I apply for a Sri Lanka Visa for Indians?
The application form we created for the Sri Lanka eVisa is easy-to-understand. You only need to follow these steps:
The first step asks you to fill in your general information. You also need to select the processing time from the options mentioned above.
The second step is to check the information available in step one and make the payment.
The last step is to attach your documents if necessary before sending the form.
Click here to start. After you are done, you can send your form and wait for your ETA. In case you need assistance filling out your application, iVisa.com has a wonderful support service ready to answer your questions through chat.
What happens after I have applied?
All you have to do after you send your application is to wait for your ETA according to the timeframe you chose on our website. You don't have to deal with the embassy because we contact them directly so you can receive the document safely.
What does the Sri Lanka ETA look like?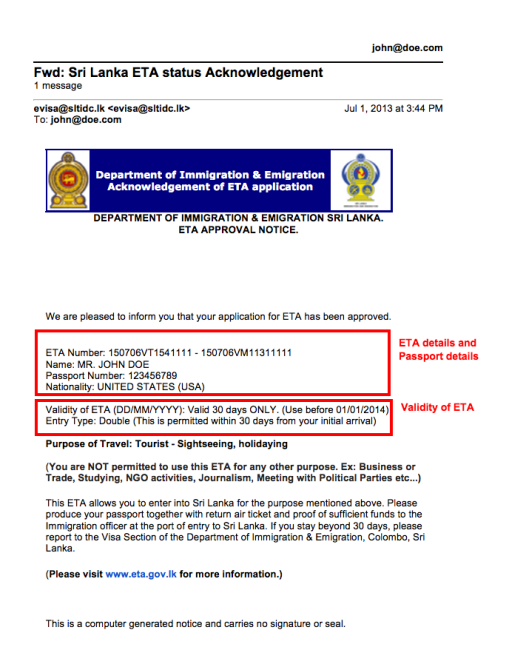 Do I need this ETA if I'm just passing through?
If you're just passing through Sri Lanka, then you don't need the Sri Lanka ETA. You're also exempt from this document in the following circumstances:
Crew members of flight/ship.
Children under 12 years of age.
Remember that this is possible only if you're in transit for less than 48 hours.
Should I get a yellow fever vaccination before traveling to Sri Lanka?
The government of this country asks you to provide valid proof of yellow fever vaccination only if you are arriving from a country with a risk of yellow fever. You can check the list of countries here.
I made a mistake on my application. Can I modify the ETA after it's issued?
Sadly, we cannot modify any details on the e-Visa once it's delivered. If you realize you made a mistake before your Sri Lanka Visa for Indians has been issued, then contact us ASAP via online chat or by sending an email to help@ivisa.com.
Is iVisa.com safe?
Yes. We've helped thousands of travelers since 2002 and the Government of Sri Lanka accepts applications for the Sri Lanka Visa for Indians processed by specialized third parties like iVisa.com.
You can read here what our customers are saying about our service on this link.
I have more questions, where can I see more information or find assistance?
You can chat with one of our agents by clicking here or you can find more info about the Sri Lanka Visa for Indians and FAQs on the website here.