Sri Lanka is known as the jewel of the Indian Ocean. There is something for everyone in Sri Lanka due to its diverse landscapes and cultures. From embarking on adventurous hikes in one of the many national parks, to experiencing the unique culture and trying incredible Sri Lankan food, the list is pretty extensive. Keep reading for our favorite things to do in Sri Lanka.
Interested in what Sri Lanka has to offer? Sri Lanka never disappoints visitors, whether you're an adrenaline junkie, nature lover, shopaholic, foodie, surfer, honeymooner, or a family with kids. We've compiled a list of all the best things to do in Sri Lanka to help you plan your trip.
Also make sure to check out our ultimate guide to Sri Lanka for practical information about this small island nation, such as visas, currency, and more.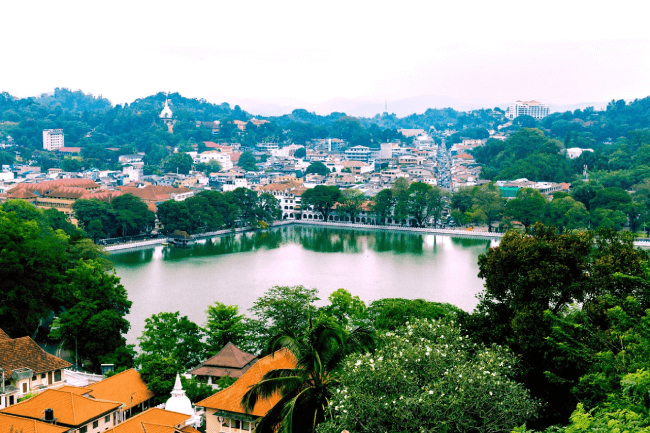 Top things to do on your Sri Lanka trip
There are many places to visit in Sri Lanka, so activities and sights depend on the [time of visiting] and your interests. Below, we've outlined the absolute must-dos and practical information, such as the best time to visit.
Ride the famous train to Ella
One of Sri Lanka's most beautiful train routes, this Hill Country rail route is instantly recognizable from numerous photos with backpackers dangling their legs while en route (no health and safety here!). This iconic 4-hour train from Nuwara Eliya passes through tea plantations and crosses the famous Nine Arch Bridge. Most visitors get out in Ella to walk over the famous bridge or hike to Ella Rock.
Do one (or more) of Sri Lanka's incredible hikes
While there aren't many multiple-day hikes, Sri Lanka does offer some amazing day hikes through their beautiful national parks. Choose one or do them all, depending on your itinerary and the season. Here are a few of the best ones.
Adam's Peak Many people consider this place to be the site of Adam's first steps on earth, making it a popular pilgrimage site in December. The best time to hike Adam's Peak (locally known as Sri Pada) is January to May, because of the favorable weather. The moderately difficult hike starts and finishes in the village of Dalhousie. It takes about 3 hours to hike the 5000 steps to the summit.
Ella Rock or Little Adam's Peak A popular, easy hike in the vibey tourist hub of Ella is Little Adam's Peak. Don't miss the sunrise from the summit by starting your one-hour hike in the dark. Those who want more of a challenge can hike to Ella Rock instead, offering spectacular views. This hike is best done with a local guide. From Ella Rock, you can choose to follow the path to Nine Arch Bridge, the famous railway bridge.
Sigiriya The climb to Sri Lanka's most famous lookout and UNESCO World Heritage Site, Sigiriya, marked by the ruins of King Kasyapa's palace, isn't exactly a common trek, but there are plenty of steps involved. Almost 1,200 steps will lead you to the impressive ruins on top of this granite cliff. Upon reaching the top, you will be rewarded with endless vistas of the Sri Lankan countryside extending to the horizon in all directions.
Get up close and personal with wildlife in a national park
As you travel around Sri Lanka, you'll see elephants everywhere: on tea plantations, in national parks, and leading the Esala Perahera parade in Kandy in August. However, you have the best chance of seeing wild elephants roaming freely at Udawalawe National Park. If you visit from June to August, you'll have the unique opportunity to admire the world's largest congregation of about 200 Asian elephants (and babies!) in Kaudulla National Park or Minneriya National Park, also called "the gathering".
Further, Yala National Park is Sri Lanka's number one place to see leopards. Here you'll find the highest density of leopards in the world.
Surf the best wave of Sri Lanka in Arugam Bay
Lovely Arugam Bay, a Bounty-ad type of beach town, is home to the famous point break that is regarded as the best surf spot in Sri Lanka. The village is tiny and does not only draw die-hard surfers. Arugam Bay has everything sun-seekers could want to just relax: hammocks, cheap beach huts, soft sand, and some amazing restaurants.
Spot whales on a boat trip from Dondra Head
In Southern sri lanka, at Sri Lanka's most southern tip, the continental shelf extends deep into the ocean. This is an area where blue whales are frequently spotted, and they don't swim this close to the shore anywhere else in the world. You can spot these gentle giants from January to April when the sea is at its calmest, from Dondra Head.
Get to know the ancient city of Kandy
Kandy is a charming city tucked beside a lake in the country's central highlands. It was the last capital of the ancient Sri Lankan kings. The top spot to visit in Kandy is the Temple of the Sacred Tooth Relic, located in Kandy's sprawling Buddhist temple complex. It was believed to have once belonged to Buddha himself. If you happen to visit Kandy in August, don't miss the Esala Perahera, with thousands of dancers, elephants, and drummers snaking through the streets of the city.
Eat all the seafood
In the north of Sri Lanka, food is similar to that in India. In addition to coconut and jackfruit, Sri Lankan cooking uses many spices and a variety of local fruits. However, seafood tops the list of food to try in Sri Lanka, always fresh and flavorful, caught on the day. Don't miss trying a Jaffna crab curry, with ground coconut, or a squid curry topped with lime juice.
Explore archeological wonders in Anuradhapura
The country's original royal capital Anuradhapura is best explored by tuk-tuk or bicycle. Here you'll find 1,500 year-old ruins that continue to attract thousands of Buddhists and tourists every year. Among the ruins, you'll see amazing gigantic stupas such as Jetavanarama, dating back to the 3rd century. It was once the third-tallest building in the world, after two Egyptian pyramids. Also don't miss the archeological museum, one of the best in the world.
Visit the tea plantations in Hill Country
Those who are passionate about tea will want to visit the Haputale Mountains in the Hill Country, where the one and only Sir Thomas Lipton established his tea empire. Lipton's Seat, Mr. Lipton's favorite spot to sit and watch over his estate offers great views and is the spot where it all began.
Explore some of Sri Lanka's best cities
For a relatively small country, Sri Lanka has more than a few great cities to explore. You'll likely arrive in the country's unofficial capital city of Colombo, where you can check out amazing temples, restaurants, and museums.
Then, head to Jaffna to eat great seafood and explore the northern islands. Galle is where you'll find some of the most interesting colonial buildings, while Kandy is the country's cultural center.
Ready to visit Sri Lanka?
With good reason, Sri Lanka has established itself as one of the most popular tourist destinations in the world. There are plenty of things to do and see on this small island. Planning your trip yet? Don't forget to get your visas in order and read our ultimate guide to Sri Lanka for more practical travel tips.