Sri Lanka is a tropical paradise that boasts a wealth of history, nature, culture, spirituality, and adventure. The diverse geography of Sri Lanka boasts everything from sandy beaches to sparkling lagoons, lush hillsides, dense plantations, and majestic forests. But when is the best month to visit this small island? Find out here.
The best time to visit Sri Lanka depends on a number of factors, such as climate, what your interests are, events, and more. Here's an overview to help you make your decision of when to plan your trip to Sri Lanka.
Also, take a look at our ultimate guide to Sri Lanka for more practical information such as visas, COVID-19 entry requirements, and more.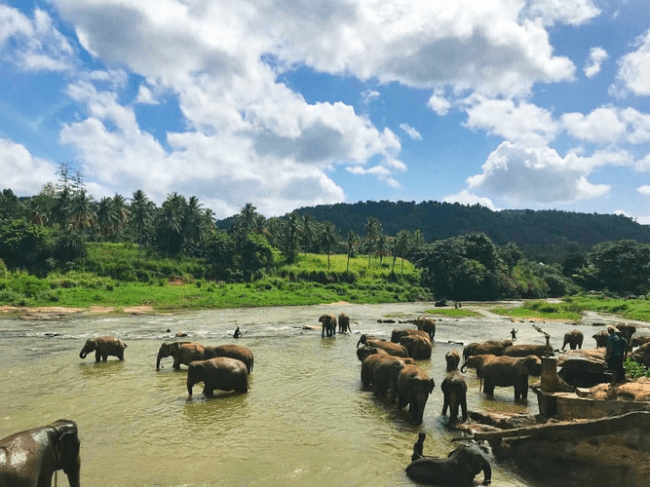 The best month to visit Sri Lanka
There are two distinct seasons in the nation: dry and wet. It is important to understand Sri Lanka's two monsoon seasons: the southwestern monsoon and the northeastern monsoon, in order to decide when the best time is to visit various parts of the island.
Between May and November, the former brings rain to the west and south coast regions of Sri Lanka, while December to April is dry. Rain is expected in the north and east coast regions of Sri Lanka between October and January, and the dry season begins in May and ends in September.
Let's take a closer look at what this means for visiting Sri Lanka.
High season in Sri Lanka: enjoy culture and wildlife
Sri Lanka's coast is especially delightful during the peak season of December to April, for all you culture cravers out there! During this dry period, travelers flock to the ancient ruins, elaborate temples, colonial churches, and stunning natural wonders with ease and comfort.
It is during Sri Lanka's high season that the west and south coasts like Hikkaduwa and Mirissa are at their most scenic, but also the most crowded. At the same time, the Maha monsoon season (from October to January) keeps the northern and eastern sides wet.
Although Sri Lanka is a year-round animal-watching destination, the best time to see elephants, buffalo, and leopards is from November to April. All the big national parks keep their gates open, and the favorable weather conditions make it easier to spot wildlife around watering holes (specifically from February to April).
Shoulder season in Sri Lanka: explore the entire island
Sri Lanka's shoulder season, from September to November (and a bit of April) is sandwiched between the two separate monsoon seasons. It offers good weather across the entire island, fewer people, and lower prices.
With mostly dry weather and average temperatures, this is a good time to trek in the Hill Country in central Sri Lanka, or climb Adam's Peak or Sigiriya. The month of September also offers viewings of as many as 200 elephants grouped together for weeks in a row in Minneriya National Park, an event known as "the gathering". It is one of the most special times of the year on the Asian continent for wildlife viewing, as spotting baby elephants is very common.
April offers the same cooler temperatures. However, it coincides with both the Tamil and Sinhala New Years, which may cause traffic congestion and low availability of public transport as people travel around the country to be with family.
Low season in Sri Lanka: avoid the crowds and celebrate festivals
Low season, from May to August, in Sri Lanka starts with the Yala monsoon in May. It continues to hit the south-west regions and central hills until August. This is the best time to visit Jaffna and the northern island or the mellow resorts along the eastern coastal regions, such as Arugam Bay, known for its amazing surfing. Prices are generally lower during this season.
Although the Yala monsoon occurs during this period, there are still many festivals to experience during this time. The most notable is Vesak Poya, a two-day festival in May that adorns every Buddhist home, shop, and temple with colored lights. The Esala Perahera in the ancient city of Kandy is another stellar event in August, with thousands of dancers and drummers crowding the streets of the city.
But the most important festival is Vel, usually held in July or August. During this spectacular Hindu festival, the country pays homage to its religious and cultural heritage. Colombo hosts the main celebrations, which attract thousands of pilgrims from around the island. The festivities honor Skandha's trident, the vel, which commemorates his victory over evil forces.
Other notable dates and events in Sri Lanka
Whilst planning a holiday in Sri Lanka, it's important to know that the weather doesn't always stick to the script. Even in the rainy season, you may experience clear blue skies. Whenever you want to go, you'll find something special and unique to see and do at any time of year. Here are some other things to do and see in Sri Lanka at different times of the year.
Whale-watching season in Sri Lanka
Plan your trip to Sri Lanka between January and March if you'd like to dip your toes in the sea when the ocean is at its calmest. Blue Whales and Sperm Whales are also more likely to be spotted during these months. During the rest of the year, the waters are too rough for boats to go out due to monsoons.
Dry season on the eastern coast
June is a quiet month for tourists in most of the country, but the east coast beaches are exceptions due to the fact that the monsoons seem to skip this part of Sri Lanka around that time. During this period, another major Buddhist event takes place: the Poson poya. Buddhist celebrations are held in Anuradhapura temples, while thousands ascend Mihintale's Dagoba by calf-busting 1843 steps nearby.
The best time to climb Adam's Peak
In December, while most tourists relax on the beaches of the west coast, pilgrims of all faiths climb Adam's Peak, the sacred summit near Ella. However, most hikers ascend the mountain between January and May to enjoy the best weather.
Try to avoid days around the full moon and the Sinhalese New Year if you don't want to stand in long queues. Sunrise views at the top are known to enchant hikers, so aim to be at the summit at dawn.
Generally speaking, the best months to visit the west and south coasts and hill country are November to February, while the best time to visit the east coast is April/May to September.
However, whatever time you find yourself in Sri Lanka, know that rain showers are short and intense, and there is never a bad time to enjoy the delicious curry and friendly smiles on the faces of locals.
Can't wait to go? Make sure you have all the correct travel documents before you depart and read our ultimate guide to Sri Lanka for more practical tips to help you prepare for your adventures.