There are many cities to visit in Sri Lanka, making it an amazing travel destination for different types of travelers. Visitors can enjoy and experience an incredible array of environments and attractions on this island in the Indian Ocean. In this blog find out which cities are must-sees on a trip to Sri Lanka.
Discover the island's fascinating past and present in cities like Colombo or Kandy and cities bordered by golden beaches, lush hills, and vast national parks. In Sri Lanka's amazing cities you can enjoy the best of both worlds, while its rich cultural heritage shines through everywhere you go. The relatively small island offers an abundance of UNESCO World Heritage Sites.
For more practical travel information, such as visas, the best time to visit, or currency, read our ultimate guide to Sri Lanka.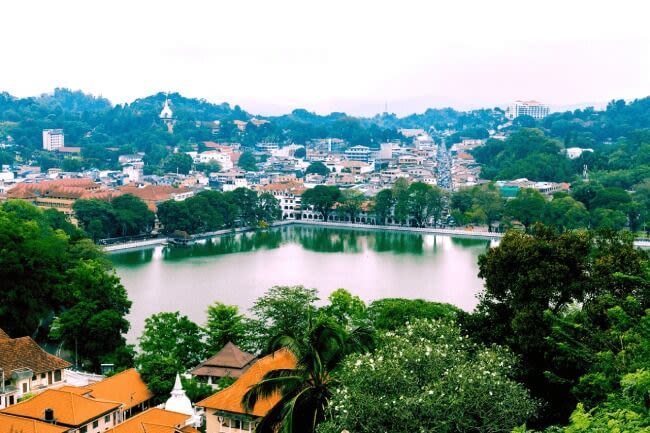 Must-see cities and attractions in Sri Lanka
Sri Lankan cities are friendly and welcoming and offer great nightlife, ancient temples, colonial forts, amazing architectural wonders, and nature all around. Check out these interesting places in Sri Lanka to include in your itinerary.
Unofficial capital city Colombo
Colombo is the commercial capital and largest city of Sri Lanka. Colombo is often considered Sri Lanka's capital city since Sri Jayawardenepura Kotte, the official capital, is located in its direct urban area. A rich colonial heritage and a number of interesting attractions make the city a popular tourist destination.
Despite being chaotic, Colombo offers everything a person could want in a city. There are many great restaurants to choose from and a lot of interesting museums to visit. The nightlife in the city is also fantastic.
The ancient city of Kandy
Known as the cultural capital of Sri Lanka, the ancient city of Kandy is a charming place to visit. There are colorful houses scattered throughout the forested hills, and majestic buildings border a sparkling lake in the town's center.
Sri Lanka's ancient kings used to reside in Kandy, a city rich in history as well as colonial-era architecture. One of the most famous Buddhist monuments in the world is the Temple of the Sacred Tooth Relic with its gorgeous Kandyan architecture dating back to the 16th century.
UNESCO World Heritage Site Galle
Galle is a port city located on Sri Lanka's southern coast. In 1649, the Dutch fortified Galle Fort, which is a UNESCO World Heritage Site. The Galle Dutch Fort has several attractions on its grounds, including the Dutch Reformed Church, the Old Dutch Hospital, the Galle Clock Tower, and the Galle Lighthouse.
At the National Maritime Museum, you can explore Sri Lanka's maritime history, with artifacts believed to be more than 800 years old. Galle's other top things to do include walking around the city and watching the magnificent sunset.
Jaffna and the northern islands in the Indian Ocean
Formerly the scene of bloody battles, Jaffna and the northern islands have been greatly restored, offering a glimpse of a Sri Lanka that might have existed had Hinduism gained control in the country's history. This part of Sri Lanka is a whole new world, with Tamil replacing the language of Sinhala, stupas substituted for colorful Hindu temples, and Indian-infused gastronomy.
Taking a ferry ride to islands such as Neduntivu, in the middle of nowhere away from the tourist crowds, is a great way to see the beauty Jaffna has on offer.
Hiking hotspot Ella
With forest-covered hills, expansive valleys, and stunning tea plantations, Ella is a wonderful place to spend some time. The majority of Ella's hotels, bars, and restaurants are now geared toward tourists as a result of its recent popularity surge, but if you look hard enough you can still find some authentic spots.
There are many waterfalls and temples nearby, but the surrounding countryside and stunning scenery are what most people come here for. Get a good view of Hill Country by hiking to Ella Rock.
Archeological wonder Anuradhapura
The ancient city of Anuradhapura, founded around 900 BC, boasts some of Sri Lanka's most impressive ruins. You can explore an incredible array of archaeological sites in this region and the archeological museum here is well worth a visit.
Besides the palaces, temples, and ancient buildings, there are several markets to explore in this laid-back city.
Gateway to Adam's Peak: Dalhousie
Technically not a city, there is basically only one reason to go to the tiny village of Dalhousie, which took its name from a nearby tea plantation. It is the main gateway to climbing Adam's Peak, one of the highlights of visiting central Sri Lanka. The climb to the summit of this 2243-meter high mountain is a steep climb, but viewing the sunrise at the top is something to behold.
It's a gorgeous drive into Dalhousie as you pass numerous tea plantations and two picture-perfect reservoirs before you start the hike on Hatton Road.
Calm and mellow Batticaloa
The small city of Batticaloa, sometimes called Batti, is located on the east coast of Sri Lanka and has a very mellow vibe. In this oasis-like city, you'll find beautiful lagoons surrounded by palm trees. It's easy to reach this town in the east of Sri Lanka thanks to its connectivity to roads, railways, and the bridge connecting to the causeway.
There are also some beautiful beaches in the city, in addition to some historic sites. Additionally, Batticaloa is home to the 'singing fish', which makes for an unforgettable boat trip.
Surf's up in Arugam Bay
At the heart of the country's surf scene and home to Sri Lanka's best waves, is Arugam Bay. It's crowded with surfers [from April to September], but there are occasional good swells until November. As one would expect from a surf town, you'll find many typical beach bars, surf schools, and board-rental places here.
If you don't surf, don't worry as the place also boasts cheap beach huts just steps away from the ocean, lovely restaurants, and just an overall relaxed, surfers-vibe.
Tissamaharama
Locals call this former capital of Sri Lanka's ancient kings Tissa, and it's often used as the gateway to the nearby national parks. As crowds usually hop to Yala National Park, nearby Bundala National Park remains blissfully tranquil. Discover an island paradise surrounded by glittering lagoons and islets.
It is also one of the best birding destinations in the country from December to March because of the huge flocks of migratory birds.
When it comes to exploring and sightseeing in Sri Lanka, it offers plenty of options. There are many beautiful places in Sri Lanka, all unique in their own wonderful capacities - be it UNESCO World Heritage Sites or unprecedented landscapes. Ready for the trip of a lifetime?
Sri Lanka travel guide
Mapped out your itinerary for Sri Lanka? Then take the next steps and make sure you get the correct visa, by checking our convenient visa checker tool. Head over to our ultimate guide to Sri Lanka for more information about travel documents, COVID-19 entry requirements, and other practical information.