As an international tourist, you might find yourself enjoying a place so much you decide to stay longer than expected. It wouldn't be surprising if such place is Sri Lanka, where the magnificent Buddhist temples could potentially convince you to extend your visit. On the other hand, you might be in a situation where you are unable to leave the country. Usually, in these cases, governments extend automatically visa periods so foreigners are not in a rush to do the process immediately. For example, the Sri Lanka government approved a recent automatic visa extension to all foreigners until July 11, 2020, due to outstanding current events.
If you are set to request a visa extension remember that you first need a valid Sri Lanka visa. Most countries do not necessarily require a visa to Sri Lanka but it is very likely you will need a Sri Lanka ETA. According to the purpose of your visit to Sri Lanka, iVisa.com makes it easy by offering the next two products: Tourist ETA and Business ETA. Remember that you can trust us with your application, as we establish a simple, reliable, and fast service.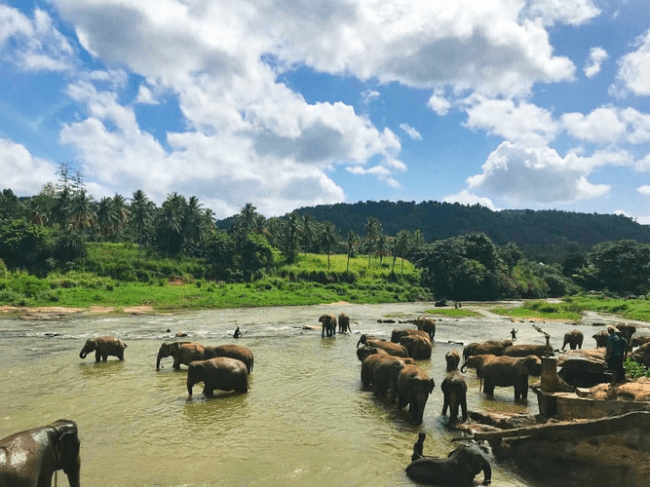 As well, Sri Lanka officials are requesting nowadays a Health Declaration alongside your ETA. So make sure you have both documents when entering Sri Lanka. iVisa.com also offers you a quick service for your Health Declaration, if you want to start it now, go here.
These documents are mandatory for your entry and if you are wondering how exactly you can get them? iVisa.com has the right answer for you on our next FAQs.
Frequently Asked Questions (FAQs)
Do I need a visa for Sri Lanka?
Not necessarily, this will depend on your nationality. You can check on this here and make sure if you need a visa. However, it is very feasible you will need an ETA to enter Sri Lanka. Besides, you will also need a Health Declaration if you are planning to travel to Sri Lanka very soon. Both documents are mandatory for your entry.
What is an ETA and a Health Declaration?
ETA is an Electronic Travel Authorization established by Sri Lanka immigration since 2012. The ETA targets short-term visitors and can be obtained online very easily with iVisa.com. You can get it now by applying here.
Sri Lanka has two types of ETA:
Tourist ETA, when the purpose of your visit is tourism. You are intended to visit historical and religious sites or just relax with tourism services.
Business ETA, when your visit relates to business meetings, negotiations with local enterprises, or attending conferences and workshops.
The Sri Lanka Health Declaration is a document stating your current health condition and personal information. This is as important as an ETA and if you miss this document, your entry to Sri Lanka will be denied. You are able to get your Health Declaration now here.
How long can I stay in Sri Lanka with my ETA and my Health Declaration?
The validity of your Sri Lanka ETA is 30 days in total since entering the country and allows you a double entry with either a Tourist or Business ETA. However, you only get 180 days from the document issue date to enter Sri Lanka if you have a Tourist ETA. In the case of a Business ETA, you have 90 days to enter Sri Lanka since it has been confirmed to your email.
On the other hand, your Health Declaration is only valid for 30 days since arrival with a 14-day maximum stay. It's valid for a single entry.
What information is required for my Sri Lanka ETA and Health Declaration?
If you are applying for a Business or Tourist ETA for Sri Lanka and your Health Declaration, you need the following items:
A valid passport for a minimum of 6 months from the date you are planning to travel.
A scan of your passport.
A valid email address where you will get all your final documents.
Payment that could be either done by credit/debit card.
Can you guide me through the process to get my ETA and Health Declaration?
Of course! In iVisa.com, we specialized with all kinds of visa requirements and we are more than pleased to help you. Your ETA and Health Declaration are very similar as we try to simplify the steps for you:
Complete all the information requested about personal details and trip inquiries. In the case of the ETA, choose if it is a Tourist or Business one. Pick a processing time for either application.
Check on your information and correct any mistakes you might see. Process the payment with a credit/debit card.
Attach your passport scan and finish up the online form.
Our expert team will receive your application and will give you a final answer to your email. If you feel you need some help, you can reach out to our support agents to solve any doubts. Now relax because we got your cover, start your ETA and your Health Declaration today!
What will I get in my email?
Once you finish with both applications for your ETA and Health Declaration, our team will work on your requirements during the time chosen in your form. Check on your email regularly as you will definitely receive an email from iVisa.com with your documents ready. Keep this answer in any electronic device when entering Sri Lanka, so if requested you can show it to airport officers.
How can I trust iVisa.com to apply for my ETA and Health Declaration?
Our satisfied customers are the best prove our processes are the best for you and your travels, check on their reviews. We work with a 100% reliable platform and our systems are checked regularly for maximum effectiveness. We are not directly affiliated to the Sri Lanka government but we are a specialized organization on their entry applications and we are proud to help countless visitors to visit this beautiful country.
I have more questions, where can I get it?
Any inquiries can be directed to our customer service team, who are available 24/7 and they can walk you through any process you need. If you feel confident to start your application, start your ETA and your Health Declaration now!