Please: Note that the Sri Lanka Tourist ETA is not available right now for Egyptian citizens but hopefully it will be sometime soon. In this case, you can read all of the information about the visa below to be better prepared to apply when the visa is available again.
Visiting Sri Lanka is an unforgettable experience. The country in the Indian Ocean is full of nature, spirituality, and history. You can find various landscapes: from mountains to beaches, from tropical forests to arid plains. Traveling in Sri Lanka is also an opportunity to dive into Buddhism and historic religious buildings.
There is 5.659km that separates Sri Lanka from Egypt, but just a few clicks to complete the Sri Lanka visa application and then make this dream trip real. With iVisa's support, you'll obtain all the information to enter Sri Lanka as smoothly as possible, without the need to go to the nearest embassy.
In this article, you'll find all you need to know about the Electronic Travel Authorization (Sri Lanka ETA) for Egyptian citizens, COVID protocols, and helpful information to plan your travel to Sri Lanka.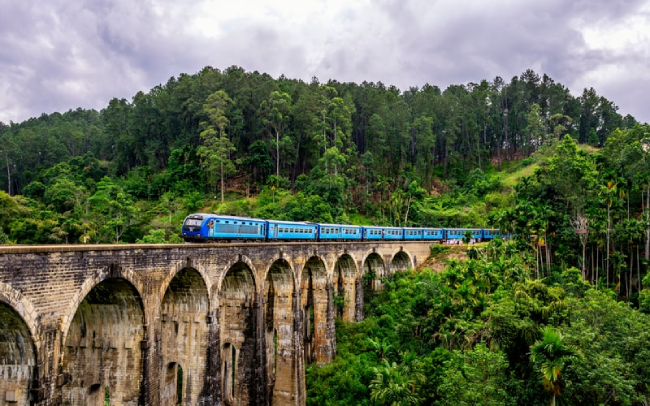 How to get a Sri Lanka visa for an Egyptian citizen
The first thing Egyptian citizens need to enter Sri Lanka is to have a valid visa. The easy way to get that is to apply for an Electronic Travel Authorization. With the Sri Lanka ETA and the help of iVisa, there's no need to go to a Sri Lankan embassy, you can complete the application process online from the comfort of your own home.
There are some documents required, but nothing unusual when we talk about a travel document. You'll fill in your information and some personal details for the Sri Lanka application form on the iVisa application page, and after a few clicks, you'll receive the Sri Lankan ETA by email.
The document is valid for 180 days after issued and it permits a Double Entry into the country. Keep in mind that this is a mandatory document, so all travelers must apply and present the Sri Lanka visa at the border, even minors. In a child's case, parents must complete the form on their behalf.
Keep reading to find out all the steps that Egyptian citizens must follow to apply for the Sri Lankan ETA.
Sri Lanka visas
Foreign nationals have to apply for a Sri Lanka visa and present the document to the immigration authorities at the airport. The required documents may change according to the purpose of travel.
If you want to visit the country for any reason, you will need to obtain one of these types of Sri Lanka visa:
Sri Lanka Tourist ETA: Sri Lanka visa for travelers enjoying holidays, vacations, visiting friends or relatives, or going to participate in a sporting or cultural event or competition.
Sri Lanka Business ETA: Sri Lanka visa for visitors with business purposes, such as conferences, workshops, and business meetings.
Sri Lanka Transit ETA: Visa for travelers in transit through Sri Lanka that will stay in the country for more than 8 hours.
Please note: The information on this blog is about the Sri Lanka Tourist ETA, the tourist visa. Information can change depending on the visa type you need. You can review the information and requirements here at your local Sri Lanka embassy.
Sri Lanka ETA requirements
There are a few Sri Lanka visa requirements to fill out in the application form. Make sure you have the following documents to apply online for this tourist visa:
Passport – If you already have a passport, make sure that validity is for at least 6 months from your date of departure. Failure to comply could lead to a rejected visa application.
E-mail address – You will receive your Sri Lanka visa via e-mail in PDF format. You need to print it out and show it at the immigration office in Sri Lanka. Make sure to check the spelling during your application process.
Mode of payment – iVisa accepts either a credit or a debit card for the payment.
Confirmed return ticket – This visa requirement applies only to citizens from the following countries: Afghanistan, Iraq, Iran, Nigeria, Pakistan, Somalia, and Syria who travel or transit to Sri Lanka. So travelers from Egypt don't need it.
Steps to apply for the Sri Lanka tourist visa
Now you have everything you need in your hands, you are just a few clicks away from having your tourist visa to travel to Sri Lanka. You can count on iVisa services to make the process as smooth as possible for your arrival.
First of all, you'll access the iVisa.com application form online and fill in your information such as your Egypt passport number, e-mail address, and credit or debit card to pay the fees. You must select the type of ETA you need, tourist or business, and the processing time.
Once you're already, you'll send your application. Our visa experts will review it and inform you if any adjustments need to be made. When everything is ready, you'll receive the document in your email inbox.
Then, you must print it to present to authorities when you arrive in Sri Lanka. Just make sure you do not cut or alter the form in any way as this may invalidate the visa.
Note: that the Sri Lanka Tourist ETA is not available right now for Egyptian citizens but hopefully it will be sometime soon. In this case, you can read all of the information about the visa below to be better prepared to apply when the visa is available again.
Processing times and fees
It's important to know that the price of the Sri Lanka visa for travelers from Egypt varies depending on how quickly you want your document to be processed.
iVisa.com provides 3 processing options to apply online for this visa:
Standard processing – If you choose this option as most people do, you need to pay only

USD $86.99

. Your visa application will be processed within just

5 days

.
Rush processing – You can apply for this option if you have just a few days until your flight. It takes just

3 days

for your application to be processed, and you will be charged

USD $128.99

for your visa.
Super Rush processing – This option is ideal for people who need their visa on the spot. Your Sri Lankan travel document will be ready within just

24 hours

and you will be charged

USD $178.99

.
COVID-19 requirements for travelers from Egypt
You have your visa and all documents you need to travel to Sri Lanka. Now, it's time to learn some details to be well prepared for the trip. The first are the COVID-19 protocols and restrictions in Sri Lanka.
The country is slowly relaxing the requirements for entry. For example, fully vaccinated travelers are already exempted from pre-departure and on-arrival COVID-19 PCR/ Rapid Antigen tests. You just need to present proof of vaccination: two vaccine doses of Pfizer, Sinopharm, Moderna, or AstraZeneca (or recommended combination of vaccines Pfizer, Moderna, AstraZeneca); or a single dose of Janssen.
Otherwise, unvaccinated or visitors without proof of vaccination must present a negative test result on entry. They should have a negative PCR test report within 72 hours or Rapid Antigen Test report (self-swabs aren't valid) within 48 hours before embarkation.
Children below 12 years are exempted.
At the moment, there are no other travel restrictions for Egypt, so travelers don't need to quarantine or do another PCR test on arrival.
Travel tips: What else to prepare before you visit Sri Lanka
Get insurance to cover your trip
Besides getting one of the valid visas, passports, and all documentation required, getting insurance is always a good idea. Private clinics and hospitals require payment before treatment, so ensure you have emergency evacuation coverage. Also, keep an eye out for coverage of treatment or cancellation regarding COVID-19.
Be aware of local customs
Sri Lanka is a mostly Buddhist country, so be respectful of the religious traditions. For example, remember to take off your shoes and hats before entering the temples. Be informed that photos in front of religious statues are prohibited.
Sri Lanka currency
The official currency of the country is the Sri Lankan Rupee (LKR). You can use dollars, euros, or pounds to exchange there. Currency exchange offices are easily found upon arrival at the airport, and the banks in cities also change money — but be prepared towait in long lines.