Same as many other nationalities, the citizens of Bhutan have access to an electronic travel authorization when traveling to Sri Lanka for business or pleasure. Consequently, you can apply online for a Sri Lanka ETA. With iVisa, the travel document you need can be in your possession in as little as half an hour!

Frequently Asked Questions (FAQs)
What is an ETA?
An ETA (electronic travel authorization) is an official document used for visiting to or within Sri Lanka.
What are all the requirements?
Fortunately, the online application process is not as demanding as the one at the embassy. Even so, you still have to make sure that you can fulfill a few requirements. You may already have some of them, and if not, they are easy to meet. You will need the following:
Passport – to be able to apply for a Sri Lanka visa, you need to have a valid passport. Moreover, the document needs to remain valid for at least another 6 months from the date of arrival in Sri Lanka.
Digital passport photo – keep in mind that the picture must be taken in the past 6 months and must follow other guidelines for a valid passport photo.
E-mail address – after you submit your application, iVisa will send you the ETA via e-mail in PDF format. Make sure to provide a valid address which you have access to. When you receive the document, you can print it out, or you can keep a copy on your electronic device.
Means of payment – iVisa accepts multiple methods of payment so that you can pay with whichever you feel comfortable. You can use a credit or debit card, but you can use PayPal, Alipay, or WeChat as well.
What are the fees and processing times?
As far as the processing time is concerned, you are given three options:
Standard processing – this is the cheapest option you have available. Your application is processed within 5 days, and you are charged USD $70.99.

Rush processing – this time, you will receive your Sri Lanka ETA in 3 days since submission, but the fee hoes a bit higher. You will pay USD $105.99.

Super Rush processing – while this is the most expensive option, it is also the fastest. Your application is processed within just 24 hours, but you have to pay USD $146.99 for the urgency.
The Sri Lanka Business ETA enjoys the same options when it comes to processing time, but it costs USD $82.49, USD $117.49, and USD $158.49, respectively.
How's the online application form?
Right after you make sure that you have everything necessary, you can move on and fill in the application form. You should not find it challenging to complete, but just in case you need some assistance, know that you can contact iVisa's customer support. It is available 24/7 via online chat or hone. The service is entirely free of charge.
You will see that the form you are asked to fill in is broken down into three steps.
The first one focuses on personal information, travel detail, and passport info. You also have to choose a visa type and a processing time, factors which will establish the price of your Sri Lanka visa.

The second step wants you to take care of the payment, but you also have to make sure that your form does not contain any mistakes that can invalidate your visa.

And lastly, the third step will require for you to upload your application's supporting documents.
When you are finished, click on the submit button, and iVisa will take it from there.
How long is the ETA valid for?
The validity of this Sri Lanka ETA is of 180 days after issued.
How many entries am I granted? How long can I stay in the country?
You are allowed a Double Entry with a maximum of 30 days in Total.
Do my kids need the ETA?
Children under 12 years old are exempt of applying.
Can I see an example of a Sri Lanka ETA?
Yes, here it is: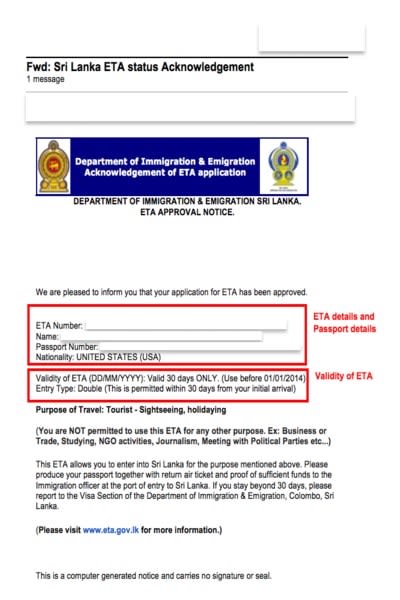 Where can I find out more information?
You can always contact iVisa's customer support service. You can also click this link to more answered questions.
Needless to say, getting a Sri Lanka Visa for the citizens of Bhutan is an incredibly convenient process when you apply online. The ETA you are sent is valid for 90 days since the date of issue, and you can use it to enter Sri Lanka twice. You are allowed to stay there for up to 30 days per visit. iVisa helps you save some time for your whole planing experience and, if you have doubt about us, check our testimonials! Let us help you have the time to focus on your adventure!