Germany is one of the many countries whose citizens can travel to Sri Lanka on a visa on arrival. However, as a German citizen, you are required to obtain a Sri Lanka ETA before departure. Fortunately for you, that document is available online, and you can apply with iVisa. The process is entirely online, and you can get your document in as little as 30 minutes.

Frequently Asked Questions (FAQs)
What is a Sri Lanka ETA?
A Sri Lanka ETA "electronic travel authorization" is an official document used for visiting Sri Lanka.
What are you required to have?
The short answer is that you need to put together some documents and information, and fill in an application form. As for the first part, you need to provide iVisa with the right documentation and information so that the process can get started. Here is what you will need:
Valid passport – to obtain a Sri Lanka ETA, all applicants must hold a valid passport that remains valid for at least another 6 months from the date of arrival in Sri Lanka.

Digital photo – make sure that the picture is as recent as possible and follows all the guidelines for a passport photo.

Valid e-mail address – iVisa will send you the ETA via e-mail in PDF format, which is why you must provide an e-mail address to which you have access. Do not forget to print out a physical copy before you leave.

Means of payment – during the application process, you will be required to make the payment. iVisa accepts credit or debit cards, but you can use PayPal, Alipay, or WeChat as well.
What are the processing time and fees?**
The cost of your Sri Lanka ETA depends on one thing, and that is the processing time you select during the application process. iVisa gives you three options, and they are as follows:
Standard processing – this is the cheapest and slowest option iVisa puts at your disposal. Your application is processed within 5 days, and it costs USD $82.49.

Rush processing – this time, your ETA arrives in just 3 days, but you will be charged USD $128.99.

Super Rush processing – it only takes 24 hours for your application to be processed. As you can imagine, the fee is higher. USD $174.99 to be more precise.
If you travel to Sri Lanka for business purposes, you need to apply for a Sri Lanka Business ETA. The processing time options remain the same, but the fees are slightly different: USD $87.49, USD $133.99, and USD $179.99 respectively for each processing time.
How's the application form from iVisa?
As stated above, you are also required to fill in the application form. That should not impose any difficulties since the form created by iVisa is short and simple. It should not take you more than 20 minutes to complete, and if you need assistance, you can contact us, iVisa has an excellent support service that can help you. The service is available 24/7, and it is free of charge.
The form has three steps.
The first one covers your personal information and the processing time. That is when you make your choice.

The second step consists of payment and revision, but do not underestimate the latter. Corrections are impossible to make after your application reaches processing, in which case an error invalidates your Sri Lanka ETA.

The last step is when iVisa asks you to upload the required documents.
After all that is done, you can submit your application.
How long is this ETA valid for?
The validity of this Sri Lanka ETA for citizens of Germany is of 180 days after issued.
How many entries am I granted? How long can I stay in each stay?
You are grantes a Double Entry with a maximum of 30 days in Total.
Do my kids need to apply to this ETA?
Kids under 12 years old are exempt of applying. All other travelers need this document.
Can I see an example of a Sri Lanka ETA?
Yes, here's an example: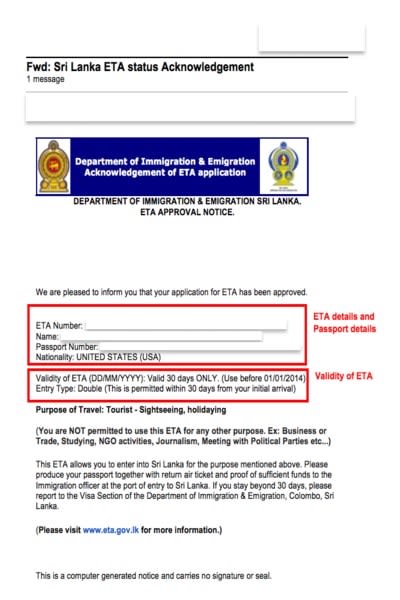 Where can I find out more information?
You can contact iVisa's customer support service for a faster and more private chat. You can also click here to more FAQs.
The bottom line is that a Sri Lanka e-visa for the citizens of Germany is easy to obtain. iVisa makes most of the effort in your behalf. We let you have more time to focus on your big adventure!