According to the visa policy of Sri Lanka, the citizens of Greece are not required to apply for a consular visa at the nearest embassy when traveling to Sri Lanka for business or pleasure. Instead, you are eligible for an ETA, and as a result, you can acquire a Sri Lanka ETA online. Using iVisa's services means that you can get the document you need in just 30 minutes.

Frequently Asked Questions (FAQs)
What is a Sri Lanka ETA?
An ETA, or electronic travel authorization, is an official document used for traveling to or within Sri Lanka.
What are the requirements to obtain a Sri Lanka ETA as a citizen of Greece?
For a smoother application process, we recommend that you first put together everything that is necessary, and then fill in the application form. Here is what you will need:
Valid passport – you cannot apply for a Sri Lanka visa unless you are a passport holder. Plus, the visa policy of Sri Lanka requires that the passport maintains its validity for at least another 6 months from the date of arrival.
Digital passport photo – for a valid passport photo, you need to make sure that the picture is taken in the past 6 months and follows all the other guidelines.
E-mail address – as a result of an online application process, the ETA will arrive via e-mail in PDF format. The address you provide must be valid, and you need to have access to it. Remember to print out the document before departure or make sure that you have a digital copy on your electronic device.
Means of payment – as far as paying for services goes, iVisa is flexible. You can make the payment using a credit or a debit card, but you are also free to use PayPal, Alipay, or WeChat. Whichever is most comfortable for you.
What options does iVisa offer for processing times and fees?
When it comes to the processing time for your application, iVisa gives you three options:
Standard processing – most people go for this option because it is the cheapest. You receive your Sri Lanka ETA in 5 days, and you only have to pay USD $68.49.

Rush processing – for somewhat faster processing, you can choose this option. Your application is processed within 3 days, and the fee is USD $100.99.

Super Rush processing – if you want your ETA as soon as possible, you can choose this option and have your application processed within 24 hours. The fee, however, is USD $129.99.
As far as the visa type is concerned, you also have the option of applying for a Sri Lanka Business ETA if your trip is for business purposes. The fees differ, though. For more information you can click here.
How's the online application form?
After you put together all of the above, all that is left for you to do is to fill in the online application form. You should not spend more than 20 minutes on this task, but feel free to contact iVisa's customer support if you need any help. The service is available 24/7 and free of charge.
You will see that the form created by iVisa consists of three easy steps.
The first one focuses on three things: general information, processing time, and visa type. As far as the last two are concerned, keep in mind that you will have to make a choice that determines the cost of your Sri Lanka visa.

The second step wants you to make the payment, but you also have to review your form to make sure it does not contain incorrect information.

And finally, the third step requires you to upload a couple of documents that are supposed to support your application.
Once you are done, you can submit your form, and iVisa will take care of the rest.
How long is this ETA valid for?
The validity of the Sri Lanka ETA is of 180 days after issued.
How many entries am I allowed? How long can I stay in the country?
You are granted a Double Entry with a maximum of 30 days in Total.
Do my kids need this ETA?
Children under 12 years old are exempt of applying.
Can I see an example of a Sri Lanka ETA?
Yes, here it is!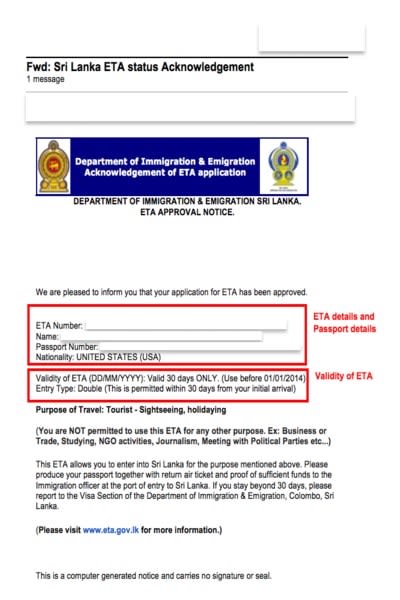 Where can I find out more information?
You can always contact iVisa's customer support. Or you can click this link to more answered questions.
The bottom line is that the citizens of Greece have the opportunity to access a smooth process of applying for a Sri Lanka visa. iVisa helps you have an even better process with no stresses and gives you the time to plan a wonderful trip!