You don't need to be at the sea to enjoy a wonderful summer vacation in Switzerland. The country has an impressive number of 1500 lakes in its territory. Almost every city and town is located nearby or on the coasts of a lake.
Common destinations like Zurich, Geneva, Interlaken, Lugano, Lucerna, Lausanne, and Basilea owe part of their popularity to the surrounding lake.
During summer, some of the most touristic towns of Switzerland open the lake beaches to visitors. To allow them to experience special activities like water sports and guided tours. Or to relax and get a perfect tan.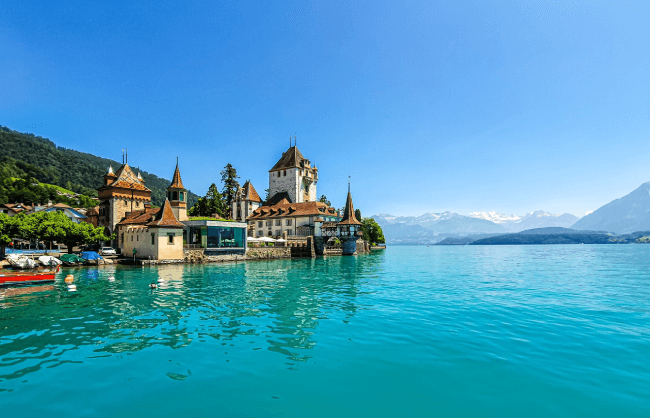 A well known and particular phenomenon makes the lakes of Switzerland very special too. It occurs during the transition from cold to hot months. In certain zones, the purity of water, combined with the particles of melting glaciers, turns the surface color into an intense turquoise, only comparable to the blue that can be appreciated in some paradise beaches in the sea.
Visiting this piece of heaven in 2022 is only possible by obtaining the ETIAS, a new travel authorization established by the Schengen zone members. iVisa.com has all the information necessary to be properly prepared before applying for the Switzerland ETIAS for Citizens of Saint Lucia. In the sections found right below, you can discover how to apply in a simple and fast way thanks to the services of iVisa.com.
Frequently Asked Questions
What is the ETIAS necessary for?
Authorities created the ETIAS to reinforce security measures inside the 26 countries of the Schengen zone. It is necessary to provide governments with new tools in the fight against potential threats for the European continent.
The application for the Switzerland ETIAS for Citizens of Saint Lucia is a simple, fast, and reliable process when you choose the services iVisa.com.
Where should I go to apply for the ETIAS?
You don't have to be present at any physical location or send your documents through a certified email service to apply for the Switzerland ETIAS for Citizens of Saint Lucia. The ETIAS is 100% online available to everyone. Accessibility for travelers and authorities is one of the goals of the system behind this new document. You can start processing your application wherever you are. The services at iVisa.com gives you all the tools and assistance you need to do it.
Where could I find a list of required documentation?
This is a common question when you think about asking for a travel authorization. The happy news is, your valid passport is the only document necessary to start your application.
You should prepare some extra items too:
Basic information about your trip: the first country you plan to visit, date of travel, medical conditions, or legal considerations (if applicable).
High-resolution image of your valid passport.
Email address (will work as the main communication channel).
Payment method: credit/debit card, Paypal.
The visa checker tool created by iVisa.com will give you a quick overview of your current status to apply for the Switzerland ETIAS for Citizens of Saint Lucia.
What are the options and prices for the ETIAS?
With iVisa.com, you can experience our premium service with three different options to apply for the ETIAS:
Standard service: an affordable option for every traveler.
Rush service: get a faster response. Pay a higher fee
Super Rush service: top speed processing response, high cost.
What are the steps to apply for the ETIAS?
iVisa.com recommends to fully read the questions first.
Enter information like your name, date, birthplace, address.
If you need to declare special legal situations or medical conditions, please do.
Make clear what is the first country you'll be visiting.
Choose a processing option.
Re-check the application and send it.
Wait for the result.
Are services offered by iVisa.com safe?
Thousands of positive reviews posted by satisfied users support the high-quality services offered by iVisa.com.
The application for the Switzerland ETIAS for Citizens of Saint Lucia is a safe process secured by strong control measures. Data protection is a must at iVisa.com.
I have a few more questions. Where could I find information?
iVisa.com's blog gives you access to a long list of articles containing information about the Switzerland ETIAS for citizens of Saint Lucia.
All of your remaining questions will be live answered by one of our customer service agents 24/7. Just access the live chat feature located at the bottom right hand of your screen.