Turkey is an incredible country with plenty to offer. You can visit the capital, Ankara, to enjoy historical sites like the Ankara Castle or Kalesi. The Castle offers the famous Roman baths of Ankara and a full open-air museum for a unique experience. These are just some of the things you can enjoy in this country, as it has a lot to offer.
But, before taking the next step in your travel plans and get ready for your Turkish trip, you have to see if you can apply for the Turkey eVisa first. For your convenience, if you have a Beninese passport, you can apply for it as Benin is one of the nations that are eligible for this document.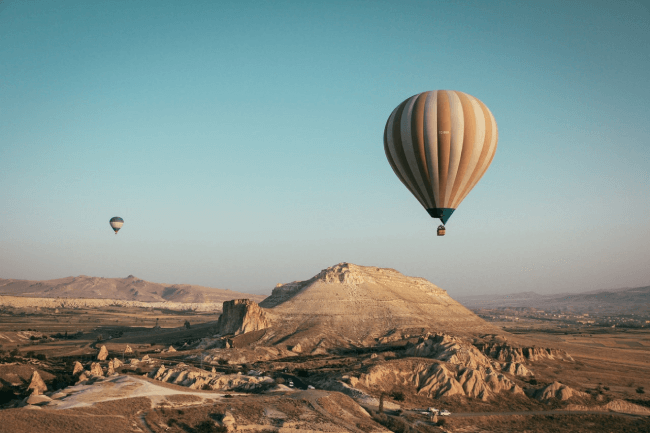 Beninese citizens have to obtain a Turkey eVisa before entering Turkey, and they can easily do it with iVisa.com. Try the fast, simple, and reliable service iVisa.com has for you if you want to enjoy this nation.
You can start your visa application here, but you can also continue reading about the Turkey visa for Beninese below if you want to solve some doubts about it.
Frequently Asked Questions
What is a Turkey eVisa and why is it important?
As the world continues to move towards digital systems since 2013 it is possible to have electronic visas to enter Turkey. The Turkish government established an electronic system to optimize the visa process so international travelers can visit Turkey with a simple application.
The application is 100% online, so you don't have to take a step into the embassy to get it. You can start your application form here.
I'm a Beninese citizen, do I need a Turkey visa for Beninese?
Yes! Benin is part of the groups of countries eligible to apply for a Turkey eVisa, which is actually good because you don't need a Paper Visa, only an electronic one.
The Turkey eVisa is only available for tourism and business purposes. You cannot seek paid jobs in Turkey while holding an electronic visa.
Ready to start your visa process? Explore the application page here or learn more about the Turkey visa for Beninese here.
What is the validity of the Turkish eVisa?
As a Beninese citizen, you can use the Turkey eVisa for 180 days after arrival. But, you can only stay in Turkey for up to 30 days in Total, and you only have a Single Entry to the country. If your visa expires while in Turkey, you need to leave the country in order to apply for a new visa.
What documents or items do I need to start the process?
The most important thing to do is to complete an online application, but before doing that, we recommend you to make sure of having the following items and documents:
Passport, your passport should be valid for at least 6 months from the date you intend to enter Turkey.
An email address that must be valid so that you can receive the Turkey eVisa.
Payment methods, pay with a credit/debit card or a Paypal account.
Supporting documents, Some citizens must have a residence permit or visa, especially those from the Schengen Countries, USA, UK, or Ireland. You cannot provide e-Visas as they are not valid supporting documents. Check the application page in case you want to verify if other nationalities need to have these supporting documents.
Visitors from Benin must have a return ticket, a hotel reservation, and USD 50 per day for trip expenses in Turkey. The round-trip ticket can be from these airlines: Turkish Airlines, Pegasus Airlines, Onur Air, or Atlasglobal Airlines.
What is the price of this document?
It might be an online document, but it still has a price. The total price will depend on the procedure option you choose, and at iVisa.com you have three possibilities:
Standard option, only a

24 hours

wait to obtain the Turkey eVisa for a

USD 86.50

fee.
Rush option, in case you need to rush the process. Pay

USD 106.50

to wait only

4 hours

.
Super Rush option, if you need the Turkey eVisa right away. Pay

USD 126.50

and receive it in

30 minutes

.
How is the application process?
You only have to complete these three steps to get your Turkey eVisa as fast as you want:
Answer the questions in the online application and pick a processing time according to the convenience of your trip plans.
Check your information and select a payment method, whether it is a Paypal or a credit/debit card.
Attach the supporting documents required so you can click the 'submit' button on the lower side of the application page and finish it.
Contact our incredible support team if you have any doubts and don't forget to check this page to see more information about the Turkey visa for Beninese.
How will I get this document?
iVisa.com will send the Turkey eVisa to the email address specified in the application. Before completing the questionnaire, make sure to provide a valid email address. Don't forget to print the visa document and carry it with you when entering Turkey. The Turkish immigration services will request the visa upon arrival.
Do I need this eVisa if I'm just doing a connecting flight?
No, people in transit don't need to acquire a Turkey eVisa. Visitors from cruises who stopped by Turkey seaports can visit the country for up 72 hours without a visa.
How safe is iVisa.com?
Incredibly safe! iVisa.com is a respected company with years of experience in travel documentation. We work with the highest security measures, and our teams always work for excellence.
Our previous customers have left excellent reviews about iVisa.com here.
I have more questions, what can I do?
Explore the application page for more details about the Turkey visa for Beninese. Also, get in touch with our support agents, who are available 24/7. We can solve all the questions you may have.
Get your Turkey eVisa now at iVisa.com!