India is a rich and diverse country with many cultures and traditions, which makes it a perfect destination for adventurers. That's why more than a million US citizens visited the country in 2018.
Getting an India Visa for US citizens is quite simple and 100 % online. Almost all nationalities need a visa for India, and US citizens are not an exception. You can apply for an online Indian eVisa for US citizens if you are planning to visit the country.
If you're a U.S. Passport Holder here is everything you need to know about the requirements and regulations to apply for a Tourist Visa.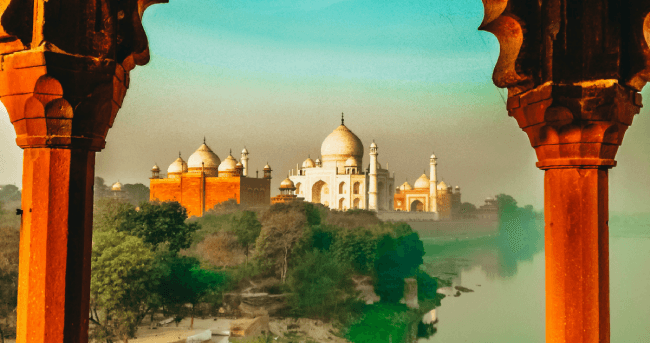 WHICH VISA TYPES ARE AVAILABLE FOR US CITIZENS WISHING TO GO TO INDIA?
There are three types of India visa for US citizens available and offered by iVisa.com :
PLEASE NOTE: The information on this blog is about the India Tourist eVisa. Data can change depending on the Visa type you need. You can check the information and requirements for the Business and Medical eVisa in the links above.
WHAT DO I NEED TO APPLY FOR AN INDIA TOURIST EVISA?
All US citizens must have a valid passport, a debit or credit card, and an email address to successfully obtain the eVisa for India.
We require the following documents and other requirements to submit your Indian e Visa for US citizens application:
When filling out the application form, you need to provide the following details:
Full name (as it appears on your passport)
Date and place of birth
Address and contact info
Passport details
Nationality
Applicant Photo
Passport Personal Details Scan
Last Page of Passport (if applicable)
USA citizens also need to provide the following information:
Marital status
Profession or occupation
Details of your stay: places you will visit while in India, hotel names and address, etc.
Expected port of entry and port of exit
Countries visited in the last ten years
Religion
Educational qualifications
Following this, you will also be asked to answer some security questions.
Passport and photo requirements for US travelers
To meet the e Visa India requirements travelers from the US are required to submit a scanned color copy of the first page or the biographical page of their valid passport.
Each applicant must also submit a recent passport style, color photo that meets these requirements:
The applicant's face must be clearly visible
The photograph must have a white background
The photograph must be in focus
The applicant's head must be centered
The photograph must show the applicant's head from the crown to the tip of the chin
If you don't have a recent passport photo then you can get one in no time using our passport photo service
How to take a compliant passport photo with iVisa.com
HOW TO APPLY FOR AN INDIA VISA FOR US CITIZENS?
To apply for an Indian Visa for US citizens, you will need your applicant photo and to scan the passport personal details section. The form we provide is broken down into three easy steps and won't take you longer than 10 minutes to complete. If you are in need of help, iVisa.com's awesome support service will take your call 24/7 and will guide you through the process on how to apply for your entry visa to India.
Step 1. Complete your application form online (it will take you less than 5 minutes).

Step 2. Complete all your info and upload your additional documents (such as your passport photo and a photo scan of your passport). Our visa experts will be available to give you guidance to make the process for your India tourist visa as simple as possible. If you are in need of a more recent digital passport photo check out our passport photo service.

Step 3. Once we have your details, passport photo, and passport photo information, we will process your India Visa for US citizens.
Once you complete all three steps, just submit your application and wait for it to arrive in your email inbox in the timeframe you chose. You can have your e Visa India from the USA ready in as fast as 36 hours. It is as simple as that.
INDIA VISA FEE FOR US CITIZENS
If ordering your tourist visa for India through iVisa.com, the price of your eVisa will depend on the processing time you choose and the validity of your India Tourist Visa, check the options along with their explanations below.
The 30 day e Visa charges a government fee of USD $27.50, this fee is included in the iVisa.com service charge.
The 1 year visa comes with a government fee of USD $43.00, and the 5 year visa USD $84.05. There are some exceptions to this charge like Argentina but you can verify the exact government fee during the application process.
30 day eVisa - Double Entry:
Standard Processing:

5 days

-

USD $89.49

- Because it is the cheapest option, most applicants go for standard.
Rush Processing:

3 days

-

USD $141.49

- The cost is a bit higher than with the previous option but you will receive the India visa for US citizens in less time.
Super Rush Processing:

36 hours

-

USD $204.49

- As you would expect, it is the most expensive option, but also the fastest, especially for anyone in a rush
1 year eVisa - Multiple Entry:
Standard Processing:

5 days

-

USD $104.99

Rush Processing:

3 days

-

USD $156.99

Super Rush Processing:

36 hours

-

USD $219.99
5 year eVisa - Multiple Entry
Standard Processing:

5 days

-

USD $109.54

Rush Processing:

3 days

-

USD $128.54

Super Rush Processing:

36 hours

-

USD $149.04
All of our processing fees include both our service fee and the Government fee
HOW CAN I RETRIEVE MY INDIA TRAVEL VISA?
We always send you your India eVisa by email. Please check your spam folder if you have not received it.
If you applied on our site then you can log in to your online account that was generated automatically for you after applying for your India Visa online.
All you need to do is to sign in and set up a password so you can access your account online OR if needed you may also reset your password here.
Frequently Asked Questions
DO U.S. PASSPORT HOLDERS NEED A VISA FOR INDIA FROM THE USA?
Yes, US citizens will need a visa to India from the USA when planning a trip. To apply online with eVisa, go to iVisa.com´s website or click on ´Apply Now´ when you are ready.
WHAT IS THE 10 YEAR INDIAN VISA FOR US CITIZENS?
The 10 year India Tourist Visa is valid for 10 years. This does not mean that you can reside in India for 10 years, rather the Visa grants a US citizen Multiple Entry for 10 years. The maximum amount of time a US citizen can reside in India with the 10 year Visa is 6 months. You can also check the 5 year Indian eVisa which is also good for Multiple Entry use.
Please note that iVisa does not currently offer the 10 Year India Travel Visa, only the 30 day, 1 year and 5 years visas.
WHAT IS AN INDIA TOURIST EVISA?
The India Tourist Visa is an official document permitting entry into and travel within India and is electronically linked to your passport.
IS IT POSSIBLE TO GET A VISA ON ARRIVAL IN INDIA FOR US CITIZENS?
No. Unfortunately, India does not provide visas on arrival to US Citizens. Before your trip you need to apply and obtain your Visa, US citizens who arrive in India without a valid visa will not be allowed to enter.
HOW LONG CAN US CITIZENS STAY IN INDIA?
This depends on which visa you choose to apply for.
30 day Visa -

Double Entry

visa, for use within

30 days after arrival

. Although it is a Double Entry visa, double entries will be granted within the e-Visa validity period stamped on your Passport. You can stay in India only for

30 days in Total

with this visa type.
1 year and 5 year visas -

Multiple Entry

. Allows for a continuous stay during each visit which shall not exceed

180 days Per Entry

, nationals of the USA and Japan are allowed a continuous stay during each visit of

180 days in Total

, unlike other nationalities who can only stay for

90 days Per Entry

at a time.
All 3 visa types should be used within 120 days (4 months) of issue. The 1 year visa is valid for 1 year after issued and the 5 year visa is valid for 5 years after issued. This information should be printed on your electronic visa.
If for any reason you end up overstaying your visa in India, it can land you in potentially serious legal trouble. Make sure you read the blog linked here for more information.
CAN I GET A LONG TERM INDIAN VISA?
Yes, those who wish to stay longer than 180 days in Total can typically apply for an Employment or Student Visa. For Long term stays that are less than 180 days in Total you can apply for an India Tourist Visa.
HOW CAN I GET AN INDIAN VISA FOR A US CITIZEN MINOR?
To get an Indian visa for a US citizen minor you will need the applicant photo, and a scan of the passport personal details section. You can apply for the Indian Tourist eVisa online and a visa expert will be available to walk you through the process if needed.
WHAT HAPPENS AFTER I HAVE APPLIED?
You just need to wait for your India Tourist Visa to be sent by email in the timeframe you chose in PDF format. No need to deal with the embassy.
WHAT WILL I NEED WHEN I GET TO THE AIRPORT?
When you get to the airport you will need a valid passport, a picture ID, and your electronic visa to India. We suggest passengers print it out. One of the advantages of getting your eVisa with iVisa.com is that if you accidentally misplace your eVisa, we can simply email you the document again or you can find it in our customer area.
WHAT ARE THE POINTS OF ENTRY WHEN I USE THIS EVISA?
Note that you can enter India with the tourist eVisa only through certain points of entry: Ahmedabad, Amritsar, Bagdogra, Bengaluru, Bhubaneshwar, Calicut, Chennai, Chandigarh, Cochin, Coimbatore, Delhi, Gaya, Goa, Guwahati, Hyderabad, Jaipur, Kolkata, Lucknow, Madurai, Mangalore, Mumbai, Nagpur, Port Blair, Pune, Tiruchirapalli, Trivandrum, Varanasi and Visakhapatnam.
Entry is possible ONLY through these 5 seaports: Cochin, Goa, Mangalore, Mumbai, Chennai.
CAN I TRAVEL TO INDIA WITH A REFUGEE TRAVEL DOCUMENT INSTEAD OF A PASSPORT?
No. All travelers who wish to apply online for their Tourist Visa need to have a valid passport document.
If you have a refugee travel document, please contact the nearest Indian Consulate
DO I REQUIRE A VACCINE WHEN TRAVELING ABROAD TO INDIA?
It depends. Some governments require proof of yellow fever vaccination if you are arriving from a country with a risk of yellow fever. It is each passenger's own responsibility to verify these regulations.
WHAT DOES THE ELECTRONIC TOURIST VISA LOOK LIKE?
This is how your India Visa US citizen will look: