India was one of the countries that suffered the most during the Coronavirus breakout in 2020. For this reason, most countries from around the world banned Indian citizens from entering their territory. As the months went by, new regulations appeared to resume life's regular pace.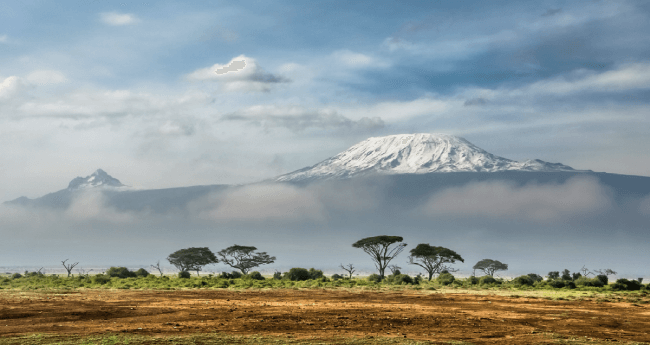 Kenya opened its borders to Indian travelers in August 2020. After getting the proper documents and completing the procedure, they can enter this African country.
According to the updated notice released in January 2021, every traveler attempting to cross the Kenyan borders must complete a Health Declaration, and also apply for the East Africa Tourist Visa. We know this may seem like a lot of paperwork, but to help you get your travel permissions, iVisa.com created a 100% online service that puts your documents right into your email without even getting off your couch at home. With our online application form, you only need to follow the steps and complete a few requirements.
So, if you're wondering how citizens of India can enter Kenya during coronavirus, the answer is on this blog.
What is the process to get my travel documents with iVisa.com?
Please be aware that you must apply individually for each document. Health Declaration:
Start a new online form and complete the info as requested.
Attach a copy of the passport you are using for the application
Choose an option to process your request.
Receive the QR code in your email inbox. (mark iVisa.com as trusted)
Store the file on your mobile device. Also, print a copy of the QR code. East Africa Tourist Visa
Fill out the online form.
Include a document-style picture of yourself (High-resolution image required).
Upload a copy of your valid passport (with at least six months of remaining validity).
Pick a processing speed for your application
Receive feedback from our experts
Print a copy of your e visa and save the file on your smartphone.
Is it a good idea to apply in advance?
Yes. Applying in advance is the best decision you could make when processing your travel documents. This option increases your chances of being approved since you get more time to gather the required documents, you can edit your information, and you receive richer feedback from our experts. For the East Africa Tourist Visa, you could apply weeks or even a couple of months before your traveling date. To take advantage of the validity of your negative covid-19 certificate, iVisa.com recommends applying for the Health Declaration only one week before departing to Kenya. Next, find answers to the most common questions about how citizens of India can enter Kenya during coronavirus.
Frequently Asked Questions
What is the validity of my documents?
Once obtained, you have four days to use your Health Declaration. It is valid for a Single Entry. If you leave Kenya, you should start a new process for the Health Declaration to enter back. The East Africa Tourist Visa allows you to stay in Kenya for 90 days in Total after issued and is valid for multiple entries.
Do I need a COVID vaccine or vaccination certificate to enter Kenya?
Yes, all passengers aged 18 and over arriving in Kenya must have proof of full COVID-19 vaccination through any entry point. Please note that fully vaccinated travelers must upload their vaccination certificates to the Global Haven platform before departure.
Since information may change quickly, we advise you to follow up on the latest Kenya travel updates and/or contact your local embassy.
Do I need to take a coronavirus test to visit Kenya?
COVID test prior to arrival: PCR within 72 hours
COVID test on arrival: Rapid antigen test on arrival
COVID test exemptions: Children under 5 and fully vaccinated travelers.
What documents are necessary to apply for each travel permission?
You only need three items to apply for your Health Declaration with iVisa.com:
Your valid passport (six months of validity left required)
Your email account (will work as the communication channel)
A payment method: debit/credit card or Paypal account For the East Africa Tourist Visa, prepare these:
Cover letter (inform the purpose of your trip).
Hotel room reservation. Or the address of the place you are staying during your visit to Kenya.
An updated picture of yourself. Visit iVisa.com photo to make your photo government compliant.
Your passport details. (Scanned image).
A copy of the last page and the cover of your passport
Flight tickets (include your flight reservation, with arrival and departure date)
Learn more about How Citizens of India Can Enter Kenya During Coronavirus, next.
What requirements should Indian citizens meet to enter Kenya during Covid-19?
Present a negative PCR test result for Covid-19. From 72 hours before leaving for Kenya.

Enter the African center for Disease and Control site and upload your test result. If your certificate is accepted, you will receive a trusted traveler certificate. (necessary to enter Kenya).

Print a copy of your health declaration and the QR code.

If you or anyone in the two rows around you during your flight show symptoms of Covid-19 on arrival, you will be ordered to quarantine for 14 days at your accommodation.

Travelers arriving from South Africa, Botswana, Zimbabwe, Malawi, Eswatini, Lesotho, Namibia, Mozambique, Zambia, Malawi, Ghana and Nigeria will be antigen tested on arrival for free
Do I have to quarantine when I get to Kenya?
Quarantine requirements: There are no quarantine requirements in Kenya.
What about the restrictions due to Coronavirus in Kenya?
Wear a face mask and preferably a face shield in public spaces.
Stay in your accommodation during the nationwide curfew. From 4 January to 12 March 2021, daily from 10 pm to 4 am.
Avoid using public transportation. If you have to, make sure it does not exceed 50% of its capacity. This rule also applies to private vehicles.
Indoor gatherings are allowed under social distancing protocols.
What are the options to process my travel documents for Kenya with iVisa.com?
Depending on how soon you need your document, choose an option.
Standard Processing Time:

6 Business Days

-

USD 91.00

.
Rush Processing Time:

4 Business Days

-

USD 121.00

.
Super Rush Processing Time:

2 Business Days

-

USD 156.00

.
For the East Africa Tourist visa, we give you three options.
Standard Processing Procedure:

6 Business Days

-

USD 145.00

.
Rush Processing Procedure:

4 Business Days

-

USD 175.00

.
Super Rush Processing Procedure:

2 Business Days

-

USD 210.00

.
Can I feel safe at iVisa.com?
The best way to prove to you that we are the safest online service is by inviting you to visit our customer reviews section. Daily, our satisfied users post positive comments about their experience with iVisa.com and about the safety features we offer.
Where can I find more info?
The customer service agents from iVisa.com are available 24/7 to provide all the information you may need about how Citizens of India can enter Kenya during Coronavirus.
iVisa.com Recommends
Going on safari is not the only thing to do in Kenya. There are plenty of leisure activities awaiting travelers all around the country. Here are some of them.
Malindi. This town is visited mostly by European travelers. The white sand of Watamu beach is an invitation to enjoy the sun and the crystal clear waters. All year long, you can dive the coral reefs of the Malindi Marine National Park.
Kisite-Mpunguti Marine National Park. This magnificent area is a safe space for many sea creatures. The park surprises its visitors with an explosion of colors from more than 250 species of tropical fish and 56 types of coral. It is also common to dive close to whales, dolphins, and sea turtles.
Diani Beach. A wide range of water sports is available in this place. Kitesurfing, Skydiving, Snorkeling, and Jet Skiing are some of them. At sunset, you can enjoy delicious cocktails and dishes from the local cuisine. This 17 kilometers long area offers the best tropical experience in Kenya.