Citizens from the United States who need to visit Tanzania for tourism purposes are allowed to enter the country since the border reopening in August 2020. However, due to the Coronavirus pandemic, there are new requirements you must meet to pass the border control in Kenya.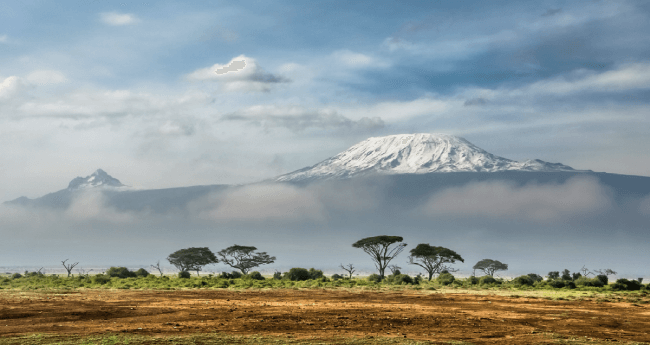 If you are a United States citizen, you must get not only one but two travel documents before setting a date for your trip. These documents are the East Africa Tourist Visa and the Kenya Health Declaration. Both documents are mandatory, and you must get them before leaving for Kenya.
The good news is, we can help you to get your travel documents through a 100% online service. The online form created by iVisa.com is the easiest way to complete your application without leaving home. This article contains the latest updates regarding how citizens of The United States can enter Kenya during Coronavirus.
How does the process work with iVisa.com?
As you need two travel documents, you must go through two different procedures. For the Health Declaration:
Start a new online form. Complete it with your personal information.
Attach a copy of your valid passport.
Choose under which service you want to process your request.
Get the QR code in your inbox.
Make a hard copy of the QR code and save the file on your mobile device.
For the East Africa Tourist Visa
Visit the application page and fill in the online application form.
Attach a passport-style, recent picture of yourself (Only High-res images accepted).
Upload a copy of your valid passport.
Choose a processing speed for your request.
Receive feedback from our experts.
Edit and improve your application (if applicable).
Print your e-visa and store the digital file in your smartphone to display to authorities.
Can I apply in advance for both documents with iVisa.com?
Yes, you can apply anytime. For the East Africa Tourist Visa, you could send your application several weeks before your departure date. The application for the Health Declaration is only available one week before your departure. According to the Kenya government laws, it can only be processed 96 hours before the date of your trip. When you apply in advance, you get access to special features like the chance of editing your application, receive richer feedback from our experts, and more time to complete the supporting documents for your application.
Find out How Citizens of the United States Can Enter Kenya During Coronavirus, next.
Frequently Asked Questions
How long are my travel documents valid?
The Health Declaration allows you a single entry. It is usable for four days after receiving the QR code. Your health declaration depends on your negative PCR covid-19 test. So, if your certificate goes older than 96 hours before being presented to authorities in Kenya, your Health declaration will be valid no more. The East Africa Tourist Visa is valid for multiple entries and allows you to stay in Kenya for 90 days per entry.
Do I need a COVID vaccine or vaccination certificate to enter Kenya?
Yes, all passengers aged 18 and over arriving in Kenya must have proof of full COVID-19 vaccination through any entry point. Please note that fully vaccinated travelers must upload their vaccination certificates to the Global Haven platform before departure.
Since information may change quickly, we advise you to follow up on the latest Kenya travel updates and/or contact your local embassy.
Do I need to take a coronavirus test to visit Kenya?
COVID test prior to arrival: PCR within 72 hours
COVID test on arrival: Rapid antigen test on arrival
COVID test exemptions: Children under 5 and fully vaccinated travelers.
What are the required documents to apply?
Your valid passport is the only document you need to process your Health Declaration with iVisa.com. Make sure it has six months of validity left upon your arrival date. Prepare a few extra items: your email account and a payment method. Choose between debit/credit card or Paypal account.
To apply for the East Africa Tourist Visa, you should get the following:
Presentation letter. Explain the reasons for your trip.
Proof of Accommodation. Include a detailed list of addresses and places you will be visiting during your stay in Kenya.
A recent passport-style picture of yourself
Your passport details (scanned copy)
A copy of the cover and the last page of your passport
Travel itinerary (Show your flight tickets). The arrival and departure date must match your hotel booking.
If you will be staying at a Kenyan citizen place, provide your host ID, Work ID, Passport personal details scan.
Learn more about How Citizens of The United States Can Enter Kenya During Coronavirus in the next sections.
Do I have to quarantine when I get to Kenya?
Quarantine requirements: There are no quarantine requirements in Kenya.
What requirements should US Citizens meet to enter Kenya?
Present a PCR test for Covid-19 with a negative result, issued within 96 hours before arriving in Kenya.
Upload your negative result certificate on the African center for Disease and Control site. Mandatory to get a trusted traveler certificate.
A copy of the QR code and your health declaration.
If arriving from a country considered by the World Health Organization as a threat, you should quarantine yourself for 14 days. Check the list of exemptions at the Kenyan Ministry of Health Covid-19 website.
If you were on your flight two rows around someone showing symptoms after arriving in Kenya, you will be quarantined at your accommodation for 14 days. (At your own expense).
Get more answers regarding how citizens of The United States can enter Kenya during Coronavirus next.
What are Kenya restrictions due to Coronavirus?
You must wear a face mask in public spaces. (No exemptions)
From 4 January to 12 March 2021, the nationwide curfew takes place daily from 10 pm to 4 am. You must be at your accommodation and not leave for any reason.
Avoid using public transportation or private vehicles that exceed 50% of capacity. Occupants will get a fine in case of not complying with this rule.
What are the prices for both documents?
To process your Health Declaration, we offer you the following options:
Standard Processing Procedure:

24 hours

-

USD 34.49

Rush Processing Procedure:

8 hours

-

USD 54.99

Super Rush Processing Procedure:

4 hours

-

USD 106.99
The alternatives for the East Africa Tourist Visa are:
Standard Processing Time:

6 Business Days

-

USD 79.49

Rush Processing Time:

4 Business Days

-

USD 142.99

Super Rush Processing Time:

2 Business Days

-

USD 184.99
Can I rely on the services of iVisa.com?
You can. We provide the highest level of security to our users. Over the years, thousands of US travelers have trusted us to process their travel documents with satisfying results. Visit our Customer reviews sections to discover what users have to say about our service.
Where could I get more information?
To resolve your questions about how citizens of The United States can enter Kenya during Coronavirus, contact the customer service center of iVisa.com
iVisa.com Recommends
For those budget travelers, there are a lot of non-expensive activities available in Kenya. Here are a few of them:
See Elephants in Amboseli. Together with the Masai Mara, this is one of the top national parks in Kenya. What makes this place so special is that it is entirely dedicated to protect and preserve wild African elephants. So you can be sure you will spot a few of these amazing creatures during your visit.
Starry sky at Diani Beach. This place is Kenya's paradise for backpackers. Besides luxury resorts, visitors can find dozens of hostels that offer a good service for average prices. The night view of the African sky from this place is unique.
Safari at Tsavo East National Park. This place is Kenya's largest and oldest protected area. In the latest years, it surpassed Amboseli National park in the number of hosted elephants. The park was made famous due to the Maneaters of Tsavo. Back in 1898, two male lions killed almost 130 people during the construction of the railway line.