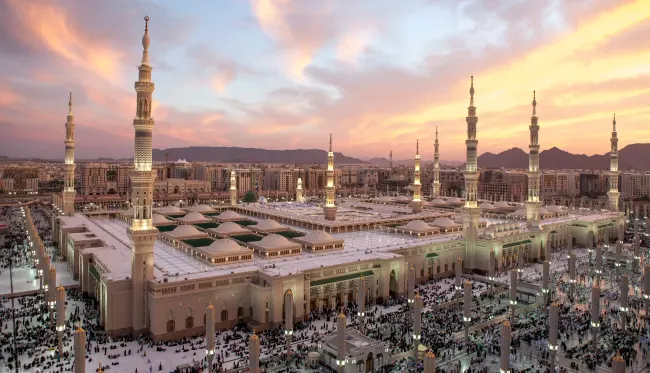 Yearning to perform Umrah and visit Saudi Arabia but nervous about how much it will cost to get your Saudi Arabia Umrah visa? Let us explain your options and the possible fees involved
If you are a foreign citizen visiting Saudi Arabia for Umrah, you will need a visa. Many Umrah visas allow Muslims to perform the pilgrimage during their visit; however, your nationality will determine your eligibility for each visa option. One of the options is the online tourist e-Visa which you can apply for through iVisa's simplified application process.
In this article, we will break down the Saudi Arabia visa fees, including how the Umrah Visa processing time you choose impacts the cost, possible Umrah package prices, and any other associated fees based on the rules and regulations set by the Immigration Department of Saudi Arabia.
Umrah Visa Options
An Umrah visa is a travel document issued by the Kingdom of Saudi Arabia (KSA), allowing you to enter the country to perform the Umrah pilgrimage. You can complete this religious journey anytime during the year. With this visa, you can visit the holy cities of Jeddah, Makkah (Mecca), and Medina.
The Saudi government offers many opportunities for travelers to perform their Umrah. This post will look at three Umrah-specific visas and the Tourist eVisa. Before jumping into the costs, let's explore what each visa is, how to obtain one, and the differences between the Umrah-specific and tourist visas.
Please note: These Saudi visas cannot be used to perform Hajj. During the Hajj period, the Saudi embassy issues special Hajj Visas, and you will require a hajj visa to enter the country. None of these visas permit studying or working.
Electronic Umrah visa
First, let's start with the most obvious choice for an Umrah visa. Launched in 2019 by the government of Saudi Arabia, the Electronic Umrah Visa aimed to make it easier for travelers to visit the Kingdom.
The system allows travelers from a wide range of countries to apply online for an exclusive Umrah visa. The special Umrah e-visas are more convenient as they don't require extensive physical screening at Saudi Arabian embassies or consulates or stand in queues at banks to pay visa fees.
With an Umrah eVisa, pilgrims can enter the country and perform the Umrah pilgrimage at any time of the year. It is valid for one year and offers visa holders multiple entries with a maximum stay of up to 90 days Per Entry.
Umrah visa on arrival
Another option is the Umrah Visa on Arrival at one of Saudi Arabia's entry points. To qualify for this visa, you will need to meet one of these conditions:
Be from one of the countries in the eligible countries list.

Hold a USA, United Kingdom, or Schengen visa. To get a visa based on this condition, you must meet these requirements:

The visa is valid.

It is a tourist or business visa.

Visa has to be used at least once, and you have an entry stamp from the issuing country.

Holders of permanent residence from (the US, UK, or EU) after ensuring the presence of the resident. This includes first-generation relatives of the visa holders coming with them.
An Umrah visa on arrival is a Multiple Entry visa valid for 1 year after issued and allows for stays up to 90 days Per Entry.
Umrah visa through package
Considered a separate or specific Umrah visa, this travel document issued by the Kingdom of Saudi Arabia (KSA) allows you to enter the country only to perform the Umrah pilgrimage. Pilgrims worldwide can apply for this Umrah visa making it the most accessible option.
You must contact an approved travel agency in your home country to apply for this Umrah visa. The travel agent will help apply for the visa on your behalf after you select a travel package.
Most agencies will provide you with several packages at different price ranges to choose the one that best suits you. Packages include health insurance, visa fees, and your accommodation and travel costs within the country. (Flights to the Kingdom are usually not included in the package)
The Umrah visa through package is a single entry visa that is typically valid for stays up to two weeks unless you are performing Umrah during Ramadan, which may result in the visa being extended to the end of the month.
The Saudi Arabia Tourist Visa
The Saudi Arabia Tourist Visa, or Saudi Arabia Electronic Visa, allows travelers to participate in tourism-related activities, including events, visiting family and relatives, leisure, and Muslim tourists can even perform Umrah (excluding Hajj) with this visa.
The difference between the Saudi Arabia Tourist Visa and the Saudi Arabia Umrah Visa?
The Separate Umrah Visa offered by the Kingdom of Saudi Arabia provides Umrah pilgrims more perks than those traveling on a tourist eVisa. For instance, those with an Umrah-specific visa may leave the country with ZamZam, while those on a tourist visa may not.
Other differences include that the Saudi Arabia Tourist Visa is a Multiple Entry visa that anyone of any religion can apply for. In contrast, the Umrah-specific visa is a single-entry visa only issued to Muslims for the sole purpose of performing Umrah.
Saudi Authorities also have vastly different requirements for each visa. Foreign pilgrims from forty-nine countries can travel to Saudi Arabia and perform the religious pilgrimage on a tourist eVisa. On the other hand, travelers from anywhere in the world can apply for a separate Umrah Visa.
Unfortunately, iVisa does not offer an Umrah-specific visa at the moment, due to the rigorous Umrah visa requirements. You can check your eligibility for the Saudi Arabia Tourist eVisa with our Visa Checker Tool.
If you do not qualify for a Tourist Visa, you may apply for an Umrah e-Visa instead. In this case, you must speak to your local agent or Hajj and Umrah representatives for guidance on the stringent application process. Alternatively, contact the Saudi Ministry or the royal embassy for more information.
Saudi Arabia Umrah Visa Fee
Saudi Umrah visa fees depend on the type of visa, your nationality, and the processing time you select. Below we provide average prices or prices US citizens would pay as a baseline idea of possible costs you may encounter when planning your trip.
Umrah e-Visa Fees
The cheapest option besides the tourist eVisa, the Umrah e-visa costs about SAR 450, covering visa fees and insurance. That is about $120.
Umrah visa on arrival
The visa-on-arrival charge is SAR 480 ($127). Payment for "Visa on Arrival" must be made in Saudi riyals using an international credit or debit card and MADA.
Umrah visa through package
As of 2022, an Umrah visa application costs about $380 to $490, tied into the Umrah travel package pilgrims must acquire for this visa. Thus the overall cost is between $1,500 to $2,000.
Cost of the Saudi Arabia Tourist e-Visa
If you apply for the Saudi Arabia Tourist eVisa through iVisa, your country of origin and the speed of processing you choose will change the costs. We currently offer three processing options for this visa. Americans can expect to pay about:
Standard processing will take 5 days and costs USD $176.99.

Rush processing will take 3 days and costs USD $200.99.

Super Rush takes 24 hours and costs USD $227.99.
The cost comprises iVisa's processing fee and the USD 144 government application fee.
iVisa's Saudi Arabia Tourist eVisa application process
For eligible people who intend to apply for a tourist visa, let iVisa take the guesswork out of the visa application process with our easy eVisa application. It can be completed in minutes from your home or office with these three simple steps:
Step 1: Provide basic information about yourself in the application form and your trip, and choose your preferred processing time.
Step 2: Checkall information is correct, and pay for the Saudi Arabia e-Visa Fees using a credit or debit card. Step 3: Finally, add any required documents, if needed, and click 'Submit.'
Then sit back as we process the application on your behalf. The approved visa confirmation will be emailed to you.
Saudi Arabia Tourist eVisa Requirements
Make sure to gather these documents before applying for your eVisa:
National ID Card or Birth Certificate - You must show your identity with your government's official document.

Travel Authorization from employer or school - You need a letter or a statement from your host indicating the reason for your stay.

Applicant Photo - A recent color passport photo works best. If you do not have one, you can use our photo service to get new pictures done from the comfort of your home.

Valid Passport Personal Details Scan - Scan your passport bio page. You must have six months of validity left from the day you plan to enter Saudi Arabia.

Proof of Accommodation - Prove you have a place to stay while you are in the country.

Bank Statement - Show customs officials you have the money to pay for your trip.

Vaccinations - If you come from a country with a high risk of yellow fever, you will need a Yellow Fever Vaccination Certificate to reach Saudi Arabia.

Onward Ticket - Show that you have a departure ticket to leave Saudi Arabia.
Let us know if you have more questions by contacting our 24/7 customer service team, who will happily answer. You can also read our Ultimate Umrah Visa Guide for more information.