Singapore - Open for Tourism, here's what you'll need
Singapore - Open for Tourism
Trustpilot recommended. We lead the industry in innovation and reputation
Learn More: SG Arrival Card + Health Declaration
Last updated: June 2022
One of the most outstanding cities you can visit in Asia is Singapore. The futuristic ambience and mixture of cultures of this independent state are reflected in the magnificent gastronomy and imposing building designs. But before you travel to this special country, make sure to get the right travel documents, such as the Singapore Arrival Card (sometimes called SG Arrival Card) and Electronic Health Declaration.
With help from iVisa.com, you'll be able to apply for these travel documents in just a few minutes. The Singapore electronic arrival card will then be linked to your passport and checked when you enter the country.
What is the Singapore Arrival Card?
The SG Arrival Card is a replacement document for the traditional paper Disembarkation/ Embarkation Card (DE Card) and is a mandatory entry requirement for all foreign visitors and permanent residents that arrive in Singapore. It is a customs registration form that doubles as a travel health certificate to safeguard public health. To apply for the Singapore electronic arrival card, you have to provide your recent travel information, health status, as well as personal and contact details.
The data from the electronically linked Health Declaration and arrival card can also be used by the Ministry of Health of Singapore for reference at local healthcare institutions where the traveler may be treated in case of a medical emergency.
The process to get the Singapore Arrival Card is completely online, fast, and simple. Please note that the SG Arrival Card is not a visa and cannot be used like one. Check the most up-to-date visa requirements for your nationality in our convenient visa checker widget.
Which nationalities are eligible to apply for the Singapore Arrival Card?
All nationalities are required to fill out the SG Arrival Card at least 3 days prior to their arrival date in the country, including Singapore residents.
How many times can I use the Singapore Arrival Card and Health Declaration?
The SG Arrival Card is a Single Entry document and is only valid once. Once issued, the document is valid for 30 days after issued or until passport expires, meaning you have two weeks to enter the country from the moment it was issued. It has to be filled out at least 3 days before you visit Singapore.
What documents do I need to apply for a Singapore Electronic Arrival Card and Health Declaration?
We require the following documents and information to submit your SG Arrival Card application:
Copy of your valid passport with at least 6 months validity. The scan of your passport must be uploaded in PNG, JPG or JPEG format.
Details of your accommodation in Singapore, such as the name and address of your hotel or hostel.
Itinerary and trip details, such as flight details and your arrival date.
Credit or debit card for online payment of the service fees.
Do I need an SG Arrival Card and Health Declaration Form if I'm transiting through Singapore?
Foreign visitors intending to only transit at Singapore airport are not required to submit the SG Arrival Card. In addition, a transit visa is not necessary if you remain in the transit area of Singapore Changi Airport (Terminals 1, 2, 3 and 4) without passing through Singapore Immigration.
How do I apply for the Singapore Arrival Card and Travel Health Declaration online?
To obtain the SG Arrival Card and electronic health declaration with the help of iVisa.com, follow these three simple steps:
Step 1: Provide basic information about yourself and your trip by answering some questions. Make sure to select the correct document you wish to obtain: SG Arrival Card.
Step 2: Make sure you have provided all the necessary information to apply for the SG Arrival Card and Health Declaration, and select your preferred processing time. Pay the applicable arrival card e-service fee by credit or debit card.
Step 3: Finally, upload the documents required, and click 'Submit.'
Once approved, you'll receive an email with a confirmation of your SG Arrival Card. Show your SG Arrival Card together with the other required documents at Singapore airport, and you can begin your journey.
What are the costs and processing times of the SG Arrival Card and Health Declaration?
At iVisa.com, we can help you obtain your Singapore Arrival Card and Health Declaration before departure. There are three options of processing times and visa fees to choose from, depending on your needs.
Standard Processing Time: This option takes

24 hours

and costs

USD $29.49

. It is a perfect choice for travelers who are not in a rush.
Rush Processing Time: You will receive your Arrival Card and Health Declaration faster than the standard option, in just

4 hours

for

USD $51.99

.
Super Rush Processing Time: If you need the document urgently before travel, you can use this express option, which will take only

30 minutes

for a fee of

USD $83.99

.
Do children require a Travel Health Certificate and SG Arrival Card?
Yes, children and minors also need to show their travel health certificate and SG Arrival Card upon arrival in Singapore. Fortunately, you can process more than one Health Form and Arrival Card through iVisa.com.
View a sample of the Singapore Arrival Card
Below is an example of what an SG arrival card looks like.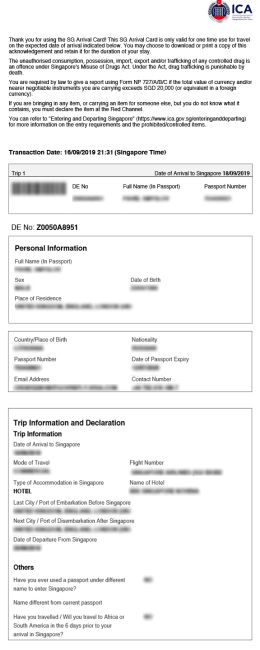 Covid-19 Travel Restrictions
There are no longer Covid-19 requirements for travelers despite their vaccination status.
Where can I learn more about the SG arrival card and other documents?
If you have any questions about your trip to Singapore, visas, and travel documents, please contact our customer support team at any time or email us at [email protected]. We're here to help!
Required Documents to Apply
Important Instructions
Instead of the traditional paper Disembark/Embark Card, travelers would be able to show only their passport for the Immigration Officer to find the Electronic Arrival Card + Health Declaration in their immigration system.

Travelers must have a passport with at least 6 months of validity from the planned date of entry.

You can apply for the SG Arrival Card + Health Declaration up to 3 days in advance of your arrival in Singapore.

The SG Arrival Card + Health Declaration has the purpose of facilitating the entry to Singapore but it DOES NOT replace a visa. If your country requires it, the immigration officers at the airport will ask for your Visa. Bear in mind that some nationalities require a paper visa. If that is the case for you, we suggest you approach the nearest embassy.