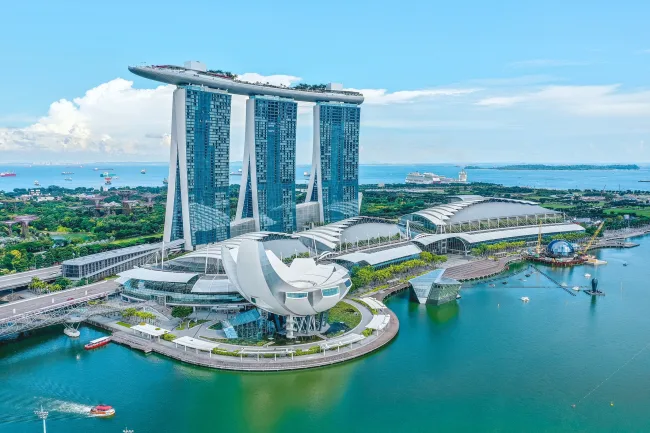 Singapore is a beautiful and dynamic city-state that has captured the hearts of many travelers with its stunning skyline, rich culture, and diverse cuisine. Known for its cleanliness, efficiency, and safety, Singapore is a top destination for tourists worldwide. With its impressive infrastructure, world-class attractions, and friendly Singapore residents, it's no wonder why the country has been consistently ranked as one of the best places to visit in Asia.
If you are an Indian citizen planning to visit Singapore, you may have heard about the SG Arrival Card that foreign visitors need to enter Singapore.
In this blog, we will provide you with a comprehensive guide on the Singapore SG Arrival Card, including what it is, how to apply for it, and what information you need to provide.
What is a Singapore Arrival Card for Indian citizens?
The SG Arrival Card is an electronic document that replaces the paper disembarkation/embarkation card previously required for all Singapore visitors.
The card contains important information about your trip, including your personal details, travel itinerary, and health status. The purpose of the SG Arrival Card is to facilitate the immigration clearance process and enhance the efficiency of the arrival process for travelers.
The SG Arrival Card system is more than just a standard customs registration form. It serves as a crucial tool in Singapore's efforts to track and prevent the spread of COVID-19 within its borders. The card includes a health declaration section that requires travelers to report their health status and recent travel history. The information collected through the SG Arrival Card allows the Singapore Ministry of Health to quickly identify and isolate any potential COVID-19 cases.
However, it's important to note that the SG Arrival Card is not a valid visa and cannot be used as a substitute for these documents.
How long can Indian citizens stay in Singapore with the Arrival Card?
It is important to note that the SG Arrival Card is not a valid Singapore visa that can guarantee entry into Singapore. Instead, it is an entry document mandatory for all visitors from foreign countries, including Indian citizens. The SG Arrival Card serves as a pre-arrival clearance for immigration and provides essential information about the traveler's purpose of visit, travel itinerary, and health declaration. Your entry visa determines how long you can stay in Singapore.
We do not currently provide the Singapore eVisa for Chinese or Indian nationals, you should contact your local embassy for more information on this visa.
How long is the Arrival Card valid for Indian citizens?
The SG Arrival Card is valid for 30 days from the approval date. To avoid any inconvenience during immigration clearance in Singapore, it is recommended that travelers apply for the SG Arrival Card at least three days prior to their travel date.
This ensures the application is processed on time and the traveler receives the necessary clearance before entering Singapore.
What are the requirements for the citizens of India?
With iVisa, you can save valuable time and focus on other important matters regarding your trip instead of spending your time filling out your Singapore Arrival Card.
While the process is hassle-free, you will need to provide certain information and documents to initiate the application process. Here is a list of the required information and documents:
Valid passport with at least 6 months validity. The scan of your passport must be uploaded in PNG, JPG, or JPEG format.

Proof of accommodationsuch as the name and address of your hotel or hostel.

Itinerary and trip details, such as flight details and your arrival date.

Credit or debit card for online payment of the service fees.
What are the processing times and costs for the Singapore SG Arrival Card?
iVisa offers three different processing times for the SG Arrival Card application to cater to the convenience of travelers. Depending on the urgency of the travel and the processing time selected, we can deliver the approved SG Arrival Card in as little as 30 minutes or up to 24 hours.
This flexibility allows travelers to choose the processing time and processing fee that best suits their needs and ensures a hassle-free travel experience to Singapore.
Standard processing- To have your application processed within 24 hours, you'll pay US USD $46.99.

Rush processing- This is faster than the standard option, and you can have your application processed within 4 hours for US USD $76.99

Super Rush processing-To have your application processed within 30 minutes, you'll pay US USD $139.99.
What's the application process for the SG Arrival card?
Applying for the SG Arrival Card through iVisa is an easy and straightforward process. Our user-friendly platform provides clear instructions and guides you through each step of the application.
The application won't take you more than 15 minutes and can be done in 3 easy steps:
First, answer some basic questions about yourself and your trip, and ensure that you have selected the correct document you wish to obtain, i.e., the SG Arrival Card.

Second, double-check that you have provided all the necessary information for both the SG Arrival Card and Health Declaration. Select your preferred processing time and pay the applicable e-service fee using your credit or debit card.

Lastly, upload all the required documents and click the Submit button.
What happens after I complete the application form for my Singapore SG Card?
Once you have completed the SG Arrival Card application process through iVisa, you will receive the approved card via email based on the processing time you have selected.
This means that you can avoid the hassle of dealing with the embassy and save a significant amount of time. We take care of the entire process for you, ensuring that the application is processed quickly and efficiently.
How will I know that my SG Arrival Card is ready?
Rest assured that iVisa will keep you updated throughout the SG Arrival Card application process.
Once you have provided a valid email address during the application, we will send you regular updates and notifications via email. This ensures that you are always informed about the progress of your application.
Can I apply for family or friends?
To apply for other people's SG Arrival Cards, they also need to be from India, and you must have all their required documents. You can apply here for one person by entering their personal information on the iVisa application form. For multiple people, simply click on Add new applicant. It's that easy!
Do children require a Travel Health Certificate and SG Arrival Card?
Children and minors are also required to present their travel health certificate and SG Arrival Card upon arrival in Singapore. The good news is that you can easily process multiple health forms and arrival cards for them with us!
Who can I contact if I still have questions about Singapore travel documents?
If you have any questions or doubts regarding the documents required for arrival in Singapore, feel free to contact our 24/7 [customer service team] (/contact-us) or email us at [email protected]. We make getting a Singapore SG Arrival Card for citizens of India easy and hassle-free by handling the bureaucracy for you. Let us simplify your travel and enjoy your trip with peace of mind!