According to Sri Lanka's visa policy, almost all nationalities in the world qualify for a visa on arrival. Only 21 must go to the nearest Sri Lankan diplomatic mission and apply for a visa before departure. However, all those who want a visa on arrival must first apply for a Sri Lanka ETA, either for business or for tourism. And yes, both offer multiple entries, two, to be precise.

Frequently Asked Questions
What is an ETA?
An ETA (electronic travel authorization) is an official document for traveler wanting to go to Sri Lanka.
Who is qualified for this ETA?
To know if you qualify for the Sri Lanka ETA you can check with our Visa Checker Tool.
What are the requirements to obtain a multiple entry visa for Sri Lanka?
The first thing you must do is ensure that you have everything you need. iVisa does not ask for much. Here is what you must provide:
Valid passport – to get a Sri Lanka ETA, all applicants must hold a valid passport that remains valid for at least another 6 months from the date of arrival in Sri Lanka.

Digital photo – make sure that the picture is as recent as possible and follows all the guidelines for a passport photo.

Valid e-mail address – iVisa will send you the ETA via e-mail in PDF format, which is why you must provide an e-mail address to which you have access. Do not forget to print out a physical copy before you leave.

Means of payment – during the application process, you will be required to make the payment. iVisa accepts credit or debit cards, but you can use PayPal, Alipay, or WeChat as well.
What are the fees and processing times?
You are required to choose one of the three available processing time options iVisa puts at your disposal. Just keep in mind that your choice determines the cost of your Sri Lanka ETA. The options are as follows:
Standard processing – this is the cheapest and slowest option iVisa puts at your disposal. Your application is processed within 5 days, and it costs USD $63.49.

Rush processing – this time, your ETA arrives in just 3 days, but you will be charged USD $117.99.

Super Rush processing – it only takes 24 hours for your application to be processed. As you can imagine, the fee is higher. USD $149.99 to be more precise.
The fees above apply to the Sri Lanka Tourist ETA. If you plan to travel to Sri Lanka for business purposes, you need to apply for a Sri Lanka Business ETA. The processing time remains the same, but the fees are $70, $100, and $120 respectively.
How's the application form offered by ivisa?
The application process is simpler than you think if you employ the services of iVisa. It is entirely online, and all you need is some documents, personal information, and 20 minutes of your time. In consequence, you can have your ETA in as little as 30 minutes.
You do not have to worry about it since the form is easy to complete, and iVisa provides excellent support anyway. The service is available to you 24/7, and it is entirely free of charge. Contact us here.
You must complete these three steps of the application form.
The first one will ask for your personal information and a couple of details regarding your trip.

The second step requires you to make the payment and revise step one. You must be very careful as to what information you provide since typos and inaccuracies can invalidate your visa.

The last step is when iVisa asks you to upload some documents. That should take just 2 minutes.
After, you can submit your application and wait for your Sri Lanka ETA to arrive in the timeframe you chose in step one.
What is the validity of this ETA?
This ETA is valid for 180 days after issued.
How many days can I stay in Sri Lanka?
You can stay a maximum of 30 days in Total.
**How does this ETA look like?
Here's an example: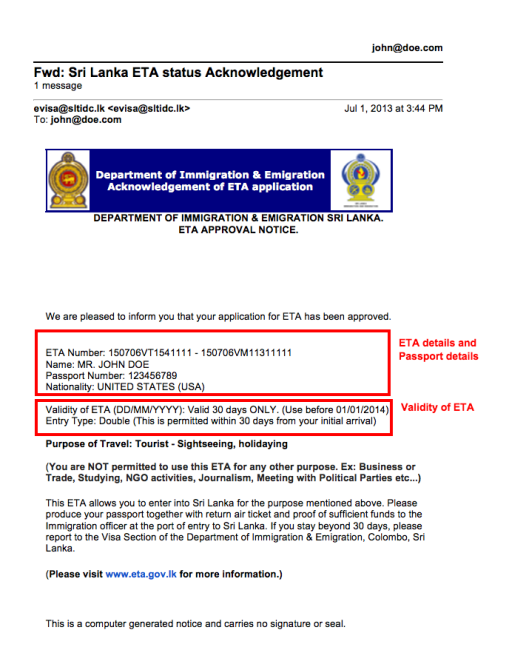 Is it safe to use ivisa?
Of course! Your information will be safe! Check our testimonials if you have any doubts.
I have more unresolved questions, where can I look up more information?
You can always contact our customer support service, they will gladly help you with any question. You can also click here for more information.
So, to answer your question, yes, you can obtain a multiple entry visa for Sri Lanka. The document you receive is valid for 90 days since issue, you can use it for two entries, and it allows you to stay in Sri Lanka for up to 30 days per entry. iVisa helps you with this process, and gives you the time to plan a wonderful trip!