Planning a trip to Sri Lanka includes getting a visa. However, almost all nationalities can obtain a visa once they get to Sri Lanka. We say 'almost' because 21 nationalities are still required to visit the nearest Sri Lankan embassy and get their consular visa.
To find out if you need one, you can use the iVisa Visa Checker. If you are eligible for an online application, you will be redirected to a page where you can apply for an ETA.
The Sri Lankan government developed the ETA to facilitate foreign nationals entering Sri Lanka without an appointment in an embassy or consulate general. The traveler can apply online in minutes, by filling out an application form with some primary documents required.
Visitors who have applied for a Sri Lankan ETA before their trip will present the travel documents to immigration officials upon arrival, and will receive a visa and be granted entry. Because of the ETA in advance, the applicants won't need to wait in a line; they'll get the visa immediately upon arrival.
Read additional information about entry and exit requirements below and be prepared to enter Sri Lanka.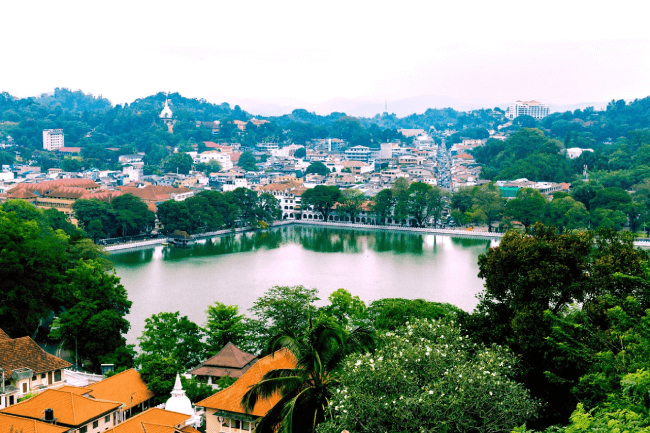 Tourist visa at an embassy
A few nationalities aren't eligible for an ETA, so they'll need to submit the Sri Lanka visa application at the nearest diplomatic mission of Sri Lanka. It might not be as simple as getting a visa upon arrival, but you do not have much choice.
Nevertheless, the application process is easy.
We always recommend that you give the diplomatic mission a call before going there. You can find a lot of information online about the requirements, but, other than the government's official website, other internet sites are not always reliable.
Plus, websites are not always regularly updated, and you would be surprised how often immigration laws change. The best thing you can do is call the diplomatic mission and ask them about the requirements. They can give you the most reliable information.
Sri Lanka ETA - Visa On arrival
Most visitors can get a visa to travel to Sri Lanka upon arrival. However, there is one catch. To obtain a Sri Lanka visa upon arrival, one must obtain a Sri Lanka ETA before departure. An ETA is an electronic travel authorization, and iVisa can help you get it online in as little as 30 minutes.
The requirements for a Sri Lanka ETA are easy to meet. You need a valid passport, an email address, a digital photo of yourself, and a valid method of payment. Of course, you need to fill in an online application form, but that should not take more than 20 minutes. Plus, if you use iVisa as your visa service, you can enjoy excellent customer support at your disposal 24/7.
There are two types of ETA visas to get the visa upon arrival. If you're traveling for tourism, you'll need an ETA also known as the Sri Lankan Visit Visa. You can check all requirements for that below. But if you'll travel for business purposes, you should learn more about the Sri Lanka Business ETA.
One thing worth mentioning is that only three nationalities in the world are exempt from getting a Sri Lanka ETA. We are referring to the citizens of the Maldives, Singapore, and the Seychelles.
If you are from a country eligible to apply for an ETA, we recommend you get a Sri Lanka visa on arrival, do not hesitate to use the services rendered by iVisa. Our Sri Lanka ETA application process is simple, fast, and your ETA can be in your email inbox in half an hour. The document is valid for 90 days after issued, it grants Double Entry, and you can enter Sri Lanka and stay for up to 30 days in Total.
Documents required to visit Sri Lanka
You need to meet some government requirements so your tourism travel plans in Sri Lanka can happen. But the local authorities don't request anything out of the ordinary. To handle the application process, iVisa needs a few things from you.
Here is a list of what you must provide to apply for the Sri Lankan ETA:
Valid passport – The passport must be valid for at least 6 months from the date of arrival in Sri Lanka.
Digital photo – make sure that the picture is as recent as possible and follows all the guidelines for a passport photo. You can count on iVisa Passport Photo Service to meet the requirements.
Valid email address – You will receive alerts if an additional document is requested. It's also via email that iVisa will send you the Sri Lankan ETA in PDF format. Do not forget to print out a physical copy to present to immigration officers upon arrival.
Means of payment – You will be required to make the visa fee payment during the application process. iVisa accepts credit or debit cards.
In some cases, the government may ask tourists to provide proof of sufficient funds, accommodation, or round trip tickets. But our team will notify you if you need to provide any of the above documents for entry.
ETA application: How to obtain a Sri Lanka Visit Visa online
Since visitors will have the requirements on hand, they will be prepared to fill in the application form. To continue the online process for this Sri Lankan Visit Visa with us, follow these steps from any electronic device.
The steps are as follows:
First, complete the questionnaire with your personal information on the iVisa application page.
Second, choose one of our processing times depending on your travel budget and how quickly you need the ETA. Then, attach the required documents and confirm payment.
Third, accept the process and wait for the confirmation email.
Be very careful when following the steps in the process. If you provide incorrect information and click "OK" to finish, you will not be able to request a new form until the current process is completed.
Sri Lanka ETA: Visa fee and processing time
iVisa offers three ETA processing times for you to choose from:
Standard Processing Time:

5 days

-

USD $91.08

.
Rush Processing Time:

3 days

-

USD $120.08

.
Super Rush Processing Time:

24 hours

-

USD $151.08

.
Remember that this document is only available for short-term visits. In case you want to live or work in Sri Lanka, you may need to apply for another type of visa.
Sri Lankan ETA Sample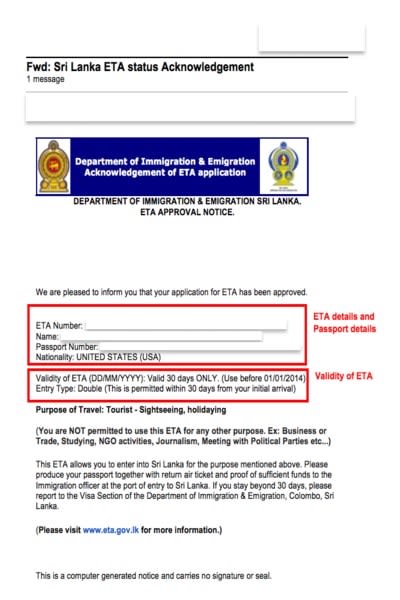 Where can I contact you?
If you still have any concerns about the Sri Lanka Visa, you can chat with our experts from customer service, or you can send an email to [email protected]. They will be happy to assist you with anything you need 24/7.