Sweden - Open for Tourism, here's what you'll need
Sweden - Open for Tourism
Trustpilot recommended. We lead the industry in innovation and reputation
Learn More: Schengen Visa
Apply today for a Sweden Schengen Visa with us!
Last updated: May 2023
Whether you plan to explore the vibrant city of Stockholm or discover the natural beauty of the Swedish countryside, this guide will assist you in applying for the Sweden Schengen Visa to make your trip possible!
If you're planning on visiting Sweden or any other Schengen country for tourism or business, we provide the necessary information to successfully navigate the Sweden Schengen Visa application process.
Keep reading for more info or apply online now via our website or using our iVisa app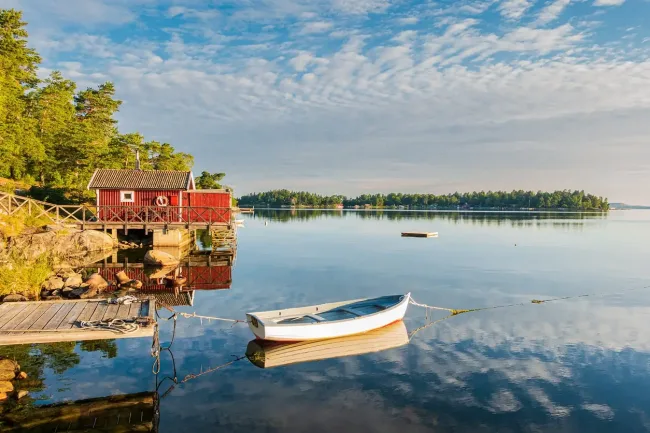 What is the Sweden Schengen Visa?
The Sweden Schengen Visa is a short-stay visa, highly coveted by travelers wanting to explore the Schengen area. This particular visa grants you the freedom to traverse multiple Schengen member countries, including Sweden, without the hassle of border crossings or the need to obtain separate visas for each destination.
With the Sweden Schengen Visa in hand, the visa holder gains access to 27 Schengen states: Austria, Belgium, Croatia, Czech Republic, Denmark, Estonia, Finland, France, Germany, Greece, Hungary, Iceland, Italy, Latvia, Liechtenstein, Lithuania, Luxembourg, Malta, Netherlands, Norway, Poland, Portugal, Slovakia, Slovenia, Spain, Sweden, and Switzerland.
While the Swedish Schengen Visa allows you to visit other Schengen countries, Sweden should be the primary destination where you plan to spend the majority of your time within the Schengen Zone.
What can I do with the Swedish Schengen Visa?
Enter Sweden and the Schengen Area for tourism.

Visit family and friends residing in the area.

Make stopovers at an airport in the Schengen zone.

Attend business meetings and conferences, or conduct other business activities.

Do a short recreational course or training.

Play sports and participate in cultural activities.

Do scientific research.

Visit Sweden for medical reasons.
What can I not do with the Swedish Schengen Visa?
Do remunerated business (paid work).

Study for an extended time.
Who can apply for the Sweden Schengen Visa?
European residents and nationals of Schengen countries enjoy the privilege of traveling visa-free within the Schengen Zone. However, foreign travelers from over 100 countries must fulfill specific requirements and undergo an interview process to get a Schengen visa.
Children or minors must also get a Schengen Visa if they visit Sweden from an eligible country. In such cases, both parents must sign the application form, and additional documents, such as a birth certificate, may be required.
There are certain countries whose passport holders can visit the Schengen Zone without needing a visa, including:
United States

United Kingdom

Australia

New Zealand

Canada
To check whether you need a Schengen Visa, use our convenient Visa Checker Tool and apply instantly with us online!
Get your Sweden Schengen Visa now!
How long is the Sweden Schengen Visa valid?
You are generally allowed a maximum stay of 90 days Per Entry within a 180-day period. This means that you can freely enter and travel between any Schengen country as many times as you wish, as long as the total duration of your visit does not exceed 90 days.
It's important to keep in mind that the type of visa you receive, whether it is multiple-entry, double-entry, or single-entry, is ultimately determined by the Swedish government. Multiple-entry visas, if granted, can have a validity ranging from 180 days up to a maximum of 5 years.
It's usually not possible to extend a Schengen Visa during your trip. Only in exceptional circumstances, an extension is granted (for example, a medical emergency). If you want to extend your trip you will have to exit the Schengen Area and apply for a new visa.
For more information on other Sweden Visa requirements, for example, a long-stay visa or work visa, please contact the Swedish embassy or consulate near you.
Required documents and information for the Swedish Schengen Visa application
When applying for the Swedish Schengen Visa with us, you'll receive a complete list of documents by email that you must submit during the process.
Here's an overview of the documents that are usually required:
A copy of your valid passport: It must be valid for at least six months after your planned arrival date.

Proof of your travel plans: This can be a return ticket to your home country, confirmed hotel reservation(s), or invitation letter from your host.

Proof of sufficient funds: Evidence that you can support yourself financially during your trip. You can do this by providing bank statements, for example.

Travel/medical insurance: This insurance must cover expenses for medical treatment up to €30,000 and repatriation in case of an emergency.

Two passport-size photos: If you don't have one, use our affordable and convenient digital photo service.

Visa application form: You'll receive this during the application process.

Other documents: Proving your civil status and employment status (if applicable).
You may need to provide additional documents for any dependents traveling with you, such as your spouse or children.
How to apply for the Sweden Schengen visa online with us
To get a valid visa quickly and easily, follow the below steps:
Step 1: Fill out your personal and travel details on our website or the super easy-to-use iVisa app!

Step 2: Double-check all info and pay the iVisa service fee with a debit or credit card or PayPal. The government fee must be paid at the embassy, consulate, or Visa Application Center (VAC) in your country during your visa appointment.

Step 3: You'll receive a complete step-by-step manual with how to fill out all information on the application form and which required documents to bring to the mandatory visa interview. Today, you'll only need to upload a passport scan and passport photo.
We will make an appointment on your behalf and ensure you know what to expect during the application process. Visa applications are a breeze when using our services!
Cost and processing time of the Sweden Schengen Visa application
We currently offer one processing option for the Swedish Schengen Visa:
Standard processing: Takes up to

30 days

and costs

USD $149.99

, excluding the government fee.
This iVisa fee includes full support to guide you from start to finish, plus a complete guide to help you fill out the application form and prepare for your visa interview.
Government processing: The Swedish government aims to give a decision on your application between 15 and 45 days. This means you should apply at least 45 days before your planned departure to Sweden.
It's possible to start your application six months before your departure date.
The government fee of about US$85 (can differ per nationality) must be paid during the appointment (half-price for children between the age of 6 and 12 and free for kids under 6 years old).
Do I need a Sweden Schengen Visa if I'm transiting through the country?
If you are stopping over at a Swedish airport on your way to a non-Schengen country, you will need to apply for a Sweden Airport Transit Visa. Whether you need to apply for this visa may depend on your nationality.
We advise contacting your local embassy to check if you need a Transit Visa.
Benefits of getting your Italy Schengen Visa with us
100% government-compliant: Our team of iVisa agents will review your information and make sure it is 100% compliant with government requirements.

Unlimited access to our team of iVisa Experts: Let our iVisa Experts guide you through the entire application process, from start to finish.

Simplified application form: Fill out a clear and short survey with 50% fewer questions instead of 60 confusing and tedious questions on the government website.

Fill out at your own pace: Complete the application form at your own pace, make changes whenever you want, and save your progress.

Step-by-step guide: Receive a handbook with all the tips you need to answer difficult questions, a document checklist, and guidance on preparing for your interview.
Get your Schengen Visa for Italy now!
COVID-19 entry requirements and restrictions in Sweden
Good news! COVID-19 tests, vaccination certificates, or quarantining are not required to enter Sweden, the European Union, and other Schengen countries.
Other travel documents for Sweden
You've probably heard of the European Travel Information and Authorization System (ETIAS). Here's more information about the differences between the ETIAS and Schengen Visa.
The ETIAS is a new travel authorization system to improve security in Europe. The system aims to check if visa-free travelers to the European Union and the Schengen Area do not pose a safety risk to the region.
The system is not active yet but will work similarly to the United States ESTA system. If you are one of the lucky travelers that enjoy visa-free travel (and do not need a Schengen Visa), you can apply for your ETIAS via us online, as soon as it's available.
Where can I learn more?
Learn more about the Swedish Schengen Visa by contacting our dedicated online team of customer service agents. They are available via online chat to assist with any questions you may have, or you can email them at [email protected].
Required Documents to Apply
Passport scan.
Passport photo.
Important Instructions
The Sweden Schengen Visa is a multiple-entry travel document to visit Sweden and all 27 countries of the Schengen Area.

You can stay in the Schengen Area for a maximum of 90 days per entry.

We advise you to apply for this visa at least two months ahead to account for any delays.

To apply, you will need your valid passport and two passport photos.

iVisa is a legitimate company, accredited and recognized by the International Air Transport Association (IATA). For more information, see the FAQs below.