Every country has instituted health measures to reduce the negative impact of the COVID-19 pandemic.
Note: Since February 12th, 2022, the Norway Entry Registration Form is no longer necessary to enter the country.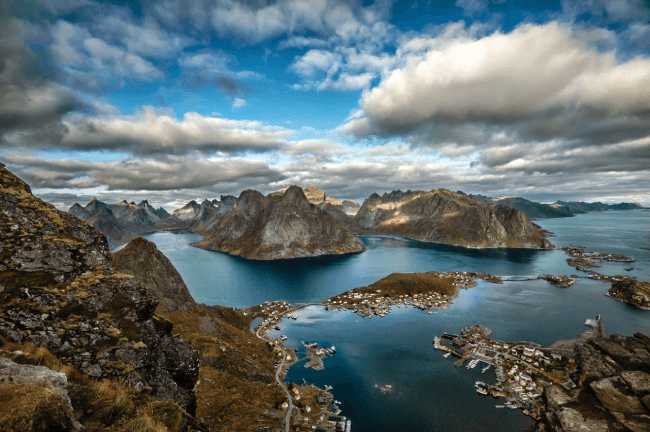 Norway is not the exception and has restricted the entrance for most people. So far only Norwegian citizens, immigrants residing legally in Norway, immigrants who have been granted a family immigration permit, foreigners who will visit or live with close family members in Norway can enter the country. Before doing so, they need to meet some Norway Covid Rules:
COVID test prior to arrival: PCR within 24 hours for travelers over the age of 18 without proof of vaccination/recovery only.
COVID test on arrival: All travelers arriving in Norway must take a test after arrival, regardless of their vaccination status.
COVID test exemptions: Children under 16
Quarantine requirements: There are no quarantine requirements.
Those who are eligible to enter the country must complete and deliver the Norway Entry Registration, as one of Norway Covid Rules established by the government. For them, iVisa.com offers an efficient online service to acquire this document without effort:
What is the process to acquire my Norway Entry Registration with iVisa.com?
Go to the Online Application Form.
Complete the requested information and upload the required documentation.
Choose your preferred processing speed option.
Submit your application (Our team of experts will review it and make adjustments if needed).
Wait until you get your entry registration in your email.
Print the form and return safely to Norway.
Why is it essential to request my Norway Registration Form in advance?
First of all, this is a crucial document to enter the country because it is one of Norway Covid Rules. Also, it must be ready before your arrival and we can do most of the job for you. Then, you will be able to invest your time in more important related travel matters such as getting COVID 19 tested according to Norway requirements.
Apply for your registration form now.
Frequently Asked Questions
Do I need a COVID vaccine or vaccination certificate to enter Norway?
No, you don't. As of today, COVID vaccination passports or certificates are not mandatory to enter Norway.
The following certificates can be used upon entry to Norway:

Norwegian COVID-19 certificate

The EU digital COVID certificate

UK NHS COVID-pass

Approved vaccines are Pfizer, Moderna, AstraZeneca, Janssen, Covishield, Sinovac, Nuvaxovid.
Since information may change quickly, we advise you to follow up on the latest Norway travel updates and/or contact your local embassy.
How much does it cost and takes for me to have my Norway Entry Registration?
iVisa.com has been checking COVID-19 regulations since the pandemic started. We aim to offer not only efficient services but also affordable.
These are our available choice:
Standard Time Choice: Pay

USD 29.49

and get your registration in

24 hours

.
Rush Time Choice: Pay

USD 67.99

and get your registration in

8 hours

.
Super Rush Time Choice: Pay

USD 93.99

and get your registration in

4 hours

.
So what is next to begin my process immediately with iVisa.com?
Complete your information here.
Pick your desired time choice (Standard, Rush, or Super Rush).
Double-check that all your information is correct.
Pay using one of our available mechanisms: Paypal or with your valid credit or debit card.
Submit your application along with the documentation inquired (Passport, etc.).
What if I need more information about the process and iVisa.com?
In case, you need deeper information about our process, platform, or any other Norway Covid Rules our customer service agents are available 24/7. They are ready to assist you.
Is the Norway Entry Registration the only Norway Covid Rules?
No, to enter the country you will also need 1) a COVID-19 negative test result issued not later than 24 hours before your arrival, 2) to undergo a new COVID-19 test in the airport 3) to self-quarantine for 10 days.
Do not waste time and Request your registration now
Is it possible to get the entry registration for free?
Yes, according to the Norway Covid Rules, you can get it for free. However, iVisa.com has a deep understanding of COVID-19 registrations and health declarations not just from Norway but other countries, so we can ensure your document will have no errors.
Does iVisa.com offer professional services?
Of course, we do. iVisa.com has operated for several years, serving thousands of customers, who have processed millions of travel documents with us. You can see here what they say about out outstanding results.
Request your Registration form now.
iVisa.com recommends
Go to Alesund! It is not one of the largest cities in Norway, but it is one of the most beautiful. In fact, the Norwegians have voted it several times as the most beautiful city in the country, so if you have time, we recommend that you visit it because we are sure that you will not see another like it in all of Norway. Why visit Ålesund? Its Art Noveau architecture. Ålesund had to be rebuilt after a major fire in 1904.
Several architects participated in the rebuilding and since Art Noveau was the prevailing style in Europe at the time, the city adopted this style. Enjoy the views from the Fjellstua viewpoint on Mount Aksla. Practice kayaking through the city canals and in the sea that opens in the front. In winter, the mountains around Ålesund become a pilgrimage site for skiers who enjoy the sport with spectacular ocean views.
It is incredibly walkable, since the downtown is not extensive, and Fjellstua, the famous viewpoint over the city, is less than a kilometer away from the city park.