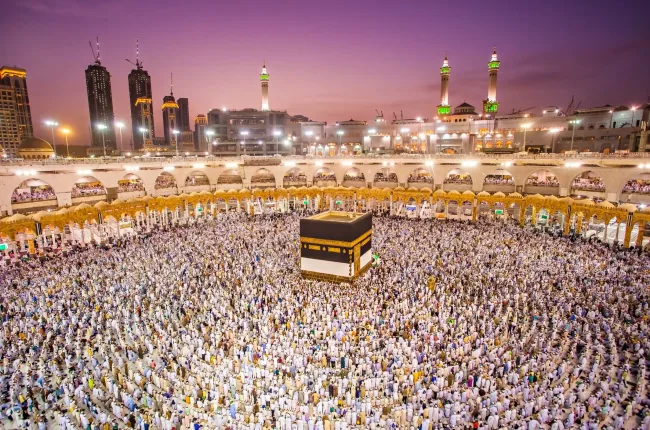 If you're a US citizen planning to visit Saudi Arabia for Umrah, it's essential to understand the visa requirements and application process. Getting a Saudi Arabia visa for US citizens is mandatory to enter the country, and there are specific visas to perform the religious pilgrimage. No worries, we're here to help!
This article will provide a detailed guide on the differences between the Saudi Arabia Umrah Visa and the Tourist eVisa and how to apply for either of them as a US citizen, including requirements, the application process, fees, and minimum validity.
Which Saudi Arabia Visas are available for US citizens?
You have two Saudi visa options to perform Umrah:
Umrah Visa: The Saudi government grants the Umrah Visa to Muslims who wish to perform the Umrah pilgrimage in Mecca and Medina, considered the two holiest cities in Saudi Arabia. The separate Umrah Visa is exclusively for Umrah purposes.

Saudi Tourist Visa: The Saudi Arabia Tourist eVisa allows travelers to visit Saudi Arabia for tourism activities and business purposes and to visit Saudi citizens, such as family and friends. Muslim pilgrims can also perform Umrah with this visa outside the Hajj season.
Differences between the Saudi Arabia Tourist Visa and the Umrah Visa
Purpose: The Umrah visa is exclusively for Muslims who intend to perform the pilgrimage in Mecca and Medina, while the Tourist eVisa is for anyone who wants to visit Saudi Arabia for tourism purposes, regardless of their religion.

ZamZam: Umrah visas offer additional benefits, such as taking ZamZam out of the country, which is not permitted with a Tourist Visa.

Requirements: The requirements for each visa are vastly different. Only applicants from 49 countries are eligible to apply for a Tourist eVisa and perform Umrah. Otherwise, anyone from any country can apply for the Umrah Visa, so there's way more demand, and it can be harder to get.

Number of entries: The Saudi Tourist eVisa is a Multiple Entry visa that allows the traveler to enter and exit Saudi Arabia multiple times. On the other hand, the Umrah visa is a single-entry visa.

Application: The application process for the Tourist eVisa is more straightforward. It can be done online, whereas the Umrah visa has more stringent requirements. In addition, you need to visit an embassy or have a travel agent.
Benefits of applying for the Saudi Arabia eVisa with us
100% government-compliant: Our visa experts review all your information to ensure it meets government requirements.

Simplified form: Visa applications can be complicated and take up much time. At iVisa, we simplify the process by only asking relevant questions, making the application up to 50% shorter than typical applications.

Fill out the form at your own pace: Complete your application at your own pace by saving your progress, editing it, and returning to it later when you need a break.
All about the Saudi Arabia Umrah Visa
Worldwide foreign pilgrims visit Saudi Arabia to perform the acts of Umrah. This pilgrimage demonstrates a profound display of faith. The act of Tawaf, which involves circling the Kaaba, signifies the solidarity of Muslims globally. Meanwhile, Sa'i, the practice of walking between the hills of Safa and Marwa, symbolizes the determination of Hagar.
The Umrah visa has many visa requirements and is a complicated process. Also, be aware that it's a specific visa for Umrah, so you must get another visa to perform Hajj and for tourism or business activities, for example.
What places can I visit with an Umrah Visa?
This visa allows you to visit only Jeddah, Makkah, and Medina. If you visit other cities, you can be deported, fined, or arrested.
How often can I enter Saudi Arabia with an Umrah Visa?
The Umrah visa allows a single entry into Saudi Arabia, so you can only use this visa once.
How long is the Saudi Arabia Umrah Visa valid for US citizens?
An Umrah Visa is typically valid for 30 days from arrival. However, during peak seasons or due to high application volume, certain visas may have shorter validity periods, such as 14 days.
We recommend verifying the latest and precise information about Umrah visa validity and durations by consulting with the Saudi Embassy or consulate in the United States.
Can women apply for this visa to perform Umrah?
Yes. US female pilgrims between 18 and 65 can apply for the Saudi Arabia Umrah eVisa if they want to perform Umrah. Otherwise, women under 18 can only apply if they travel with a mahram (male protector).
Do children need to apply for this travel document?
Yes. The Kingdom of Saudi Arabia requires all foreign pilgrims, including children, to have a visa to perform Umrah.
Be aware that the Saudi Ministry of Hajj and Umrah states that the minimum age allowed to undertake Umrah is five years. However, any children escorted by parents can access the Grand Mosque.
Saudi Arabia Umrah Visa requirements for U.S. citizens
A Valid US passport with at least six months remaining validity and two blank pages for the visa stamp.

A completed Umrah visa application form.

Two recent passport-sized color photographs with a white background. If you need new photos, use the iVisa passport photo service and get government-compliant passport photos from your home.

Confirmed round-trip airline ticket.

Vaccination certificate showing proof of vaccination against meningitis and other diseases recommended by the Saudi Ministry of Health.

Notarized letter of consent if you are a female under 45 traveling without a male companion.

Evidence of a relationship between female pilgrims and their 'mahram' (partner/brother/father).

Copy of your marriage certificate if you are traveling with your spouse.

Copy of a birth certificate for children traveling with their parents or other family members.

Copy of your hotel reservation confirmation or travel itinerary in Saudi Arabia.

Mandatory travel insurance covering Covid-19 emergency medical costs.

The Saudi government requires applicants with non-Muslim names to submit proof from their local masjids or Islamic organizations verifying that they're Muslims.
It's important to note that visa requirements may vary depending on the Saudi Arabian embassy or the consulate where you apply. Check with the nearest Saudi embassy or consulate in the United States for the latest and most accurate information.
How to Apply for the Saudi Arabia Umrah Visa from the USA?
Umrah pilgrims from the United States have two options for applying for an Umrah Visa:
Getting an Umrah Visa from the US: Travel package
International pilgrims can apply for an Umrah through a licensed travel agency. Many agencies specializing in religious tourism offer Umrah packages, including the Umrah visa application.
Follow these steps to apply for a Saudi Arabia Umrah Visa through the package:
Step 1: Find a licensed travel agency in your home country to assist you in getting your visa. The agency will guide you through the application process and help you plan your trip, offering various Umrah packages at different price points that may include transportation and accommodation.

Step 2: Prepare all required documents for the visa application and submit them to the selected travel agency. The agency will handle the submission and update you on the application's status.

Step 3: Register on the Umrah apps. Upon entering Saudi Arabia, you need to download two obligatory apps on your phone:

The Tawakkalna app only works in Saudi Arabia and contains all your vaccination records. You'll need this to enter hotels, restaurants, and masjids.

The Nusuk app allows you to get prayer permits and have them linked to your Tawakkalna.
Get an Umrah Visa through the embassy in the United States
As an Umrah pilgrim, you must follow these steps to apply for a Saudi Arabia Umrah Visa through your nearest Saudi Arabian embassy:
Step 1: Contact the Saudi Arabian Embassy in the United States and prepare all required documents for the application.

Step 2: Visit the embassy for an in-person application or interview, submit all required documentation, and pay the Umrah visa fees.

Step 3: Track the progress of your application and register on the Tawakkalna and Nusuk apps.
Umrah Visa fees for US citizens: How much does it cost?
The expenses for Umrah Visas for citizens of the United States differ based on the visa category and requested services. The Umrah visa costs between US$100 and US$400. However, supplementary costs may exist if you get a travel agent to process your visa application. Additionally, there are accelerated processing alternatives accessible at an extra cost.
Umrah Visa processing time
On average, it takes five to ten days to process an Umrah visa— depending on the embassy's workload.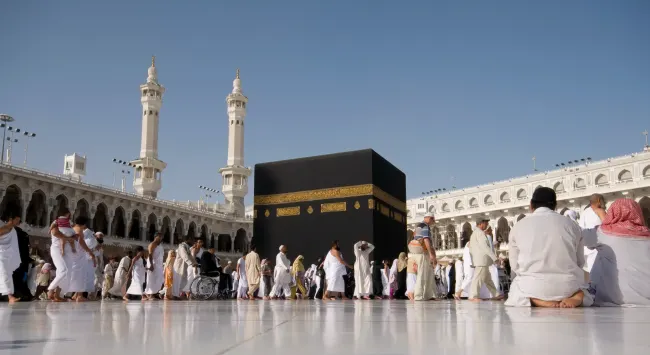 All about the Saudi Tourist eVisa
Travelers with Saudi Tourist Visas can travel for tourism and business purposes and perform Umrah in the country. With this visa, you can enjoy religious rituals, visit holy mosques, and engage in tourism-related activities. Note that Tourist Visa holders must travel outside the Hajj period to perform the Umrah pilgrimage.
The Saudi Tourist Visa offers many advantages over the Umrah visa application. It's a simple process: get your visa online with a few clicks. Within 24 hours, you'll receive the document via email. Learn more below.
What places can I visit with a Saudi Tourist Visa?
The Tourist Visa allows you to travel around Saudi Arabia, including the holy city of Makkah (Mecca), as well as Jeddah and Medina. Take into consideration that only Muslims can visit Makkah and Medina.
How often can I enter Saudi Arabia with a Tourist eVisa?
The Saudi Tourist eVisa permits you to visit Saudi Arabia as often as possible during its 1 year after issued validity period. It's a Multiple Entry visa.
How long can a US citizen stay in Saudi Arabia with a Tourist eVisa?
You can stay for up to 90 days in Total in Saudi Arabia.
Can I enter Saudi Arabia through land borders, apart from airports?
If you apply for a Saudi Arabia Tourist eVisa to perform Umrah, you can enter Saudi Arabia via the land borders from Dubai or Bahrain.
Do children need to apply for a Saudi Tourist Visa?
Yes, the visa is a requirement for all visitors, including minors. Parents or legal guardians are responsible for applying on behalf of their children under 18 years old. On our website or app, you can add any children during the application process by clicking "Add another person."
Get a Saudi Tourist visa easily and quickly!
Saudi Tourist eVisa requirements for U.S. citizens
Saudi authorities require the following information from US citizens:
Valid passport: You must provide a scan of your passport bio page. Your passport must remain valid for at least six months after arriving in the country.

Recent color passport photo: Remember you can use our passport photo service to get one in minutes.

Health insurance: It must be purchased from the Kingdom of Saudi Arabia and cost at least SAR 140.

Proof of Accommodation: Prove you have a place to stay while you're in the country.

Onward Ticket and travel itinerary - Show that you have a departure ticket to leave Saudi Arabia.

Proof of employment - This can be a work contract, a letter, or a statement from your employer.

Bank Statement - Show customs officials you have the money to pay for your trip.

Complete personal information, including the applicant's home address in the United States.

Payment method: A credit or debit card to pay the visa fees.
Application process for the Saudi Arabia Tourist eVisa from the USA
To apply for the Saudi Arabia Tourist Visa online with us, please follow these simple steps below:
Step 1: Complete the online visa application form with your personal and travel details, then choose your preferred processing time.

Step 2: Double-check all the information carefully and pay the Tourist Visa fees with a credit or debit card.

Step 3: Upload all required documents, click "Submit," and prepare to travel to Saudi Arabia!
We recommend printing your new tourist visa confirmation with a QR code to present to Saudi authorities upon arrival.
When traveling to perform Umrah, ensure you register on the Tawakkalna app and Nusuk app.
Start your online application now
Processing time and costs of the Saudi Arabia Tourist Visa
Processing times and visa fees change according to how quickly you need the document and your nationality. There are three options for US passport holders:
Standard Processing: It costs USD $175.49 to process your eVisa in 5 days.

Rush Processing: You can receive your Saudi eVisa in 3 days, paying USD $198.99.

Super Rush Processing: Get a Saudi Tourist eVisa in 24 hours for a fee of USD $223.99.
The fees already include service and government fees.
Travel advice for the Umrah pilgrimage
This Islamic pilgrimage is an act of love and devotion to Allah, attracting millions of Muslims to Mecca. In 2023, the Saudi Arabian government announced new measures to improve security. For example, pilgrims must now register via the Nusuk or Tawakkalna apps to perform the Muslim Umrah ritual.
Check out our Umrah Comprehensive Guide and the following tips for living this spiritual journey in the Kingdom of Saudi Arabia.
Recommendation for the pilgrimage

According to Islamic tradition, it is recommended for pilgrims to perform ghusl (ritual bath), apply perfume, and avoid wearing clothes with sewn joints during their pilgrimage, following the example of the Prophet Muhammad.

Male pilgrims are expected to wear the Ihram clothes, while female pilgrims can wear their usual attire.

After performing Umrah, men have their hair cut or shortened. Women should also have their hair cut, but just a fingertip length.

Travel tips

Ensure you carry an umbrella since the weather in Mecca can vary.

Carry copies of important documents you may need during the journey, such as your passport and Saudi Arabia Visa.

If you're traveling with a group, try to stay with them from the beginning to the end of the journey.

Check out the Saudi Arabia Travel Guide to learn more about transportation to travel around the country, weather, and other useful tips to explore the country.
Do you have more questions about Saudi Arabia visas?
We're here to help! Contact our outstanding customer support team via online chat or email at [email protected] if you have more questions about the Saudi Arabia Tourist eVisa or any other travel document. They're always available to assist you if you encounter any difficulties.